The Loop
Natalie Gulbis Talks Vegas
For this month's travel Q&A in Golf Digest I spoke to Natalie Gulbis about living in Las Vegas, travel troubles, working with Butch Harmon, and her relationship status.
Click here for a link to the entire interview.
And click here for a link to the Travel Time segment that appeared on the Golf Channel.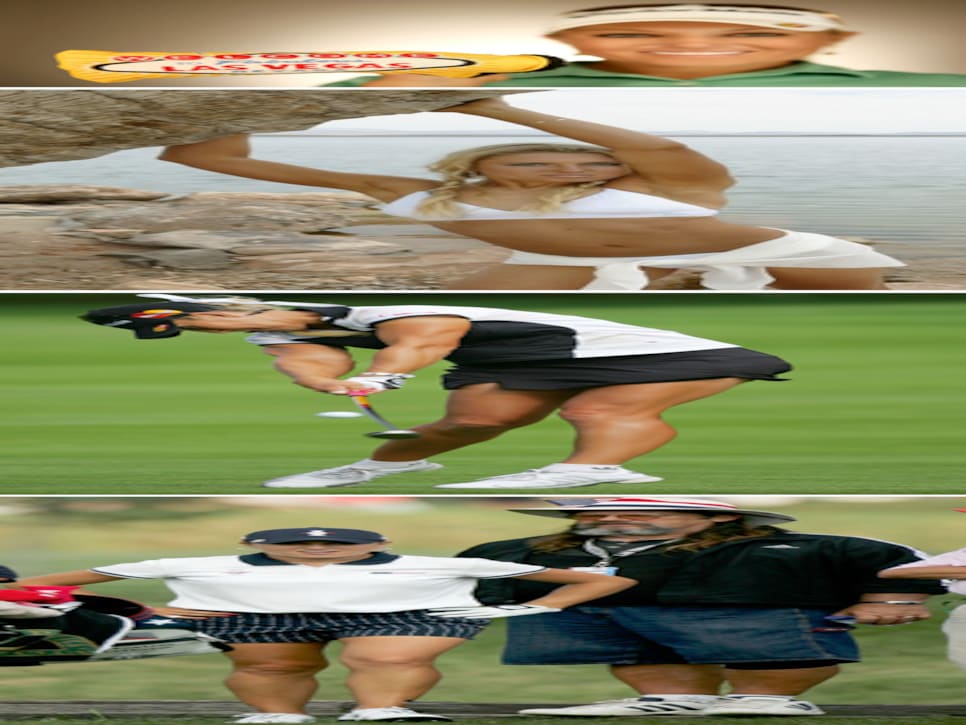 I have another Gulbis story I can share. I've coordinated a few photo shoots with Gulbis over the years, both at Sports Illustrated and at Golf Digest/Golf World. She has always been nothing but sweet to work with. She's incredibly candid and has a sincere dedication to the game and to winning. I also feel like her father, John, is often misunderstood or misinterpreted as a typical overbearing "little-league" parent, probably attributed more to his appearance than any of his actions. He simply looks like a man who loves long rides on a Harley. John Gulbis (pictured; bottom right) attended a few of the photo shoots I was on, he sat off-set and would never speak unless spoken to. He was anything but over-bearing and he seemed to let Natalie do her thing.
Gulbis was born in 1983, she started playing golf when she was 4, won her first tournament when she was 7, played in her first LPGA Tour event when she was 14 and turned pro when she was 18.
So much of our opinions about tour players, other athletes or celebrities are based on the chance encounters we have with them. To take you back to when I was the golf photo editor at Sports Illustrated and Gulbis was bursting onto the golf scene. This was probably 1999 or 2000. Gulbis is from Sacramento, Calif. and that's where I sent the photographer to take a set of pictures for a story SI was running about her young success.
Right about the time the photo shoot was supposed to be taking place, I received a message on my voicemail. It was from Natalie. She was explaining to me that the photographer, John Burgess, had slipped off the side of a hill just as they started taking pictures. It was so bad they called the ambulance. She told me Burgess was on his way to the hospital and her and her father were going there as well, to make sure everything was OK.
"They had only met me for seven minutes," said Burgess. "They could've put me in the ambulance and said good luck. Instead they brought my truck to the hospital and waited there until help arrived. Not only that, I received a very sweet card in the mail from them a week later."
It turns out Burgess needed a plate and eight screws in a broken ankle.
Right before I was scheduled to speak to Natalie for this Q&A, I was in Northern, Calif. visiting some family. I just happened to bump into Burgess's wife (Santa Rosa's still a small town) and told her I would be interviewing Gulbis for Golf Digest. Burgess's wife told me to thank Gulbis again for everything her and her father did to help her husband that day.
At the end of my interview with Gulbis a few weeks ago, I reminded her of that fast photo shoot and passed on the appreciation on behalf of the Burgess family.
Gulbis remembered that crazy day and downplayed her and her father's above-and-beyond performance after Burgess had been injured. "He's the only photographer who has ever been hurt on any of my photo shoots," said Gulbis. "Thank you for sharing that."
As I told her in the interview, after she told me she passes time on long flights by reading Time and other business magazines, she's not just a pretty face.