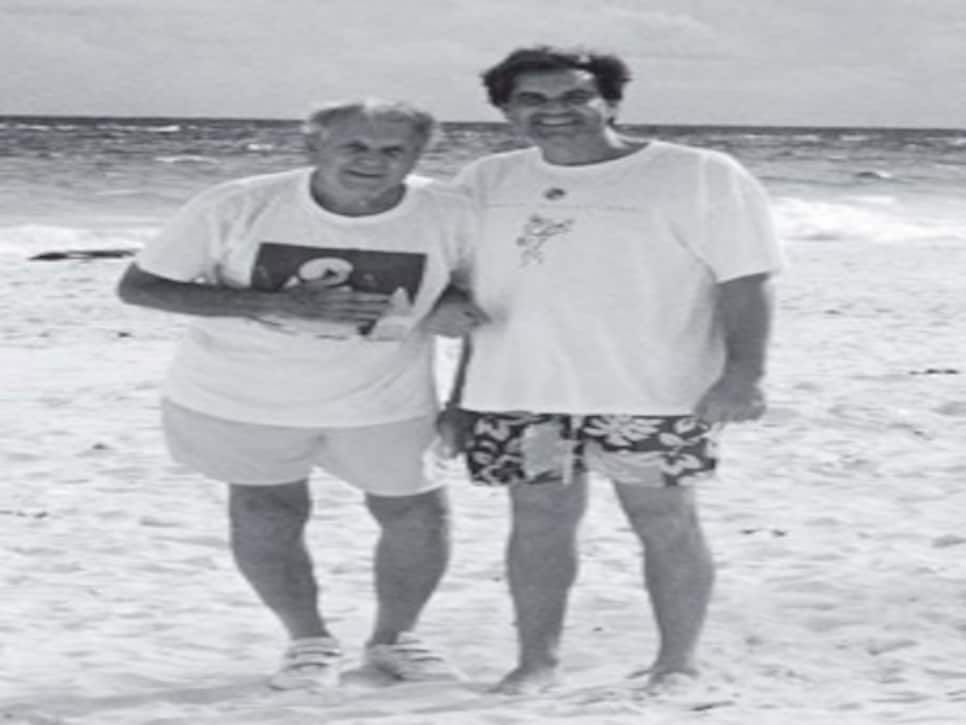 Editor's Note: Jim Nantz is the face of CBS Sports, a year ago hosting the network's coverage of the Super Bowl, Final Four and Masters during a nine-week stretch. Twelve years earlier, while his parents were visiting him during a PGA Tour event in Fort Worth, Nantz and his family were rocked when his father, Jim, suffered a mini-stroke, "probably the latest in a series of setbacks that we had failed to recognize for what they were," Nantz says in his newly released memoir, Always By My Side: A Father's Grace and a Sports Journey Unlike Any other.
"In fact, there were numerous other warning signals," Nantz writes. "For instance, my sister, Nancy, recalled a recent incident on a vacation, when Dad went to the hotel lobby for a quick cup of coffee and forgot what room he was staying in. We also remembered Dad's sudden difficulty in correctly pronouncing the name of our longtime neighbor. We had laughed off these awkward moments to put my father at ease. But these and other cognitive data points were hiding in plain sight.
"In the weeks after Fort Worth, my dad's condition improved," Nantz says. "His speech returned, and the partial paralysis of his left arm also disappeared. Still, something was amiss. We became more conscious of his inability to 'connect the dots,' and our suspicions and fears mounted.
Finally, we took my father to be evaluated by a prominent neurologist, Dr. Stanley Appel. He confirmed the clinical diagnosis that several other physicians had made. It was the word we all had come to dread most:* Alzheimer's*."
With the patriarch remaining under care today, Nantz; his sister; mother, Doris; and extended family continue to deal with "the unremitting nightmare known as Alzheimer's," but the book remembers the good times as well as the tough ones. And with Father's Day on June 15, Nantz offers this dedication:
"To my family, especially Mom -- a woman of deep faith, fierce loyalty and unconditional love. To dads everywhere, who encourage their sons and daughters to dream big dreams -- and inspire their kids to pursue them. And to all who cope with Alzheimer's patients -- may you, too, find grace through the legacies of your loved ones."
Here, we excerpt moments from the Nantz family's journey.
Augusta National is one of the most beautiful courses ever created by man. But God's gift to golf can be found on the Monterey Peninsula with a pair of classics: Pebble Beach Golf Links and the Cypress Point Club -- separated by only three miles. There is no more breathtakingly scenic spot on this planet than this corner of California real estate.
Each February, after the Super Bowl and the 20-week grind of the football season, I come to Pebble for renewal. I put the time change to good use, waking up before 6 most mornings to slip on my running shoes and jog the course. Following the cartpath in darkness, I work my way out to the tee at the seventh hole. There, I sit in silence on the wooden rail fence, waiting for the dawn to break.
When the unfolding panorama of a new day stabilizes, I conduct my annual one-man "Board of Directors" meeting, taking stock of my life and my career. Along this same jagged shore, I had often sought insight and inspiration as I thought about my dad.
Years earlier in my career, I was plagued by a sense of "success guilt." How, I wondered, could I enjoy the affluence of the Lodge at Pebble Beach while Dad was driving all around Texas trying to develop a customer base for his office-furniture business? That was when I began to develop the idea that my father would travel with me and help me in my business.
Sadly, before that dream for my father could become a reality, he was overtaken by Alzheimer's. It was on the Monterey Peninsula where I grappled with the traumatic decision regarding his transfer to a private-care facility.
Balancing the emotional ledger, Pebble Beach was also where I was able to share a wonderful father-and-son road trip. In 1990, I had the privilege of bringing my dad out to watch the AT&T Pebble Beach National Pro-Am; he sat with me in the tower and walked the course, and on the day after the tournament we played Pebble Beach together. For someone who enjoyed the game -- and adored the beauty of nature -- as much as he did, it was, he claimed, one of the greatest rounds of his life.
Although I was never able to duplicate that wonderful experience with my father, I did relive it vicariously through CBS Sports executive producer Tony Petitti. He and his dad, John, a 22-year New York City police officer, loved golf. On weekends, they would drive out to Long Island's famed public course, arriving at Bethpage at 4 a.m. to reserve a tee time before sleeping in the car. In 1999, Tony brought his father out to play Pebble Beach and Cypress Point. John Petitti passed away five years afterward, and to this day, like me and countless others, Tony says that he cannot go back to Pebble without thinking of his dad and the warm memories of their special rounds together.
Cypress Point is where I met Jim Langley, the retired head professional and a saintly man. He's one of the special individuals whom I would choose to play with in my "dream foursome." Actually, since I'm making the rules here, it would be a fivesome, including my dad, Langley, former President George H.W. Bush, Ken Venturi and Eddie Merrins, the renowned "Little Pro" of Bel-Air Country Club. For my part, I would gladly walk alongside the five of them to keep score as they played -- just as I used to do for Coach Dave Williams in the late 1970s, when Fred Couples, Blaine McCallister and John Horne were on the course competing for the Houston Cougars golf team.
Langley was a member of Pete Newell's University of California-Berkeley basketball team that defeated the Jerry West-led West Virginia Mountaineers for the 1959 national championship, but golf was his true calling. For more than three decades until Langley's retirement at the end of 2005, he served with distinction at Cypress Point.
In 1987, Jim's life changed in an instant. He was pushing his car off the road after running out of gas on Highway 101 when he was struck by an oncoming car. Miraculously, he survived; but this gifted athlete permanently lost the use of his right arm. Rather than let that near-fatal accident embitter him, Langley claimed that, like everything else in life, it was "for the best" -- providing him with a chance to learn more about himself and life.
Jim was the one who showed me a plaque to the right of the tee at Cypress' 17th hole, which hugs the rocky coastline. The inscription reads, "Gentlemen, I suggest that we pause for a moment, admire the beautiful view, count our blessings. Very few of us are privileged to pass this way." A club member, Clarke W. (Boney) Bearden, used to recite those words as he and his fellow players came upon this point in their round.
I was deeply moved by the custom created by Mr. Bearden, a man I never met. I, too, have always believed one should ritualize moments of reflection. In Tony Petitti's case, every time he returns to Cypress and steps up to the 17th right by Bearden's plaque, he leans over and uses his golf tee to scratch his father's initials -- J.P. -- into the sandstone below. Quietly, he memorializes his dad and one of the greatest days they ever shared. These are all critical reminders that life should not be taken for granted; indeed, we never know if we will be privileged to pass this way again.
Beginning in 1947, when Bing Crosby brought his show-business pals north from Hollywood and entertained them at his annual "clambake," the popular conception of celebrities casually at play began to take root at Pebble Beach, and the event was covered by society columnists as well as sportswriters. The first year that I came out to Pebble for CBS was 1986. At one point, Frank Chirkinian assigned me to interview some of those celebrities on Saturday as they came through at 17. I remember going to Frank's office to confide that I didn't feel totally comfortable about it.
Hey, anybody here want to try on the green jacket?' Fred blurted out. 'Mr. Nantz,' he said in the direction of my father. 'How 'bout you first?'
"What do you mean you 'don't know what to ask these guys'?" he thundered. "For God's sake, they're playing a golf tournament. You ask them about golf! Son, you see that lake out there?" Frank pointed out his trailer window at the Pacific Ocean. "If you ever come in my office again and ask me another stupid question like that, I'm going to personally pick you up and throw you in that lake!"
In relatively short order, I learned a pair of important lessons: the diplomatic art of asking non-professional golfers about their swings, and that maybe it wasn't such a great idea to "confide" in Frank on the morning of a broadcast. Eventually, I came to enjoy meeting such show-business legends as Vic Damone, Jack Lemmon, Burt Lancaster, Robert Wagner, Phil Harris, Kevin Costner and Bill Murray.
One of my biggest thrills at Pebble was when I got to meet one of those stars who was one of my non-sports heroes. Chirkinian was hosting a dinner at the Lodge in 1988, and the evening was running late. Realizing that he had made an early-morning golf commitment for the next day, he asked me to play for him. When I showed up at the appointed hour at Cypress Point, I learned that I would be playing with Sean Connery. As the latter climbed the hill to the tee box on the par-3 seventh hole, the cinematic idol of my youth inquired in that familiar Scottish inflection: "Who has the ah-nuh?"
"You do, sir," I said, which would have been perfectly fine had I stopped right there. Instead I blurted out, "Go ahead, play away ... Mr. Bond!"
Instantly, I felt everyone's eyes boring in on me. I tried to steal a glance at Connery, who had assumed one of his trademark smirks.
"Well, it is No. 7. So it should be kind to you, sir," I muttered, desperately trying to recover.
Connery ignored my feeble comeback and hooked his tee shot into an unraked sand dune 20 yards short and left of the green. I thought, I'll never hear the end of this from Chirkinian and the rest of the CBS golf crew.
Now if you thought Connery got away with some implausible escape stunts as 007, what he did with his second shot defied even Ian Fleming's imagination. Connery scooped the ball out of the unsavory lie and somehow guided it through the sloping rough to the edge of the green, leaving him with a 40-foot putt to save par. Then, to my further astonishment, he calmly knocked in the 40-footer for a 3.
As Connery bent over to retrieve his ball, he pointed his finger at me and flashed that "Do I look like the sort of man who'd make trouble?" grin.
"No. 7," he said, milking the moment. "Why, you were right!"
You cannot imagine how relieved I was to see that the great Connery had only been stirred, not shaken, by my faux pas.
Alas, there was a sequel to my adventure with Mr. Bond.
When we finished our round, Connery asked if I would mind giving him a lift back to the Lodge.
Would I mind? How could I resist the chance to spend more time with a man whose lines I could recite by heart?
Although my rental car was hardly the sort of vehicle Connery would use on the big screen, the trunk easily accommodated the golf bags. Then, as I made my way back around to the driver's seat, I noticed that the rear door was open, so I gave it a good shove. That, to my horror, elicited an instantaneous howl.
"Oh, my [expletive] leg!" Connery screamed. Failing to notice that his left leg was still outside the car, I had slammed the door right into that tender spot where the ankle meets the shin. His pants were torn, and blood was starting to trickle through. I envisioned that Connery, after flying halfway around the world just for this tournament, would have to withdraw because of my carelessness.
That fear was soon supplanted by a weirdly perverse thought: I had managed to do what neither Blofeld nor any of 007's other cinematic adversaries had achieved: I had bloodied the invincible James Bond!
Fortunately, the gash looked worse than it was, and with him showing his legendary powers of recovery, we even had lunch together at Club XIX at the Lodge. When the day was done, he invited me to play golf at Valderrama should I ever find myself near Marbella, Spain, where he was living at the time. "How would I find you?" I asked incredulously.
"Just look me up in the phone book, Jim," he said. "It's listed under Connery ... Sean Connery."
REMEMBERING DAVIS LOVE JR.
Along with my college amigos, Fred Couples, Blaine McCallister and John Horne, Dad's favorite golfer was Davis Love III, a fellow Tar Heel by birth. Only four days before Davis came into the world, his father, Davis Jr., delivered a 69 at Augusta National to share the first-round lead at the 1964 Masters with Arnold Palmer and Gary Player, among others. Davis Jr. was a protégé of University of Texas golf coach Harvey Penick and became a highly regarded golf instructor. He built his son's game and did an outstanding job teaching him how to become a gentleman and a winner.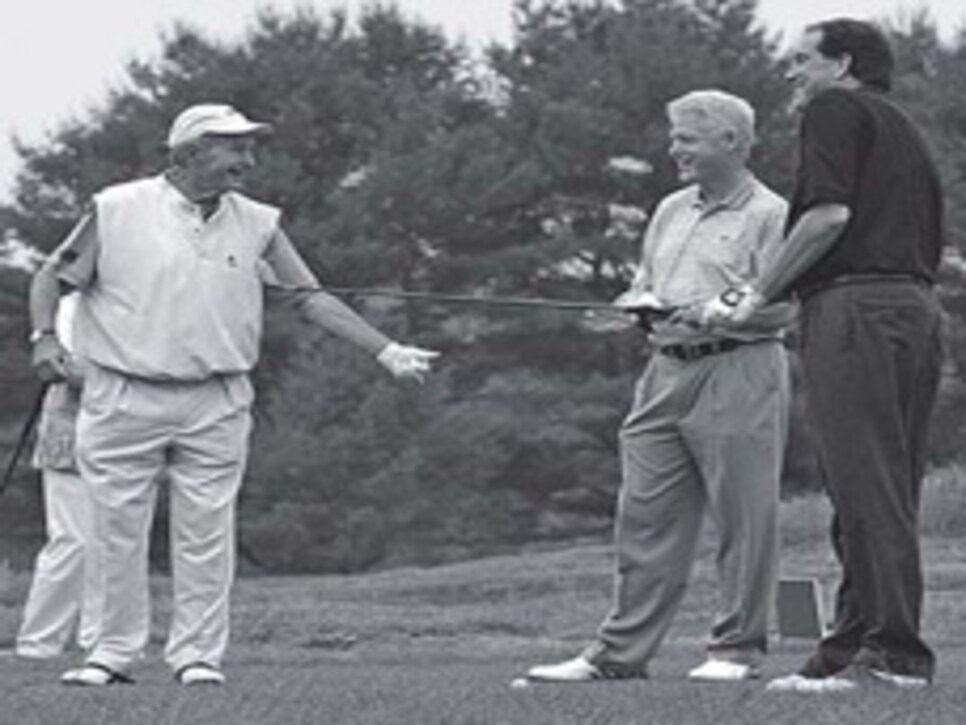 Davis III was a rookie in 1986, when he almost won the Buick on our air. In 1987, he broke through and captured the Heritage at Hilton Head. Eighteen months later, Davis' dad died in a plane crash; he was only 53, and at that special point when both father and son were enjoying the peaks of their respective, and intertwined, careers.
It took Davis a long time to regain his personal and career equilibrium after that tragedy. But by the summer of 1990, he had restored his game. His first win without his father's direct guidance came at the International at Castle Pines in Colorado. As we waited together on the 18th green during a commercial prior to the winner's interview, Davis, a soft-spoken man of few words, just looked at me. The expression on his face seemed to be begging, Please ... don't ask me about him!
"I know he's on your mind," I said, sympathetically. "But if you don't want to go there, we won't."
"Please don't. I don't think I can handle it."
We were almost back on the air when he drew an audible deep breath and exhaled slowly. "You know what? I would like to say something. It would be the right thing to do. Just please, make sure it's the last question."
After congratulating Davis on camera, I asked him a few innocuous questions about the tournament and his victory.
"Finally, Davis," I said, "I know this is not going to be easy for you, but how much was your dad on your mind today?"
You could feel him steeling himself for the moment. Fighting through tears of sorrow mixed with joy, Davis made a valiant effort to get out a few coherent sentences about how much he loved his father and how this victory was dedicated to him.
Davis went on to further successes, most notably winning the 1997 PGA Championship at Winged Foot. The PGA of America (as opposed to the PGA Tour) is an organization of some 28,000 professionals, many of them teachers, and there was no better way for Love to honor his father, who was such a distinguished student and teacher of the game.
I'll also remember that major at Winged Foot because it was the last golf tournament that my father ever attended, an occasion that lent if not closure then symmetry to our blissful romp at the 1974 U.S. Open there [when Nantz was 15]. At Winged Foot in 1997, [sister] Nancy was nearing her due date with her son, Holton, but she was there, along with her husband, Don, and my mom, to provide "team coverage" for my father. Just before Davis' final putt at 18, a spectacular rainbow arose. Steve Milton, our ace director, instructed Davey Finch to take his hand-held camera to the other side of the green to frame the shot so that the cup would appear to be the pot of gold at the end of the rainbow. It was one of those magical visuals, so rich with symbolism that come around only a few times in a career's worth of tournaments.
Not only was Davis Love III skilled with his golf sticks, he also proved to be a solid knife-and-fork man. In 1994, when we were in Miami for the Doral, Davis joined Lance Barrow [of CBS], Fred, Paul Marchand -- Couples' instructor, and our dear friend and college teammate -- and me for dinner on Saturday night. Most of us had already eaten at Joe's Stone Crab so many times that week we felt as if we were beginning to generate claws. Fortunately, Lance -- who coined the admonition "Sometimes, ya gotta eat hurt!" -- always kept current on his gastronomic options. He had a Cuban hideaway down on Calle Ocho that was next in line on his restaurant depth chart.
Because we were younger and hungrier back then, our game plan going into the meal was for each of us to order a double entrée; we wanted quality and quantity, and that might have been a huge mistake. The next day, Davis shot a bloated 77. Fred, who was in fourth place on the leader board, was even less fortunate.
"Jimmy," Frank Chirkinian said as we were a few minutes into our rehearsal, "something's happened to your boy Freddie out there on the driving range, and it doesn't sound good. Now listen, you climb out of that tower, and you go check up on him. Take as much time as you need. I don't care if you miss the first part of the show. You need to be there for him."
By Doral that year, Fred already had two second-place finishes -- all this despite the fact that his heart was with his mom, who was back home in the Pacific Northwest fighting cancer. By the time I caught up with him at his room, he was lying on his back in tremendous pain. He had been loosening up on the range prior to his round, but after hitting an 8-iron the lower part of his back "snapped," leaving him frozen in his finish. Fred withdrew from the tournament, but he didn't want his mother to hear that from the broadcast. Because he had an aversion to telephones, I explained the problem to her, just as I had in college, when I served as "the official spokesman" to his parents, filling them in on his weekly activities.
Even back then, in the days before e-mail and cell phones, Violet Couples organized Fred's life for him by long distance from Seattle. Fred's father, Tom, worked for the Seattle Parks and Recreation Department. When Fred was in his midteens, his parents knew he had a special gift. So Mrs. Couples worked overtime in an office job at Boeing so that they could afford to send their golf prodigy to compete against the best juniors on the amateur circuit each summer. Just two months after Doral, Violet Couples succumbed to her illness on Mother's Day 1994. Later that fall in Houston, Fred created a cancer-research fund in her memory and tearfully told the audience at our "Three Amigos" charity benefit, "Somebody once said that God takes away only the most special moms on Mother's Day."
At about the time Fred's mom had passed, my wife, Lorrie, and I were blessed with the birth of Caroline. Of all the many thoughtful and beautiful gifts that we received, one was especially poignant. A package from Seattle arrived at our Connecticut home, and inside was a matching set consisting of a little baby cap, a sweater, and a baby blanket. Each of these adorable items had been lovingly hand-knit for the occasion by Mrs. Couples.
If any solace was to be found, it had to be that Violet Couples lived long enough to see her son become recognized as the No. 1 player in the world. In 1992, Fred had won two tournaments and finished second in two others as he approached the Masters, where he was a favorite to capture his first major. But first, there was the NCAA basketball Final Four, which fell on the weekend before Augusta. On an impulse, Fred and Blaine McCallister decided to join me in Minneapolis at the Final Four. No tickets, no hotel rooms, no worries! They slept on the sofa in the lounge on the concierge floor of my hotel and "earned their keep" as my "runners." Just to make it official, as I walked the half mile from the hotel to the Metrodome, Fred and Blaine took turns, block by block, carrying my briefcase.
Once inside, my broadcast partner, Billy Packer, and I made sure that CBS would get its money's worth from the $50 fee it was paying each of its millionaire gofers. Billy and I kept our special assistants on the go chasing down interview transcripts and refilling our refreshments. Columnist Mitch Albom thought it strange to see two high-profile golfers trying to balance four Cokes on trays.
"Hey, don't strain yourself too much, Fred," I told Couples as I tried to keep a straight face. "You're going to win the Masters next week. We don't want to see the dream ruined here."
That dream dated to 1977, when we were freshmen in college. Just for the fun of it, my roommates and I would sometimes play-act the scene from the Butler Cabin at the Masters. I would pretend that I was hosting the Masters for CBS and interviewing Fred, who made believe that he had just won it. Obviously, talent and good fortune are the key elements of success -- but imagination also plays an important role in mysterious, subconscious ways. Sure we were college kids throwing up career Hail Mary passes, but defining a desired end is a good way to assure that all roads will lead there.
Each of our Taub Hall foursome has fulfilled his longstanding ambitions. In addition to Fred and me, Blaine enjoyed a prosperous 25-year tour career, winning five times; John Horne, too, played on the PGA Tour in the 1980s -- and now holds the ideal position in his second career as head golf professional at Plainview Country Club in his hometown in West Texas.
In retrospect, much of the success that we've enjoyed has come as a result of our lifting one another upon our shoulders and having our inner beliefs emboldened by the knowledge that our best friends had complete faith that we could each pull it off. Despite the astronomical odds stacked against, say, Fred winning the Masters one day and me being there for CBS to present the green jacket to him, it was all so remarkably vivid that seemingly all we had to do was wait for real life to follow our detailed script.
With Fred at Augusta in 1992, you could feel it coming together. When he came into the Butler Cabin after signing his scorecard, the parties on both sides of the microphone were emotionally vulnerable. Slowly, like picking our way through a psychological minefield, we recapped his final round. He never alluded to our special connection. Everyone could tell from his body language that the fear of losing his composure prevented him from offering a heartfelt answer.
When defending champion Ian Woosnam placed the green jacket on Fred's shoulders, the sleeves barely made it down past his elbows. Nonetheless I said, "It's a perfect fit! ... Fred Couples ... Masters champion."
My voice quivered, and I was still not letting go of my congratulatory handshake with Fred as I signed off: "For all of us at CBS Sports, Jim Nantz saying good night from Augusta, Georgia."
I turned and gave Fred a hug, which became a genuine deep embrace, with both of us sobbing on each other's shoulder. Frank had gone straight to the credits, but he did record our quiet moment of celebration together, and it's another treasure in my personal archives.
As Fred went off to be feted at the annual Sunday-night dinner in honor of the new Masters champion at the Augusta National Golf Club, a group of us congregated back at his house to welcome our champion. Finally, at about 10 o'clock, Fred came in, and we all wanted to hear about his day and night. Paul Marchand, who had walked the course with Fred each day, had set the VCR at the house to record the CBS broadcast. We watched the opening and the green-jacket ceremony, only this time, instead of being on edge, we were all giddy.
"Hey, anybody here want to try on the green jacket?" Fred blurted out. "Mr. Nantz," he said in the direction of my father. "How 'bout you first?"
Now if the jacket was too small for Fred, you can imagine that it looked like a little boy's confirmation coat on my father. But everyone cheered, and Dad was clearly moved. He beamed with parental pride as one who loved Fred, and all my friends, as if they were his own children. It's one thing to be a fan, a journalist, or even a casual acquaintance. It's quite another to be part of the inner circle, and to finally be able to say, "I knew him when!" after so many years of saying, "One day, you will!"
In terms of sheer golf drama, Fred's victory did not approach Jack Nicklaus' 1986 Augusta miracle, which, as Ken Venturi predicted, might remain unrivaled for another half century. Nonetheless, I cannot imagine ever witnessing a moment that will touch me more deeply than this perfect fulfillment of a glorious dream that had been shared for so many years by intimate friends.