News
Wie Ready To Dive In At Kraft Nabisco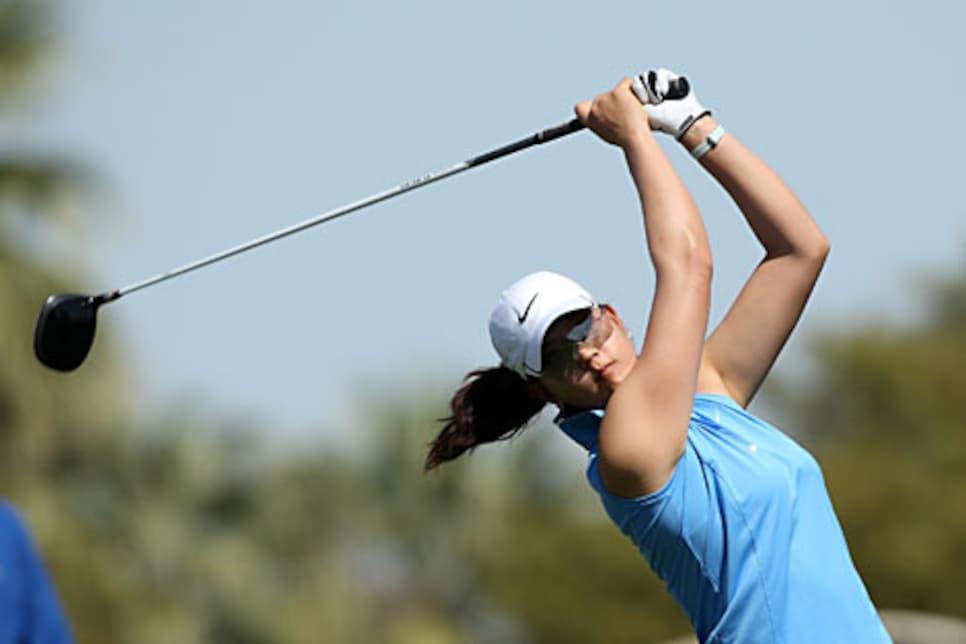 Michelle Wie has come close at Mission Hills Country Club, but this week she's already talking about a victory celebration.
RANCHO MIRAGE, Calif. -- What to make of Michelle Wie talking of making a splash this week at the Kraft Nabisco Championship? It was either a violation of a psychological tenet of golf, not to get ahead of yourself, or a brash demonstration of confidence, what some would describe as cockiness.
Either way, she was discussing the traditional winner's plunge into the pond that surrounds the 18th green of the Dinah Shore Tournament Course at Mission Hills Country Club, and plotting her strategy. "We did a little greens map," Wie said. "We coursed out the greens and I told Timmy (Vickers, her caddie) I have to course out the water, which way is the deepest part. I hopefully want it to be a graceful jump, but it'll probably turn out to be a really ugly one. But I don't really care as long as I get to it."
Give her the benefit of the doubt, that on a course on which she has a stellar record that essentially is missing only a victory, she no doubt is optimistic about the opportunity ahead.
For the rest of the golf world, the Kraft Nabisco is a barometer from which her progress can most accurately be gauged.
Wie, 19, has a track record here that dates to 2003, when she was 13 and finished ninth. The following year, at 14, she finished fourth and even had a chance to squeeze into a playoff with an eagle at the par-5 18th.
She eschewed the risky second shot and laid up, taking eagle (and victory) out of the equation, and later explained that her decision was the result of her determination to finish in the top 5. Inasmuch as she was an amateur and no money was at stake, it was a curious strategic play that can only be attributed to youthful indiscretion, playing for fifth instead of first.
Then there was 2006, the last time Wie played here, when she needed birdie at 18 to get into a playoff and hit her second to the fringe. She chose to chip rather than putt, ran the ball 10 feet past the hole, missed the birdie putt, and tied for third. Another error in judgment that can be ascribed to youth.
By now, she should have acquired at least a measure of wisdom that, together with her inherent skill, still evokes promise. Yet hers has been such an odd evolution, that expectations were probably higher when she was 15 and an amateur than they are now that she has joined the LPGA rank-and-file. Remember, at 15, she played in the PGA Tour's Sony Open and missed the cut by a single shot.
Wie's talent is such that a victory in the Kraft Nabisco would not qualify as a surprise, but neither would her finishing 40th. She tied for 57th at the J Golf Phoenix International last week, her first start since finishing second at the SBS Open at Turtle Bay in February.
Erraticism has defined her play over the last two years (in part because of a wrist injury), but it has never been an issue for Wie at Mission Hills. In four starts, her worst finish is a tie for 14th.
"There are a lot of memorable things," she said of Mission Hills. "Just everything about this golf course. All the good shots I've had. I have a lot of good memories."
She has a course that apparently fits her eye and suits her game, and she seems to enjoy the big stage. A disappointing finish would not portend a career of mediocrity, of course; she's still only 19. But neither would it inspire confidence that she has finally returned to the threshold of stardom.
So it is here that we should get a better read on Wie, whether she's closer to the woman who finished T57th in Phoenix or the one who finished second in Hawaii, whether she'll sink or swim on Sunday afternoon. Clearly, she's determined to do the latter.