News
McPherson Alone in 1st Place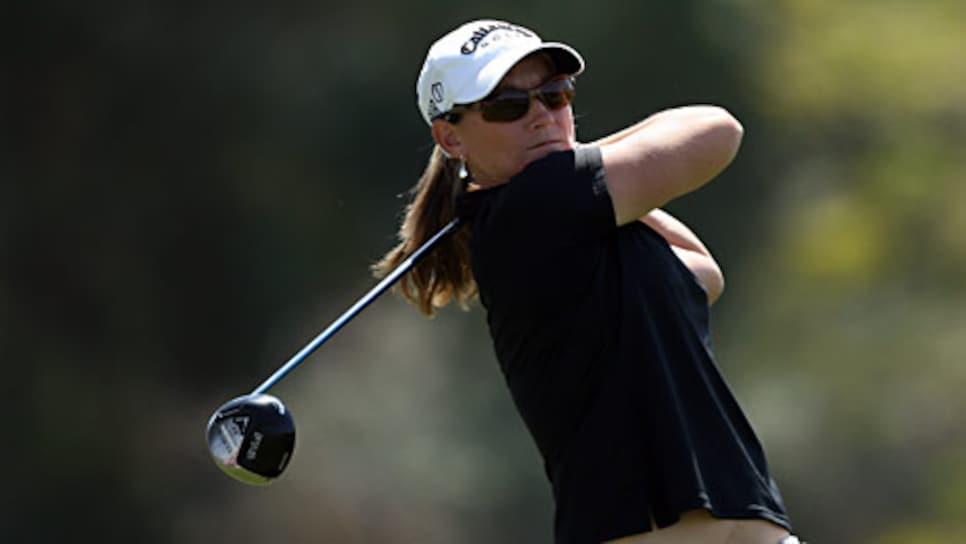 With six Top-10s in 2008, McPherson, in her third season on tour, is ready for her first win.
RANCHO MIRAGE, Calif. (AP) -- Kristy McPherson, Cristie Kerr and Brittany Lincicome will tee off together in the last group Sunday at the Kraft Nabisco Championship.
The all-American pairing for the final round of the LPGA Tour's first major of the season makes quite a statement, especially in a Solheim Cup year.
So much for the theory that American golf is on the wane.
"There is such strong competition out there from so many different countries," said McPherson, who shot a steady if not spectacular 2-under 70 on a hot, calm Saturday to take sole possession of the lead at 8-under 208.
"It's tough golf out here. I'm happy that a lot of the Americans are having a solid week, and it just makes us want to play better golf out here."
Kerr was one shot behind McPherson while Lincicome was two back atop the tight leaderboard. They also shot 70s on a day when tough pin placements at Mission Hills made for fewer birdies.
"It's about time," Lincicome said of the American-dominated leaderboard. "It's really cool to see. I'm so proud of my girls. I am so proud of the Americans, especially Kristy. Kristy is one of my best friends on tour."
"You know, it makes me proud to see all the Americans up there," she said.
"We have to remember, we have a very international tour, and a lot of great players from Asia," Kerr added. "As the years have progressed on the LPGA, it's been tougher to win. Things go in cycles, and I think that the Americans are back. It's a Solheim year. I think they are kind of getting wrapped up to play the Solheim."
It's also an all-Florida trio. McPherson is from Tampa, Kerr from Miami and Lincicome from Seminole.
McPherson will by trying for her first LPGA Tour win.
To have a shot at it in a major "makes it all the better," she said. "I don't try to think too much, but I haven't had that whole major feeling this week, which is good. It has allowed me not to have too many nerves."
Kerr has one thing on her side that McPherson and Lincicome don't -- the experience of winning a major, the 2007 U.S. Open.
"I definitely think it's an advantage, knowing what it's not only like to win a tournament, but a major and how to handle the emotions and how you feel," said Kerr, who has 11 career victories.
She also had the craziest shot of the day, when her tee shot on the par-3 14th bounced on the green and was screaming toward the water when it apparently hit a rock along the shoreline and bounced back, almost going in the hole. She missed the birdie putt, though.
"I thought it was in the water for sure," she said. "I even went in there and looked. It was the hand of God that blew it over there. I should have made the putt; it would have been a better story. Sometimes you get a break, and to contend in a major especially, you have to have the good breaks. I felt that."
She did birdie the par-3 17th, hitting a 6 iron within six inches.
"No, I didn't aim it there," she said. "I made birdie last year when that pin was there, as well. It was a fortunate break for me that it hit in the spot that it did, and almost went in. It was nice not to have to work a lot."
On Friday, McPherson and Christina Kim teed off before strong wind raked the Coachella Valley and jumped into a tie for the lead in the LPGA Tour's first major of the season.
Kim faltered in the third round Saturday with a 75 and was five shots back. Jimin Kang and Lindsey Wright both shot 71 and were four shots back.
Lincicome, who has two career victories, was the first-round leader after shooting a 66.
McPherson got a nice round of applause from the gallery -- and playing partner Kim -- as she crossed the bridge to the 18th green.
McPherson had a birdie putt for a two-shot lead but ran it just to the left of the cup.
"It's a tough leaderboard up there," she said. "I know that I have to play really solid golf. You've got a lot of girls that can do a lot of good things out there."
On a day when nobody ran off with the lead, McPherson at least stepped up and put her name atop the leaderboard by opening the back nine with three straight birdies.
Defending champion Lorena Ochoa needed a birdie on 18 to shoot her best round of the tournament, a 72. She was tied for 15th at 2 over.
"For me, better," the top-ranked Mexican star said. "I feel that I have a chance tomorrow and that's what I will try to do, something special tomorrow."
At the bottom of the leaderboard was Michelle Wie, who had another bad day with her second straight 9-over 81. She was at 17 over for three rounds.
Wie ended Friday at the cut line. She started Saturday by hitting her first tee shot out of bounds to the left, leading to the first of her three double bogeys. Her other two double bogeys came when she hit into the water on both par 3s.
Wie also had four bogeys and only one birdie.