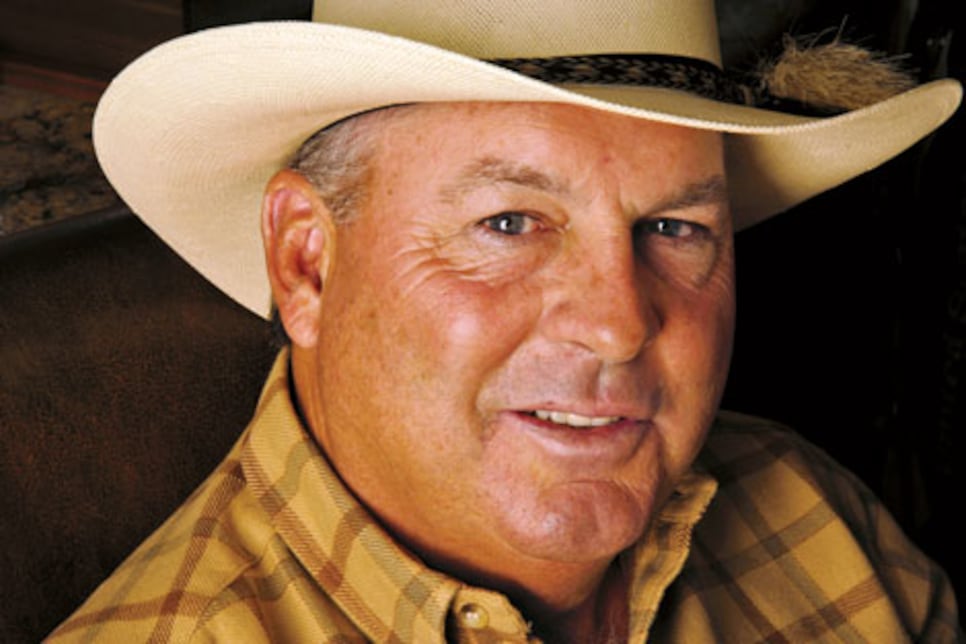 Lanny Wadkins, photographed Jan. 31, 2006, at his home in Dallas.
When I go to the Masters to call the tournament for CBS, I feel a sense of mortality. You think you're old, having watched Gene Sarazen as an honorary starter? Well, I played with him in the tournament. All 18 holes, in 1970, my first Masters. The only solace in that is that I had a lower score than he did that day.
Working at CBS is my first real job. I mean in terms of reporting to somebody, of having to toe the line. That's hard for 99 percent of Americans to imagine, but there you have it. When a directive comes through my headphones to address an issue I'm not comfortable addressing, I have to do it, and that isn't easy. In that regard I've become a working stiff like everybody else.
Here's a stat you might hear from me this spring: Going into the Masters, there is exactly one American player under the age of 30 with more than one tour win: Jonathan Byrd. And there's only one guy under the age of 30 with a major championship: Ben Curtis. That's it! That's a frightening statistic, and it tells me the strategy for developing young players today is not working.
Teachers and players might defend the idea of whacking 185-yard 7-irons on the range for six hours, but they should forget the range, video and swing monitors and start playing golf. Playing is so much more important than practicing. Young players today all hit the ball great, but they're missing an edge when it comes to scoring and course management. This devotion to the range is like a disease.
After the Dallas Cowboys drafted Troy Aikman and camp was underway, some writers asked Jerry Jones how Aikman was coming along. "All I can say right now is that he looks good in the shower," Jones said. That's the young tour player exactly. There isn't one that doesn't look like a superstar on the range. The thing is, they hand out the scorecards on the first tee.
I was on several losing Ryder Cup teams as a player, none as painful as the loss when I was captain [1995 at Oak Hill]. I thought I'd done everything perfectly, and still we got beat. At around midnight, as I sat in my room alone with a lot of drink in me, the phone rang. It was Tom Watson. "I knew you'd still be up," he said. "Don't worry about it. It happens. You did everything right." I've known Watson forever — we stayed in the Crow's Nest together at our first Masters. I gave him the driver he used to win eight majors.
Mickey Mantle was a very good friend of mine. Went to dinner together a lot, played countless rounds of golf. I'll tell you, he was the most impressive club-thrower you ever saw. When he'd get angry, he'd raise the club next to his right ear and flip it. His hand didn't move more than a foot or so, but the club went 40 yards on a line, and if it happened to hit a golf cart, damage was done. You could see how he hit a ball out of Tiger Stadium.
When my son Tucker was born, my brother planted one of those wooden storks in my yard announcing the birth. I drove over to Preston Trail that morning, and Mickey was there. "Hey, I saw that stork out there and signed it for you," he said. Sure enough, on one side of the stork was the announcement that Tucker Lanston Wadkins had just arrived. On the other side was, "To Penny and Lanny, congratulations. Your neighbor, Mickey Mantle." Mickey knew what a personal touch from Mickey Mantle meant to people.
When I played in the Kemper Open, Penny and I used to stay with Kent Feddeman, a friend I'd met playing in the pro-am. In 1981 I was looking for some new woods, and Kent mentioned he had some old MacGregors at home. The old MacGregor persimmon woods were terrific, and while he's rummaging for the clubs, I see an old Yankee batting helmet. "I got that at a Washington Senators game when I was 12," Kent said. "They were playing the Yankees, and Mantle struck out. He was mad and threw his helmet against the fence. On impulse I jumped the fence, grabbed the helmet and ran off, with the security guys chasing me. As you can see, I got away."
I examined the helmet, and inside was a strip of white medical tape along the sweatband with "Mantle" written on it. I borrowed the helmet and took it back to Dallas. Then I found Mickey out at Preston Trail, handed him the helmet and told him the story. He lit up. "Hell, I remember that game," Mickey said. "We were all rooting for that kid to get away. I'll tell you something else: Tony Kubek struck out four times that day, which was amazing, because Kubek never struck out." Mickey took the helmet and put it on his head. "Still fits," he said. Then he took a silver paint pen and wrote on the helmet, "To Kent: Nice catch, Mickey Mantle." I can't describe the moment Kent and I shared when I delivered that helmet to him.
I'm a fast player and had to learn to deal with slow play. There are three tricks to doing that. First, get in the habit of walking more slowly to your ball. Slow play only bothers you when you're at your ball waiting to hit, so just take more time getting there. Second, don't pull the club from your bag until you're ready to hit. Standing with a club in your hand making a bunch of practice swings is not good preparation. Finally, if you're playing a match, never let the slow players know that they're getting under your skin. Once they find they're getting to you, they'll find ways to get even slower. Seve tried to slow-play me something terrible in the Ryder Cup, and so did Bernhard Langer, but I never let on that it bothered me.
I gave Seve headaches. I was 4-0 against him in the Ryder Cup. He'd try to intimidate you, but you just had to throw it right back at him. At The Belfry in 1985 on the first hole of a four-ball match, his coin was in my line, and I asked him to move it. I pulled my putt, but my ball struck his coin, glanced to the right and went in the hole. "You do that on purpose!" Seve said. "You make me move my coin so you bounce the ball off of it!" I just looked at him and said, "That's right, Seve. I'm that f------ good."
Paul Casey didn't deserve the crap he took for his comment about the U.S. Ryder Cup team. ["We properly hate them."] I knew exactly where he was coming from. Look, it's easier to get up for an opponent you don't like. That's sports. I was and am friends with Bernard Gallacher and Sam Torrance, but for one week every two years I manufactured a very real dislike for them. I wanted to kick their ass. The problem is not Paul Casey hating the Yanks, it's our guys feeling a little too neutral about the Europeans.
The key to hitting hybrid clubs is decisiveness. Most amateurs don't know whether to hit down on the ball like they do with an iron, or sweep it like a fairway wood. You can play hybrids either way, but the trick is to choose one method and forget the other.
For years we played the same game in practice rounds. Bert Yancey and me against Tom Weiskopf and Arnold Palmer. We played a $20 nassau with automatic 1-down presses, which at the time was enough to get your attention without it getting wildly out of control. At the World Series of Golf in 1977 I came in hot. I'd won the PGA Championship just before. I was in Weiskopf's pocket all year, and then we played the tournament. I led after three rounds; Weiskopf was five shots back going into the final round. We were paired together, and on the first tee I said in a friendly way, "So, T, what are we playing for today?" Tom was having none of it. "We're playing for $100,000," he said, referring to first-place money. By the eighth hole he'd caught me, and on the ninth he really nailed a drive that disappeared over the hill. I hit my drive, and when we walked over the hill, he walked to the ball that was farthest down the fairway, assuming it was his. I stopped at the shorter ball, identified it and called out, "Excuse me, T, but are you playing a Tourney 3?" He became very flustered, saying that the center of the ball must have exploded on him, and so on. Well, his rally stopped right there. I birdied the ninth, he didn't, and I went on to beat him. Tom could hit a golf ball like you wouldn't believe, and he could have won a lot more, but he was a little too sensitive.
I led the Masters twice after the first round, both times after being in the first group off. The faster I played, the better I played. One year I was with Jodie Mudd, and on the 11th tee he was gasping. "Lanny, please, let's slow down!" I said, "Jodie, I'm five under par. We're not slowing down, bud." I dragged Jodie around, and as I recall we finished in 2 hours, 40 minutes.
Ben Hogan and I were playing at Shady Oaks one day. We were standing on a tee when a guy drove up in a cart and said, "I think I'll join you guys." Ben looked at the guy — who, by the way, was wearing shorts and had a beard — and then at me and said, "I think it's time to go in, don't you, Lanny?" I answered "Yes sir, Ben," and in we went. Hogan's way of dealing with rude people was to not acknowledge them, while making sure they knew they were not being acknowledged.
Hogan was slow, but in a good way. He played by feel, not off a yardage book, and it was fascinating watching him get ready. You'd see his eyes tracking up to the hole in what looked like 10-yard increments. You'd see him look at the tops of the trees for wind and watch where his cigarette smoke was blowing. Watching him was worth the wait.