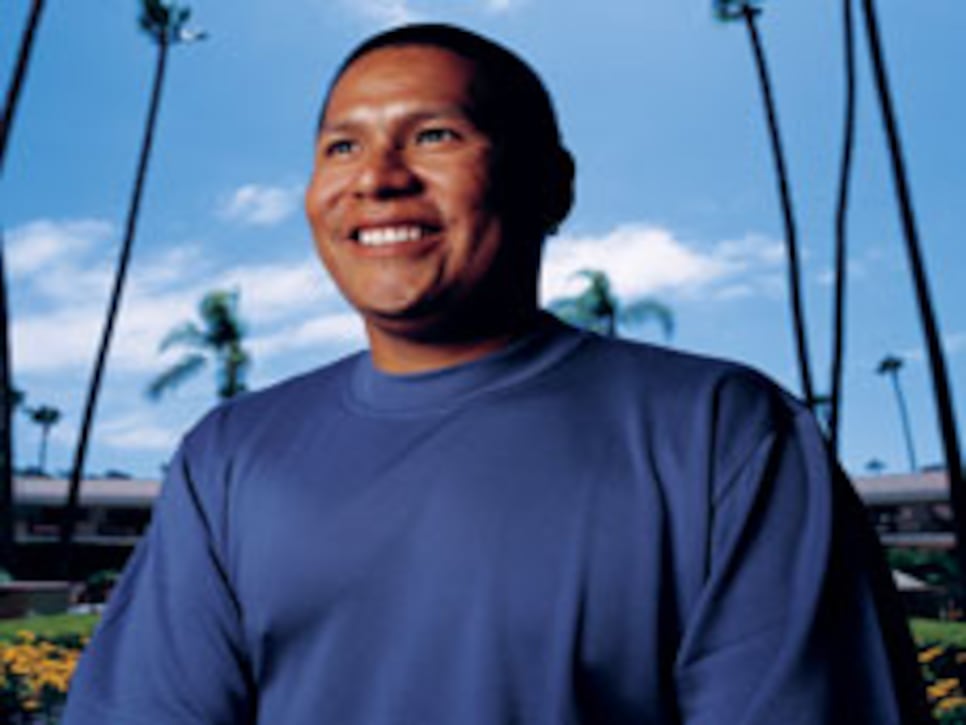 Notah Begay III, photographed July 30, 2004, in Del Mar, Calif.
Age 32 Albuquerque, New Mexico
"Notah Begay, Tiger Woods' college roommate." Am I tired of being referred to like that? Not one bit. That phrase tells you I went to Stanford and that I'm friends with the greatest player in the game. It's always used in the context of me being on the PGA Tour, where I've won four times. Call me crazy, but I'm proud of all it implies.
When I was 13, the community held a small fund-raiser to pay my way to a junior tournament out of state. A man got up and asked the crowd to buy some raffle tickets, and before he could finish somebody yelled, "Why should we help him? He's not so special." I've never forgotten that moment. It made me realize there's negativity in this world and not everybody is pulling for you. The result today is that whether you're rooting for me or not, I can handle it. Either way, I'm putting it all on the line.
Snakes are everywhere in the desert, and several tribes incorporate them in their traditional dances. But I have to tell you, snakes terrify me. Anyone who can put a snake around your neck and dance with it gets my respect. How can you tell which ones are poisonous? You expect me to carry a snake-identification book in my back pocket? I don't think so!
We're in Scotland before the 2000 British Open. My brother Clint is caddieing for me, and we have nothing to do. I notice that Wimbledon is being played outside London and look into getting some tickets. They're sold out, of course, except for the VIP "Gatsby Club" tickets that will cost the two of us $5,000 for one day. It's a once-in-a-lifetime deal, so I decide to splurge. But we run into a problem: Clint and I are stuck with two huge duffel bags full of dirty laundry. The cab drops us off at the stadium with these huge bags, and a girl tries to check them in for us. She can't even lift them, they weigh so much. But we walk in and do the whole Wimbledon thing, including afternoon tea at 4 o'clock. We see Pat Rafter beat Andre Agassi in a five-set semifinal thriller. Then we got our dirty laundry and returned to the real world. I put it in my top-five experiences of all time, and the look on Clint's face told me it rated even higher for him.
My grandfather, who died before I had a chance to meet him, was a "windtalker" during World War II [the Japanese never cracked the U.S. code, which was based on the Navajo language]. He also was an excellent horse trainer, and today I own a quarter-share in a horse that races in California. My birthday is Sept. 14, which always occurred during the New Mexico State Fair and the horse races there. From the time I can remember, all my birthdays were spent at the track. To this day I love horses and horse racing.
Tiger and I were at a Sigma Chi fraternity party at Stanford trying, like every other guy, to familiarize ourselves with some friendly coeds. We figured the best place to scope the scene would be from the outskirts of the dance floor. Unfortunately, there were so many people getting their groove on that we couldn't see a damn thing. We looked at each other and then jumped on top of the DJ's five-foot-tall speakers and proceeded to shake our rumps. It wasn't long before we found some alluring dance partners.
I read where Judy Rankin says PGA Tour players could beat the LPGA Tour in an ironing contest. If that happens, I want to be on the team. Me, Justin Leonard and a few others will kick butt. I don't iron because I have to, I iron because I like it. It's therapeutic for me, incredibly relaxing. When the steam goes out of the iron, the tension goes out of me.
I want Michelle Wie to know that being scared of clowns is nothing to be ashamed of. The scariest scene in the history of the movies is in "Poltergeist," where the stuffed clown in the kid's bedroom comes out from under the bed and wraps its arms around his neck. That was a deal-breaker for me.
Diabetes is a huge problem among Native Americans. The incidence is far higher than the general population. Part of it stems from poor nutrition and fitness. I've challenged Boys Girls Clubs of America across the nation to match the distance I walk on the golf course. That comes to 35 miles a week, on average. By the end of October we'll have 25 clubs involved in The Walk With Me program. It's a great cause because it's bipartisan. I had lunch at the White House not long ago to help get the message across.
One thing the White House people didn't know—and which I wasn't going to tell them—is that I'm a registered Democrat.
The Walk With Me program has spread to Iraq, by the way. A group of soldiers, all of them Native American like me, signed on. If you ask me, their miles should count double. "Miles under fire" deserve extra credit, don't you think?
When I tore my back up in 2001, I went through stages like you do when someone close to you dies. The first sensation was one of disbelief. Inside I insisted it couldn't be that bad, that I could play through the pain. I played hurt in 2001, took six months off and played hurt again in 2002, and didn't play well at all. Next came anxiety and stress, knowing that time and all the opportunities of my prime years were passing me by. Then I got depressed. I realized that this thing that had brought so much joy was now a source of pain. I withdrew socially; the light was on but nobody was home. Apathy and self-pity set in. Woe is Notah, and why me?
Golf really is a means to a greater end. My plan is to play up to age 45, at which point I'll have enough years in that I'll be financially secure and can explore other areas. I can't stop thinking about what things golf has enabled me to do. I want to serve communities, to make the world a better place. A very good way for me to accomplish that is to become governor of New Mexico.
The term "Indian" isn't offensive when used in the right context. Team mascots like "Braves" or "Warriors" aren't very PC, and the Tomahawk Chop is a little borderline, but I can live with them. So where do we cross the line? Caricatures such as the smiling Cleveland Indian, with his large nose and bright red face, definitely show a lack of respect. And the term "Redskins" is extremely offensive, almost the equivalent of the "n" word.
The way to play this game is to press on. You just can't ever give up. It's like riding a bicycle into the wind on a cold, rainy day. You don't stop to reflect on the difficulty or the discomfort. You just keep pounding away. Great golfers are like that. Underneath the smile, the nice clothes and the friendly waves is a person bent on pressing on. Mentally, golfers are as tough as any athlete in any sport.
I'm a very controlled person. But when somebody in the car ahead of me flips a smoldering cigarette butt out the window, I go off the deep end. It's littering, and it's a fire hazard. It shows no respect or consideration. A player can get fined on the PGA Tour for violating the dress code or for playing slowly, but the person who flips his butts out the window is fined nothing. Where's the justice?
Three years ago I found a girlfriend. We dated for a year, then got engaged. After another year we broke off the engagement. Then we broke up. Now we're dating again. It's been a tough round of golf, but maybe the back nine will be easier.
Golf is as addictive to tour players as it is to the average golfer, but in a slightly different way. Professionals have come a bit closer to achieving perfection, so the quest to master the game is perhaps more compelling because it seems more within reach. The desire to win on the PGA Tour, the way the game constantly keeps us on edge and misleads us into thinking we have it mastered, is very seductive.
But here's what separates me from some of the guys I know out here: I've figured golf out. I've got her number. She's fickle and has messed with my head too many times, broken my heart once too often. She can't fool me. One day, when she least expects it, I'll just quietly walk away from her.
Two things about the movies are certain: The cowboys always win, and the best Indian roles are always played by a non-Indian actor.