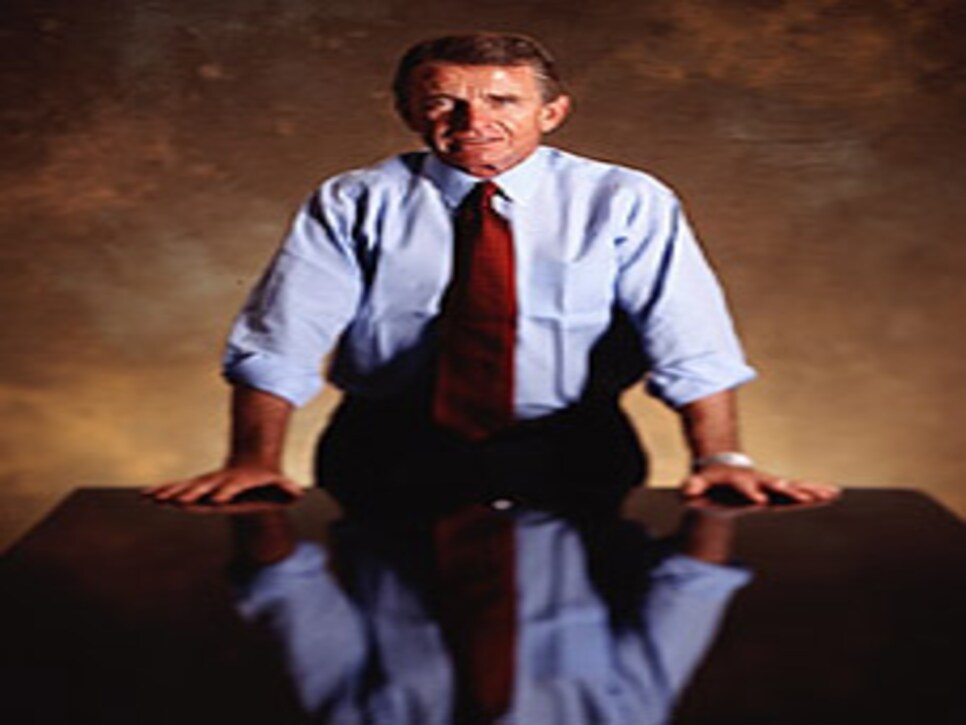 Tim Finchem, photographed July 30, 2003, Ponte Vedra Beach, Fla.
Ponte Vedra Beach, Fla. __
__I've never played golf with Tiger Woods.__To tell the truth, I'm not sure that watching him pound it 100 yards past me all day is something I'd like to do. Given a choice, I'd prefer hanging out with him in the short-game area for a while, taking turns hitting little chips, pitches, flops and sand shots. What I'm hinting at is, I'd like a short-game lesson from Tiger Woods.
__My handicap right now is 4.__It's too low, because I've had only one low score this year. I've played five times this year and can't seem to flush out the good scores I shot last year. I'm going to lose money for a while, then my handicap will go up and I'll start playing well again and win my money back, then my handicap will go down and I'll get my butt kicked again. Does this story sound familiar?
A power lunch with somebody I know lasts less than an hour. You skip the small talk and get down to business. If it's someone I'm trying to form a relationship with, it might last longer. The meal should be light. Under no circumstances will I have a cocktail; it makes it impossible for me to focus. The person I'm with can drink if he or she wants to — in fact, it might make them a bit more amenable. We do not order dessert.
If I want to make something known, I have to make a concerted effort to get the word out. Tiger Woods, on the other hand, only has to say something and it's tomorrow's headlines. Tiger possesses power of a different sort, a power very few people have.
I'm a fan of the power nap. About twice a week, I'll stretch out on a little couch in my office for 20 minutes. I don't need a wake-up call; I pop right up, feeling refreshed. The nap doesn't beat an afternoon workout, but it does give me enough energy to work through the early evening.
I used to see people at Rolling Stones concerts wearing ear plugs, which struck me as contrary to the idea of seeing them live. But the last Stones concert I went to, my ears weren't right for two days. I'm not sitting up front again without some ear plugs.
__I rode the roller coaster__at an amusement park in Virginia when I was a child. It scared me nearly to death. As I got older, I found that very few things frightened me, which made me think more and more about that roller coaster. So about 15 years ago I decided to confront my fear. We were at Disney World, and I got on the Space Mountain ride. As the car slowly climbed to the apex of the first drop, I became terrified all over again. What followed was the longest 90 seconds of my life. I'll never go near a roller coaster again.
When I was 10, I had a paper route. One year I delivered my papers through a hurricane. My mother was against the idea, but my dad, who was a sergeant in the Marine Corps, overruled her. I was determined to deliver my papers. I wrapped each one in its plastic bag and stuck it inside the screen door of every house on the route. Not another human was outdoors except me. I'm sure it was dangerous, but I never saw it that way. The eye of the hurricane passed over me during the route; it was an exhilarating sight and the greatest adventure of my life to that point. I was never prouder than when I came home soaked, my papers delivered.
I got into a fight during a basketball game when I was a teenager. It occurred to me — after I regained consciousness — that diplomacy was a better fit for me than using my fists.
I had a bad temper on the golf course until I was 15. My dad took me out one day, and we came to a par 3 over water. I remember the yardage: 151 yards. I half-bladed my 5-iron and started cussing the second the ball left the clubface. I thought I was wet for sure. The ball just cleared the pond, then took a hard kick forward onto the green. I was still swearing when the ball went in the hole. I shut up immediately, and looked over at my dad. The look he gave me was not one of congratulation. I was tremendously embarrassed and never lost my temper again.
As a teenager I worked construction each summer, installing heating and cooling systems. New houses weren't so bad, but installing systems in the attics and crawl spaces of existing homes was beyond miserable. We carried a thermometer around, and one day it reached 140 degrees in one of those attics. I had an epiphany and decided this was not a promising career path. I had to go to college, and to make it possible I'd have to get a scholarship. That meant quitting the golf team and taking up debate, which thankfully I was good at. I went to college on a debate scholarship.
You can't see the Stones live and not wonder what it would be like to be one of them. I wish I could stand in front of 50,000 people and sing "Sympathy for the Devil." Bring them to their feet, make them delirious. Now that would be power.