The Loop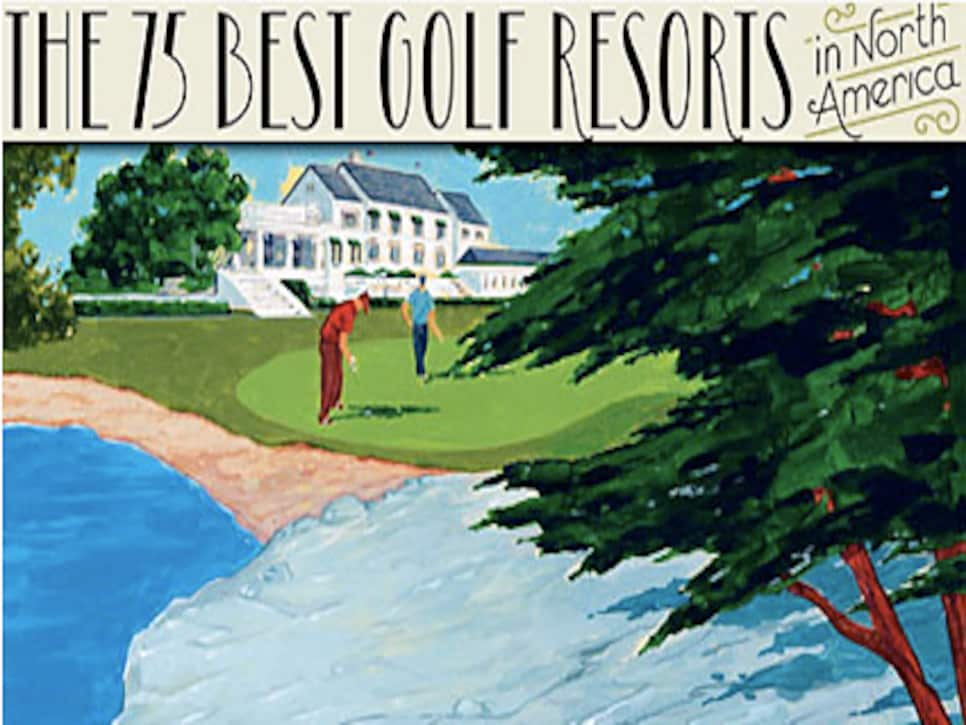 As you might imagine, it has been a wild ride. That being said, I'm tempted to insert supermodel/actor cliche: "It's not that glamorous." But I risk being waterboarded by the 98 percent of the population who hate their jobs (or the 9.7 percent who don't have a job).
Of course I don't have any formal complaints. At 38, single, with 10 nieces and nephews and plenty of friends with kids to quell any urge to settle down, I'll continue to do it for you--the married, the unhappy, the unhappily married, the tied up, the tied down and the down-and-out. I can't tell you how many times I hear from readers saying they're living vicariously through my life. "Can't wait to read about where you go next." Or, "Keep the stories coming." Or, "Can't wait to meet the next beverage cart girl." I love the feedback.
Unfortunately, the act of traveling is still tough. I wait in long security lines, strip down to my skivvies, dump my $10 bottle of water and lose my new pair of fingernail clippers. My golf game still sucks (I'm a 7-handicap, but most of the time I play to a 12). I've gained a little weight, my back hurts and it has been hard to stay connected to family and friends. I'm constantly dodging calls from Amex, accounting, and all of my new "best friends"--the collective world of PR agencies. Sometimes, when I leave my little Brooklyn bachelor pad for a stretch of two weeks, I forget to take out the trash or throw away the once-ripe bananas on the kitchen counter. I open the door to a place that smells like the back end of a buffalo. But that's about as bad as this gig gets.
My point to this post comma which I was determined to get to in spite of my caffeinated rant comma is that Golf Digest just released the list of the 75 Best Golf Resorts in North America.
From the story, written by my colleague and my editor, Pete Finch: "We created our list of top golf resorts with the help of Golf Digest's 900-plus course-rating panelists, who also produce our biennial ranking of America's 100 Greatest Courses. They rated hundreds of U.S., Canadian, Mexican and Caribbean golf resorts on a scale of 1 ("awful") to 10 ("perfect"). We averaged their ratings and multiplied the result by 10 to come up with a score for each."
Due to a high level of subjectivity and low level of consistency, it's so easy to poke holes in any list. I always have fun going over our list of America's 100 Greatest Public Courses. Wolf Creek is No. 21??? I'd say it's a  must play once (if you happen to be in Mesquite). It's so quirky it can be considered cool by some, but it's not a top 25 course according to me. It's certainly not better than the Plantation Course on Maui (No. 25) or Pasatiempo in Santa Cruz (No. 29). Then again, I ambushed a group of dudes earlier this year who said Wolf Creek is their favorite course in the country. Hence, the beauty of a list. If nothing else, like my coffee, it stimulates discussion.
As far as I'm concerned, and based on where I've been in the last two years, here's my top 10 resorts:
No. 11--Greenbrier in W. Va. I loved the place and had a blast playing Old White, feeding falcons and the concept of an old secret bunker still baffles me. But it's hard to put the Greenbrier any higher on my list until the new owner, Jim Justice, has had some time to get the food and service back up to snuff, and the smiles back on the faces of the once disgruntled staff. (And please change the floral wallpaper in the main hotel.)
No. 10--La Quinta Resort and Club. The resort continues to get upgraded, courses are cleaned up and as we approach the winter season in the Northeast, all of a sudden I'm getting the undeniable urge for the warm shade of the Santa Rosa Mountains.
No. 9--American Club in Wisc. I stayed at the Carriage House, which is very nice, but I think I might've preferred the Inn on Woodlake. Herb Kohler built it especially for men/buddies trips--flatscreens, big showerheads, a bed and wireless. What else is there in life?
No. 8--The Ritz at Kapalua. A hefty renovation, a new spa, a couple good golf courses, a golf learning center, zip-lines and you've made it to Maui!
No. 7--Sunriver in Ore. More good golf, lakes and rivers for fishing, snow-capped mountains for scenery (not to mention cute cart girls . . .) and some sweet lodging at Caldera Springs.
No. 6--Kiawah Island in S.C. I'm from California, moved to New York. The fact that the south still refers to "us" in the north as "Yankees" freaks me out a little bit. Especially since I hate the Yankees. But a place like Kiawah sure knows how to make this so-called Yankee feel right at home. I killed a two-day Biblical rain delay kicking around in the lobby, watching golf and sampling their spirits. Matty G. wins 1-up over Mother Nature.
No. 5--Rosewood Mayakoba in Mexico. If you blindfold yourself on the trip from the Cancun airport to the somewhat obnoxious entrance gate of the resort--the Rosewood Mayakoba has broken off a slice of a perfect existence. Beaches, boats and some of the best fish tacos I've ever put in my belly. The Greg Norman course isn't bad, but don't go in the heat of the summer.
No. 4--Inn at Spanish Bay. I'm anti-Pebble lately. I say they've lost the ability to connect with the individual consumer. What's your tee time? Go pay an armored car of cash. Now get on the tee and get on your way. Here's your lazy caddie, don't mind the delivery trucks and enjoy the breathtaking view. But that's not the vibe at the Inn at Spanish Bay. It's quiet, feels discreet, the food is fantastic and if you're with a significant other, that outdoor fireplace overlooking the Pacific Ocean is a warm glow of aphrodisiac.
No. 3--The Lodge at Sea Island. The Seaside course, big steaks, small spa and Southern hospitality that includes butler service--like I said, I hate those Yankees.
No. 2--Pinehurst. It only has eight courses, multiple dining and lodging options, history, hospitality, a legendary breakfast buffet and you can navigate the place on a beach bike. I still can't decide which course trifecta I prefer: Pinehurst No. 8, No. 4 and No. 2 or Bandon, Pacific and Trails. Which brings me to my favorite resort . . .
No. 1--Bandon Dunes. I'm going next week for 36 on each of the three courses and a preview of Old Macdonald, the fourth course opening in June. I've cleaned my golf bag, golf shoes, clubs (twice) and laid out my daily attire. I'm living in fear that I step off a curb and sprain an ankle. It's not a place to bring your wife unless she's an able-bodied avid golfer who doesn't like to shop (as if those exist), but I say my prayers at night thanking God for Saint Mike Keiser, who brought us the greatest all-golf facility in the country. As long as I'm saying my prayers: May every golf fan experience a four-man cottage at Bandon Dunes before they become one with the end. Pardon the dose of spirituality, but Bandon brings it out of me.