The Loop
My picture-perfect week at the U.S. Open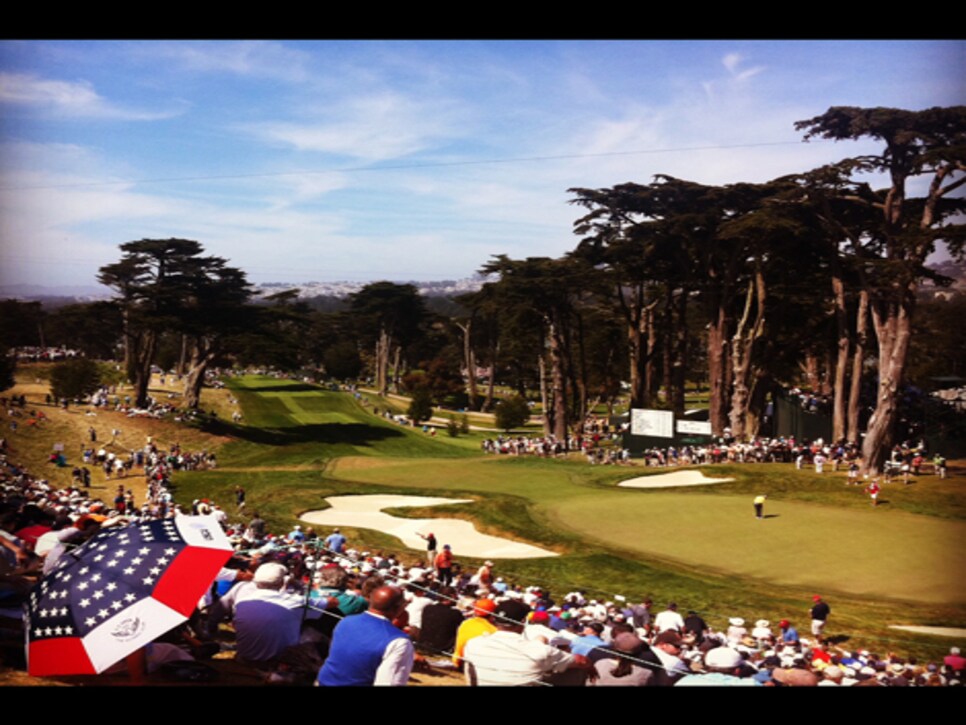 From playing iconic golf courses, having breakfast with legends and witnessing historical performances, it was as if the Bay Area was trying to steal me back from Brooklyn.
My dream U.S. Open week in pictures and captions: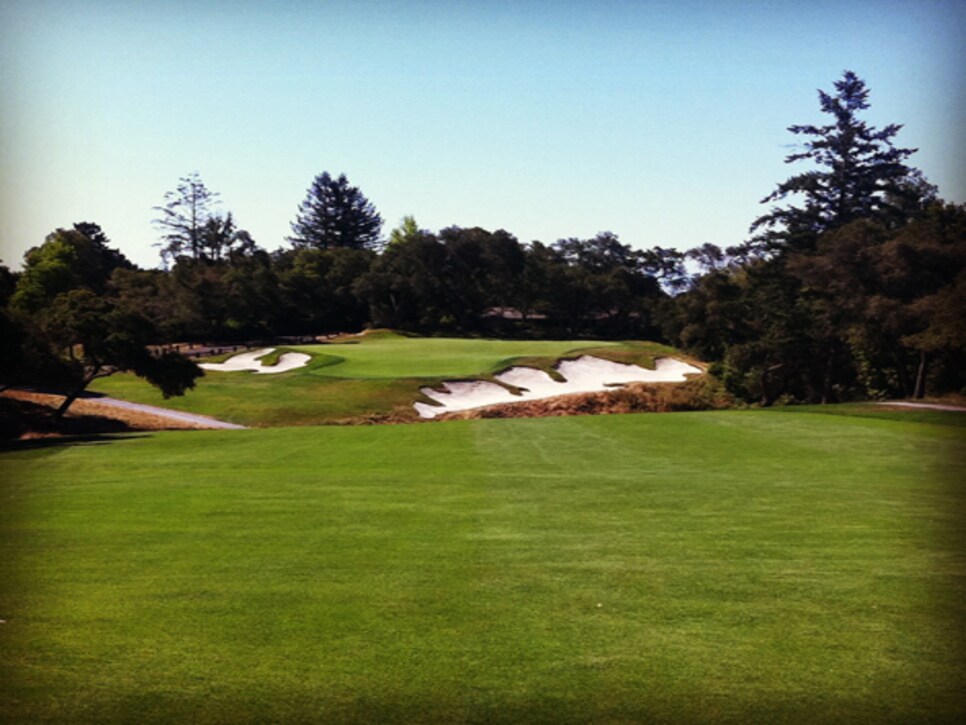 I teed off at Pasatiempo at 6:45 a.m. The course was in perfect shape and the Alister Mackenzie original will forever be one of my favorite public courses in the country.  This is the 387-yard 16th, which features a four-tiered green.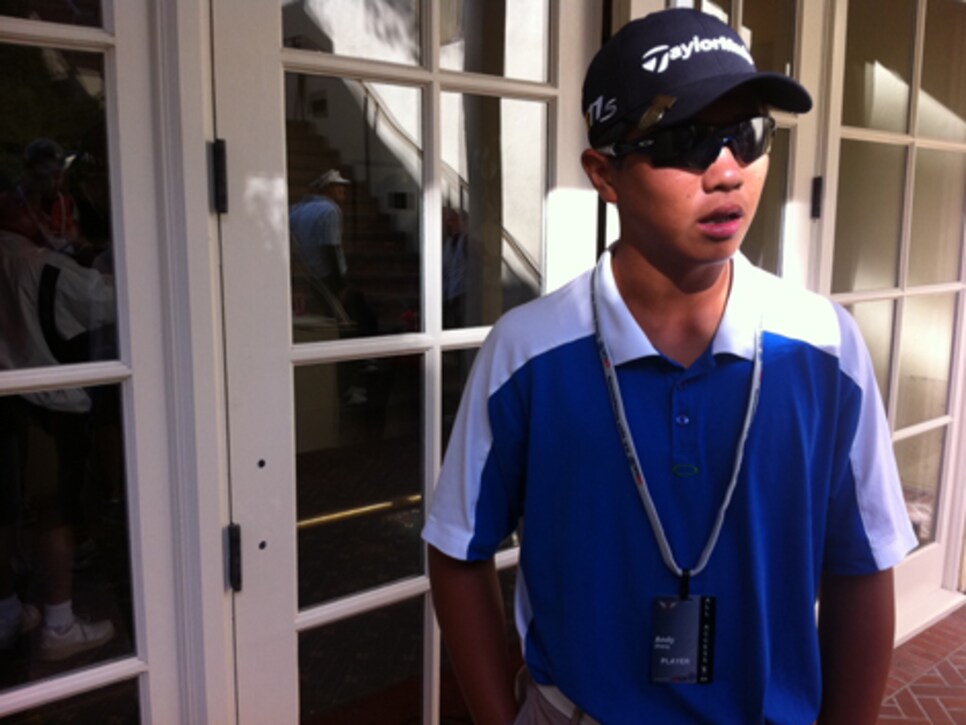 After securing my credential at the Olympic Club, colleague Sam Weinman and I headed to the range, where we saw Andy Zhang, 14, fist-pumping and knuckle-bumping his way to the clubhouse.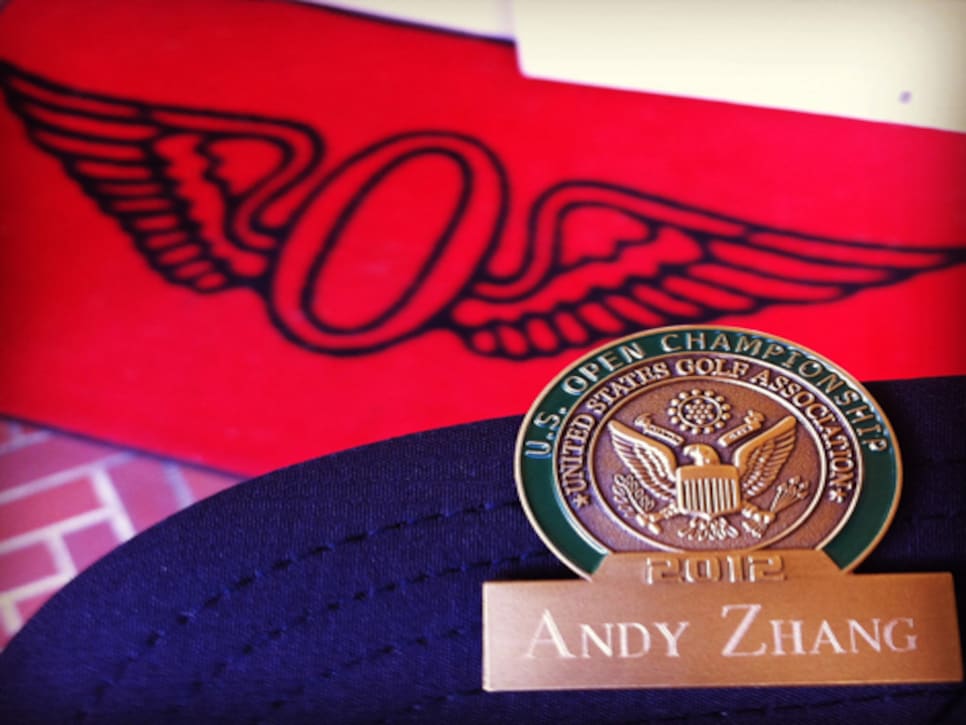 The second alternate was in, and when he teed off on Thursday, he was the youngest to ever play in a U.S. Open. There's nothing like a smile of innocence covered in braces.
"Attention members of the media, Tiger Woods is now in the press room."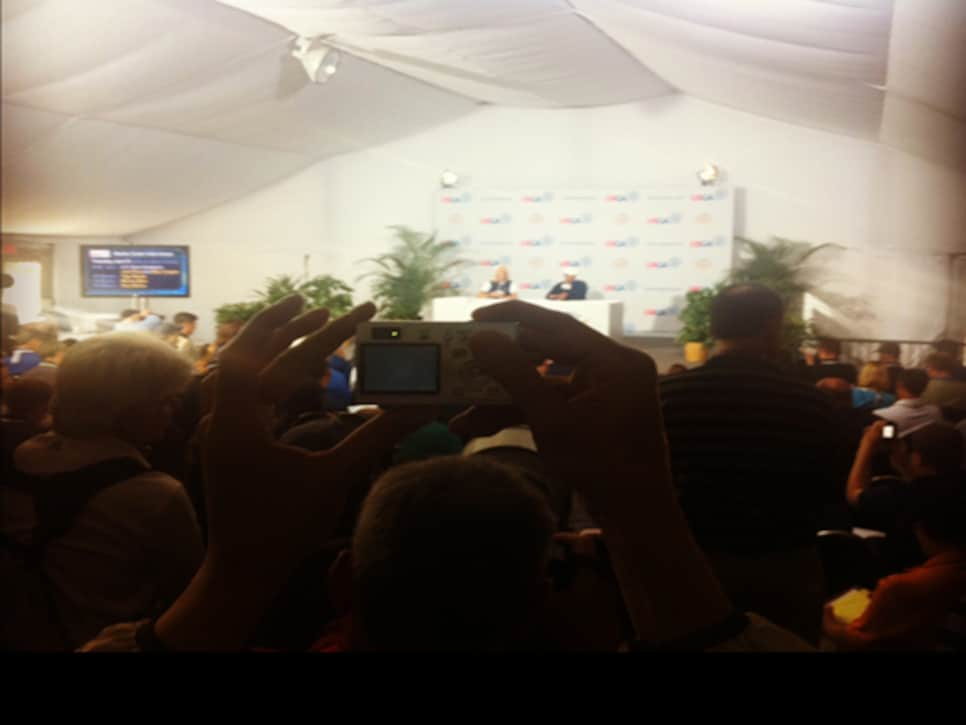 After Tiger talked about Billy Casper beating Arnold Palmer in 1966, he listed Billy Casper's stats: "Billy won 50 something tournaments and three majors. That was not that big of an upset."
Which is when I tweeted: "My first Tiger presser in five years. His knowledge and recall of golf history has always been impressive."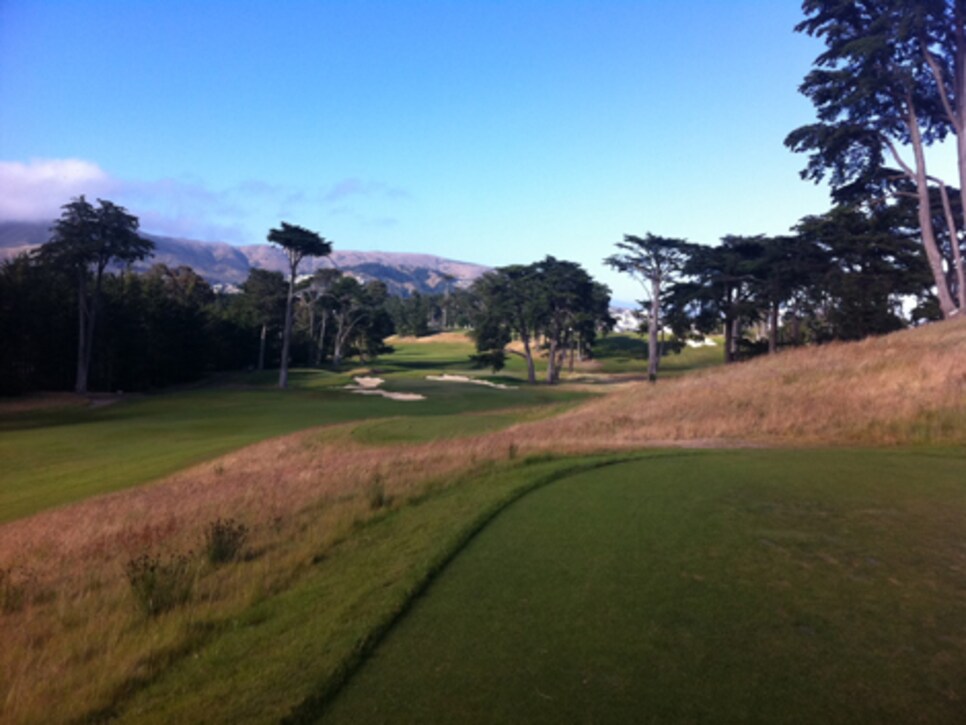 After Tiger's press conference, I played the California G.C., another one of the premier private clubs in San Francisco. The wind was howling where golf royalty such as Eddie Lowery and Ken Venturi used to hold court at a bar that serves a shot and a beer for $6. I enjoyed the course, the Mackenzie bunkers and the Kyle Phillips renovation (2008), which included five new holes. I joined up with Ted Scott, Bubba Watson's caddie, for the last three holes. "Did you try to talk Bubba out of hitting The Shot?" I asked. "Never," said Scott. "If anyone was prepared to hit that shot, it was him. It's how he plays the game."
Another morning at Olympic Club, followed by an afternoon at San Francisco Golf Club (no pictures allowed). By now you know I put SFGC in the same class as Cypress Point, the Old Course, Pine Valley and Fishers Island in terms of memorable golf experiences. As I was teeing off on the first, Phil Mickelson was making a mess of the 10th. Jim "Bones" Mackay was in the group behind me. Sergio Garcia, David Toms and Geoff Ogilvy had also been there for a Wednesday practice round.
After the round, I had to choose between a beer on the back deck, or the end of a TaylorMade outing at AT&T Park in which Dustin Johnson hit golf balls into McCovey Cove. I went with the beer, and made it to the game at the end of the third inning. As I entered the stadium I saw a TV. "Hey," I said, "Cain's throwing a no-hitter." (Little did I know.)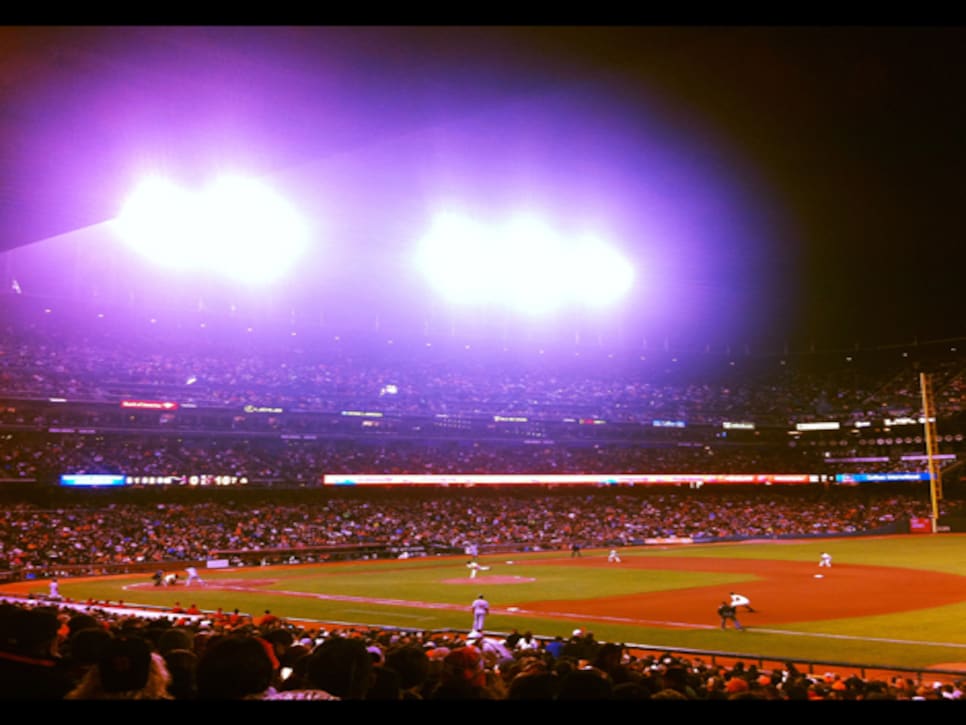 As Cain took the mound in the top of the ninth, it was a stadium full of anxious anticipation.
And here's the video I shot of the last two pitches of the 22nd perfect game in baseball history:
Day 1 of the U.S. Open. To sit next to Dan Jenkins in a press room of a major championship is like standing in a spot on the key watching Michael Jordan shoot free throws to win an NBA Championship. It was an honor, witnessing Jenkins and colleague Mike O'Malley craft tweets throughout the week.
One of my favorites from Sunday, after Tiger started six over thru the first six holes: @DanJenkinsGD: "If this were the Indy 500, Tiger's people would call him into the pits for a look under the hood."
The chief of the Digest tribe, Jerry Tarde, invited me to attend a breakfast benefitting former 49er Harris Barton's Champion Charities, which raises money for children and families in need.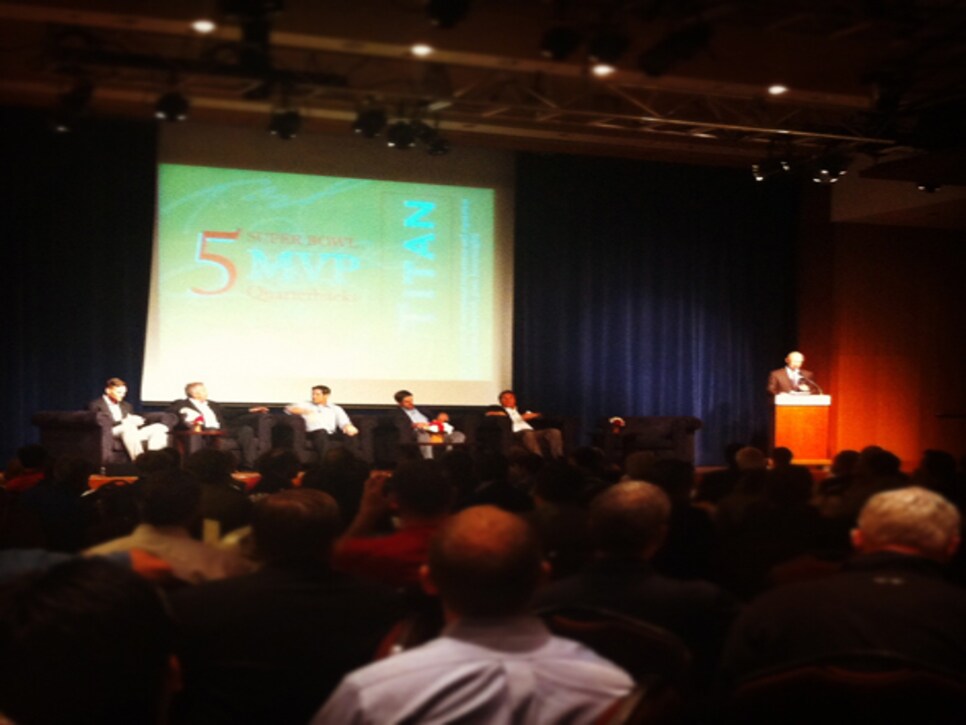 I sat up in my chair as Tom Brady, Joe Montana, Steve Young, Aaron Rodgers and Jim Plunkett were paraded onto the stage. And I got chills throughout the Q&A, conducted by Bob Costas of NBC, as the NFL legends, all with ties to the Bay Area, offered insightful anecdotes about each other, stories about overcoming adversity, and the future of the NFL. (Montana predicts lighter helmets.)
One of my favorite exchanges:
Brady told a story about being in the upper deck of Candlestick Park when Montana made The Pass to Dwight Clark, who made The Catch, to beat the Dallas Cowboys in 1982 NFC Championship Game. "I can remember being at that game, and all I wanted was one of those foam fingers," Brady said. "By halftime, my parents gave in."
Later, when Montana was talking about the perseverance it took to become arguably the greatest quarterback of all time, he referred to his first year as a starter, in which the team went 2-14. "I got a lot of fingers that year, but they weren't the ones made of foam."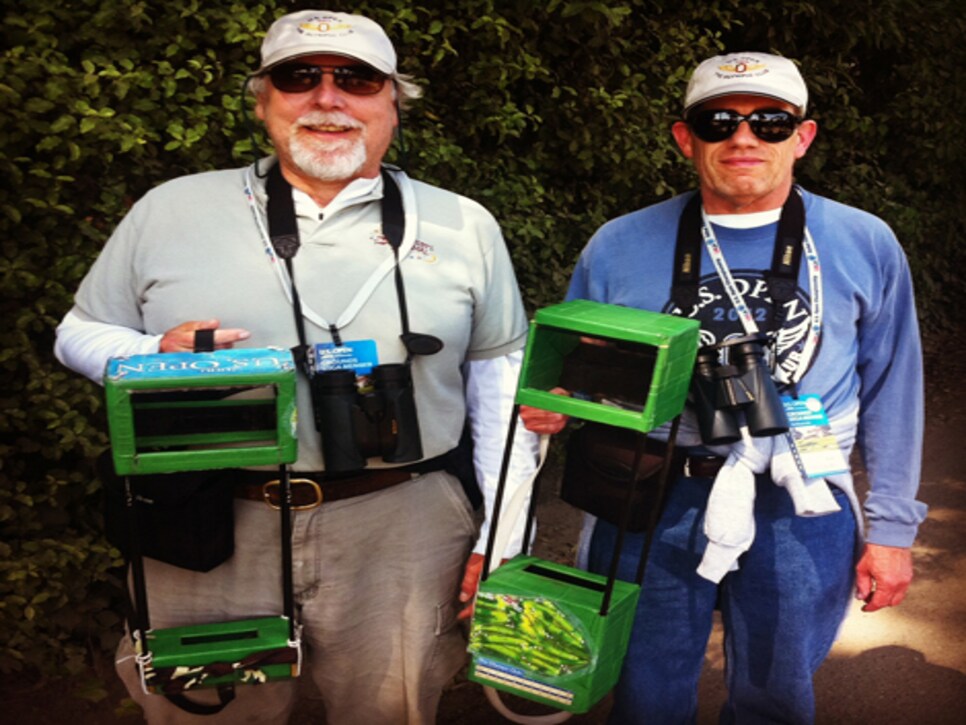 On my way to the press room on Friday afternoon, I met Taft Chatham (L) and Bob Crockett. Chatham is a science teacher from Eugene, Ore., who pimped out a few golf periscopes for the 1987 Open at Olympic Club. He has since used them at eight Opens, but doesn't try to take credit for the concept. "I think they were invented by the ancient Egyptians," he said.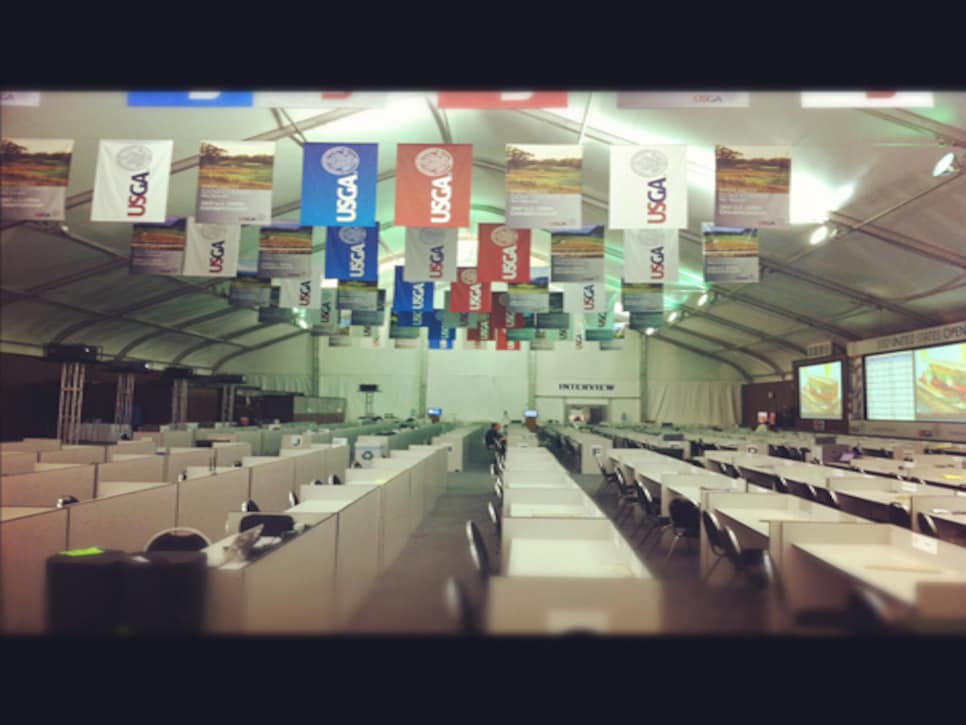 An early start to my Saturday yielded an empty look at the press room. In the middle is colleague Ryan Herrington of Golf World and on the right is Doug Ferguson of the AP, both notorious for their work ethic.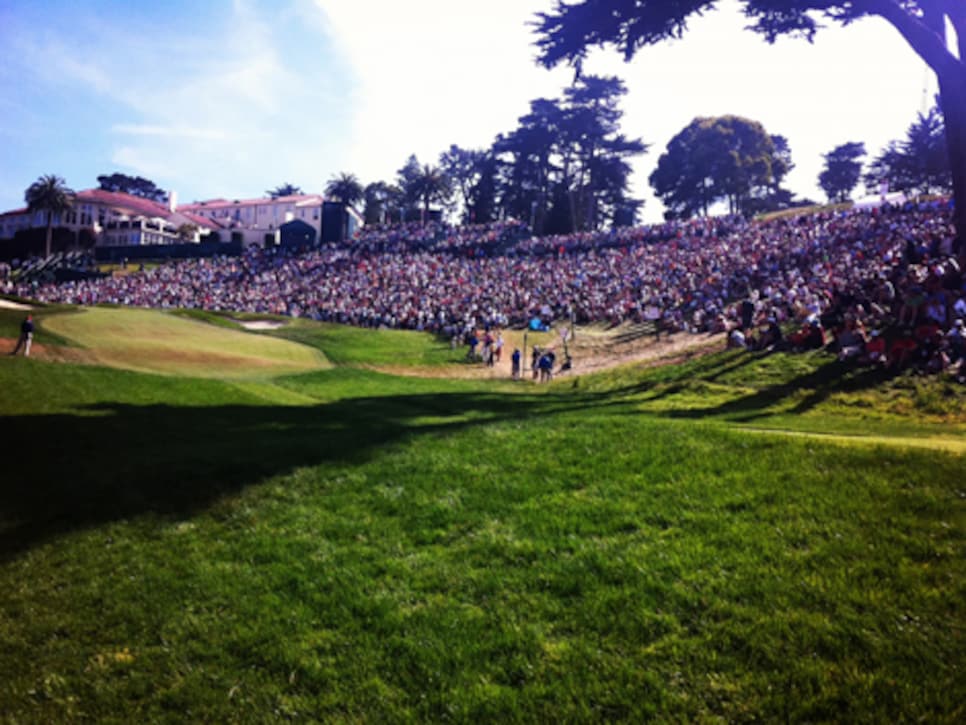 Olympic Club was getting roughly 39,000 fans per day, and most of them were watching the new eighth hole.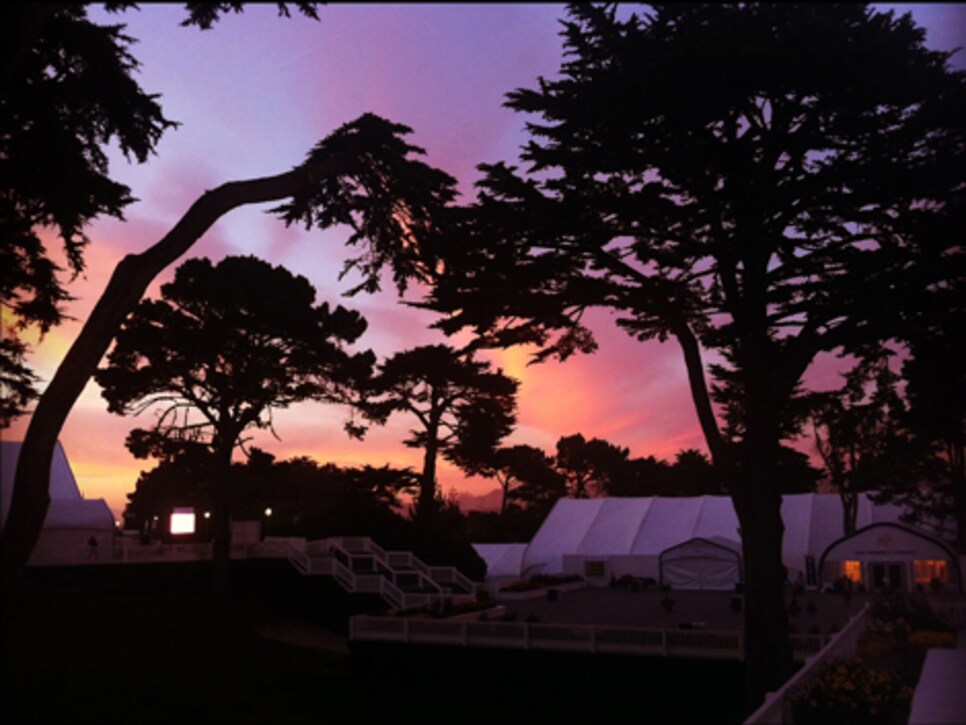 Night falls on the Olympic Club.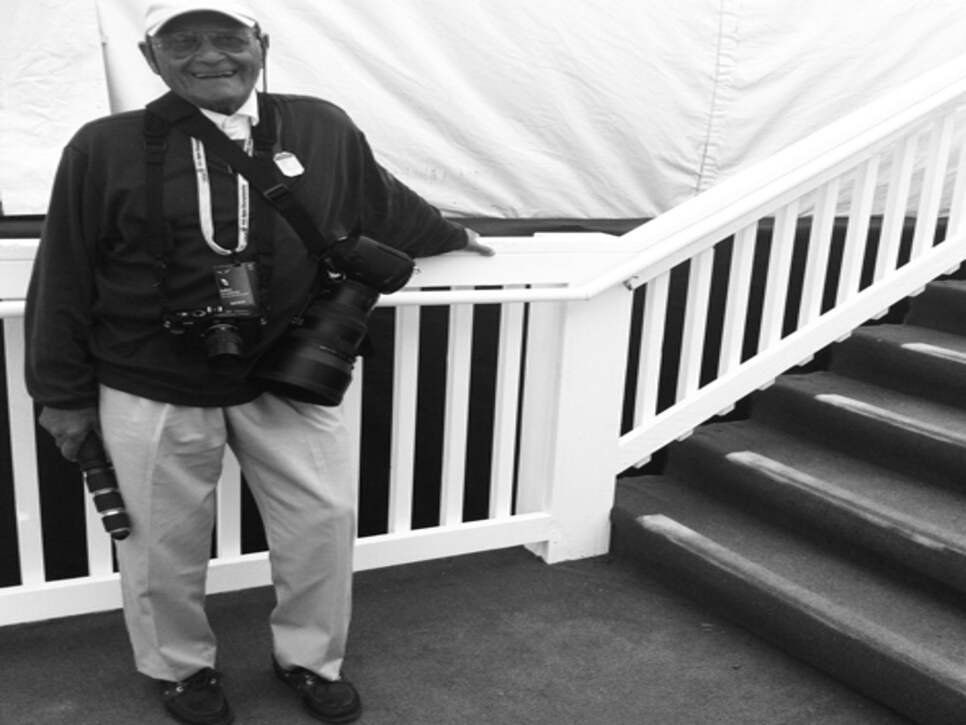 As I left the press room for the start of the final round, I bumped into Jules Alexander, a good friend dating back to my days as the golf photo editor at Sports Illustrated. Alexander, 86, is famous for his pictures of Ben Hogan, and he was getting ready to go home after covering his 15th U.S. Open. "I'm sure glad it's over," he said. "It's hard walking those sidehill lies." Alexander's eye for images and his energy for life are both inspiring. (He was catching a red-eye back to New York so he could play in a golf tournament at Rolling Hills C.C. in Connecticut on Monday afternoon.)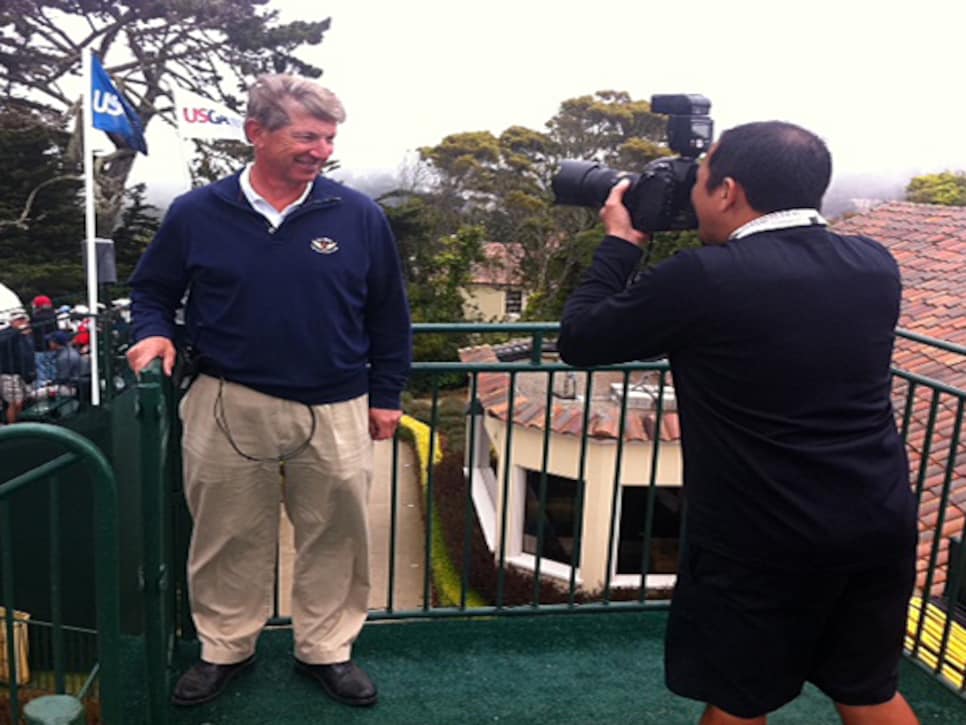 I wrote a story about Steve Meeker for Golf World. Meeker, a member at Olympic Club, accepted the position of General Chairman of the Championship after the USGA accepted the club's invitation seven years ago. Meeker acted as the liaison between the club and the USGA throughout that time, and his selfless contributions behind the scenes deserved some recognition. This is Golf Digest and Golf World staff photographer J.D. Cuban taking the portrait that ran in the magazine.
While Cuban was shooting Meeker, I shot this picture of the first tee.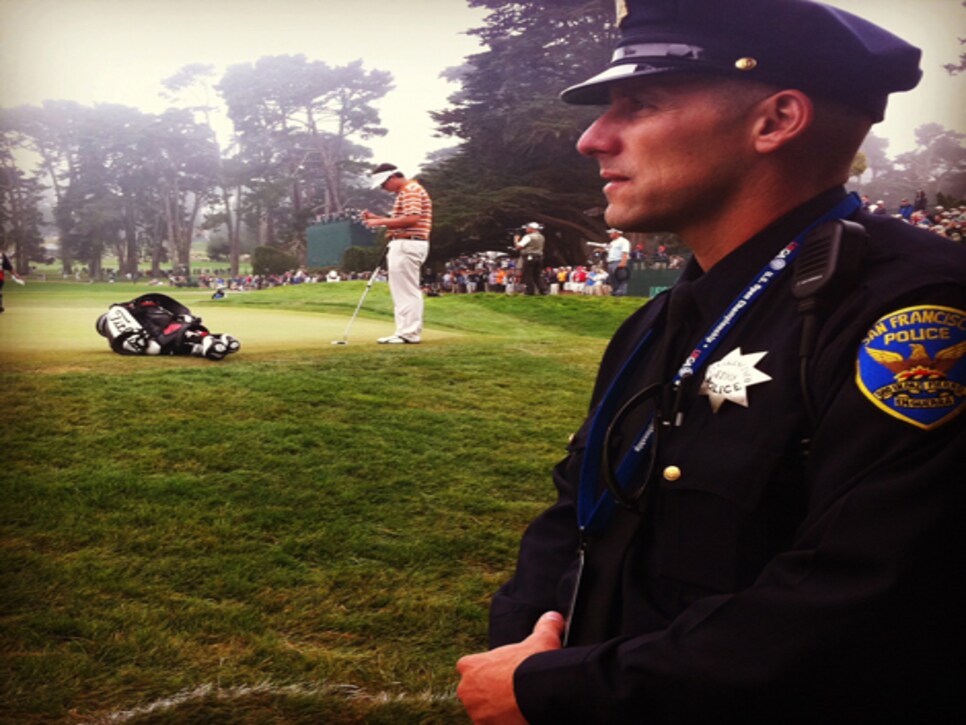 Officer Brent Bradford was assigned to Beau Hossler's group for the weekend. After Hossler birdied the ninth hole, I saw Hossler, 17, give Bradford knuckles. "Have you bonded with him?" I asked. "Hard not to bond with those guys," Bradford said, referring to Hossler and his godfather, who was Hossler's caddie. "Are you a golfer?" I asked Bradford. "Watching this kid, I'm turning into one."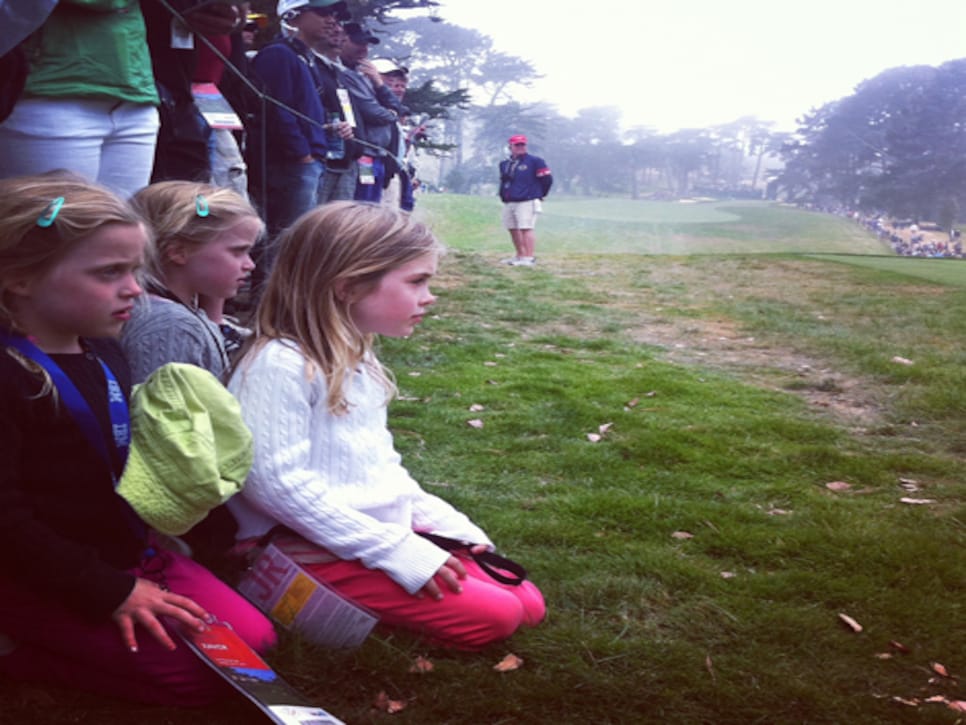 There are lots of cute kids who line the ropes during a golf tournament, but none were cuter than the Kettler sisters. From front to back: Quinn, 6, Kyle, 7, and Claire, 6. Admittedly, they don't always agree, but on the subject of their favorite player(s), they all like Woods and Hossler, who they were watching tee off on Olympic's 11th.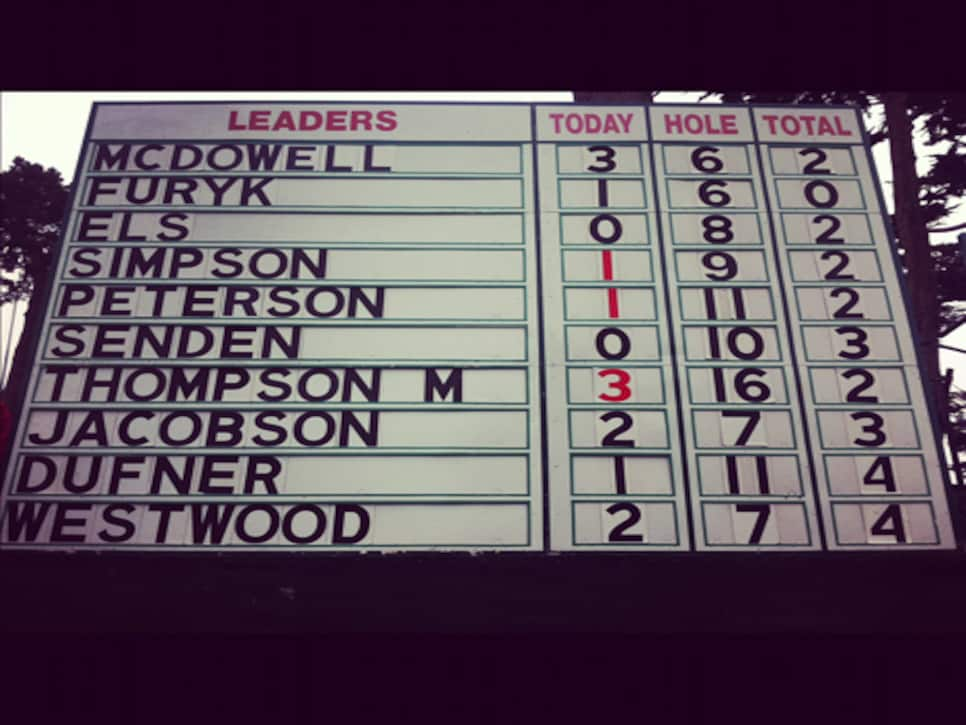 After starting two over thru the first five holes on Sunday, Simpson birdied 6, 7 and 8 to get back to one under on the day. (He went on to birdie the 10th and made eight consecutive pars coming in to win the 112th U.S. Open.)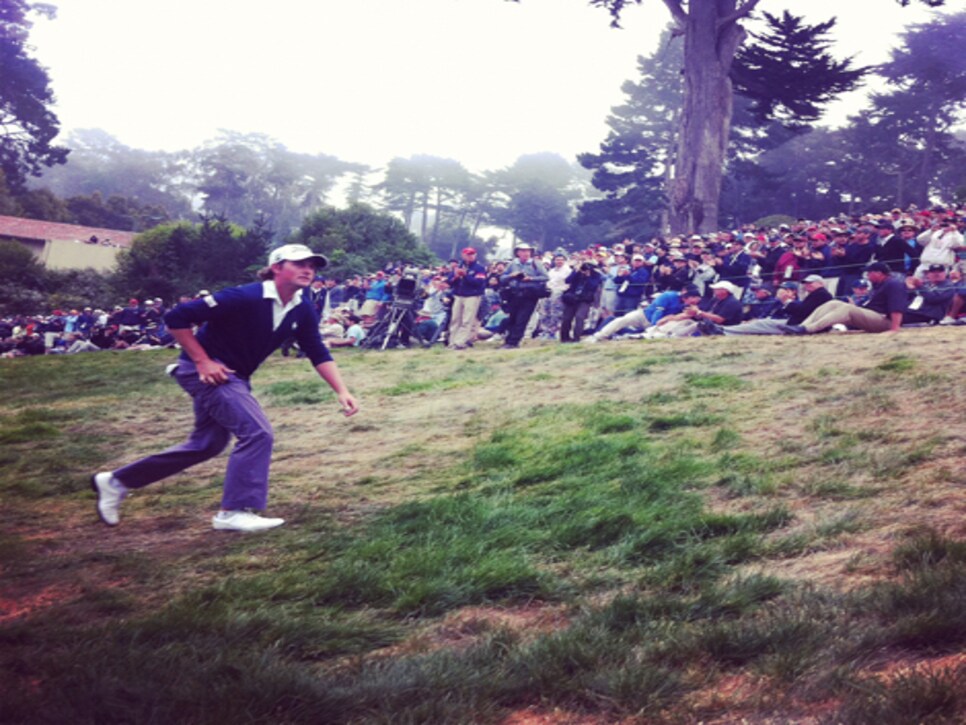 After he saved par at the 18th, Simpson tossed his glove into the crowd and climbed the steps to the locker room, which is where he watched the conclusion of the tournament.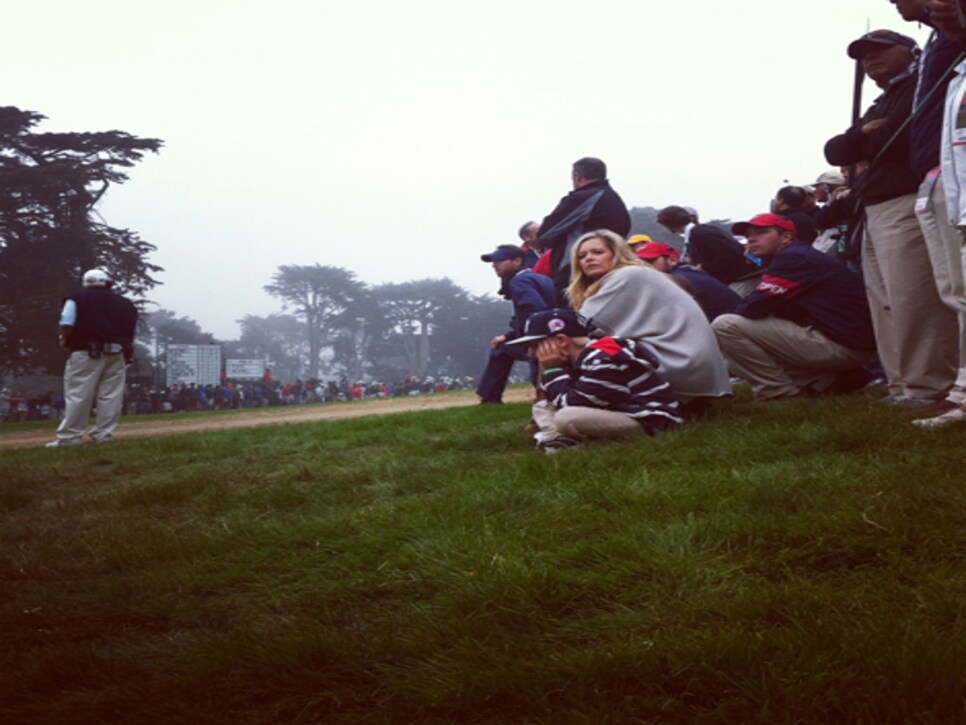 After Jim Furyk missed a birdie putt on the 17th hole, I found his wife, Tabitha, and his son, Tanner, inside the ropes near the 18th tee, knowing Jim needed a birdie to force a playoff. They didn't look optimistic.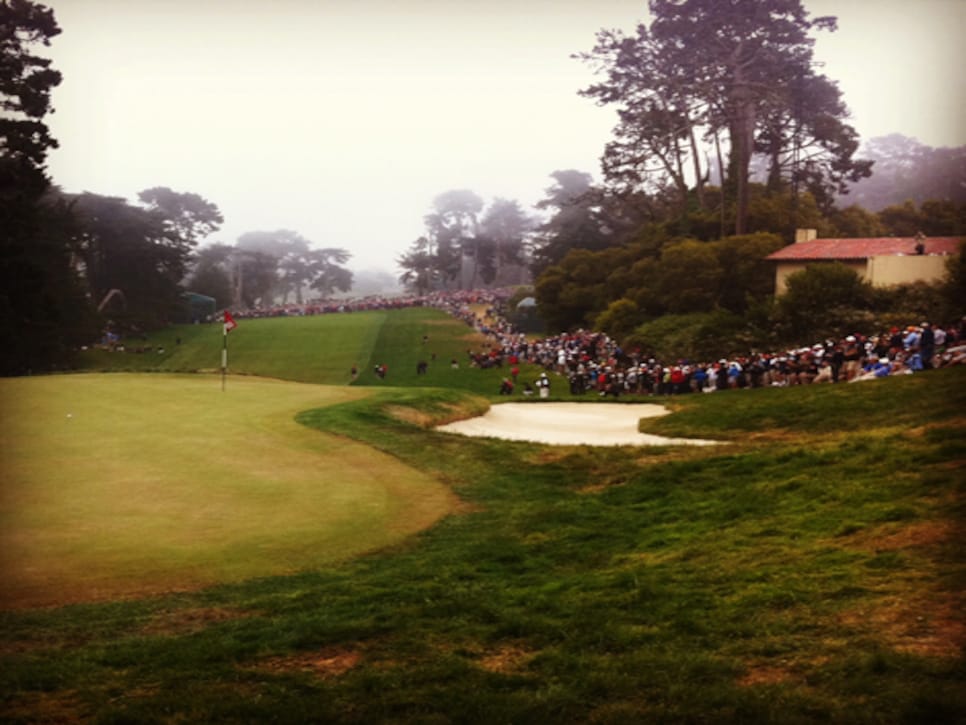 Graeme McDowell's birdie at the 17th got him within a shot of a playoff. This is his shot into the 18th green, which left him a putt for birdie that he missed. As he walked off, hat in hand, I could see McDowell tell Mike Davis, executive director of the USGA, "Awesome job."
I stood in the airport security line in front of Bob Costas and his wife, Jill. I introduced myself and we exchanged thoughts on the Open (we both agreed, the course won) and the breakfast with the legendary quarterbacks (we also agreed, Montana stole the show).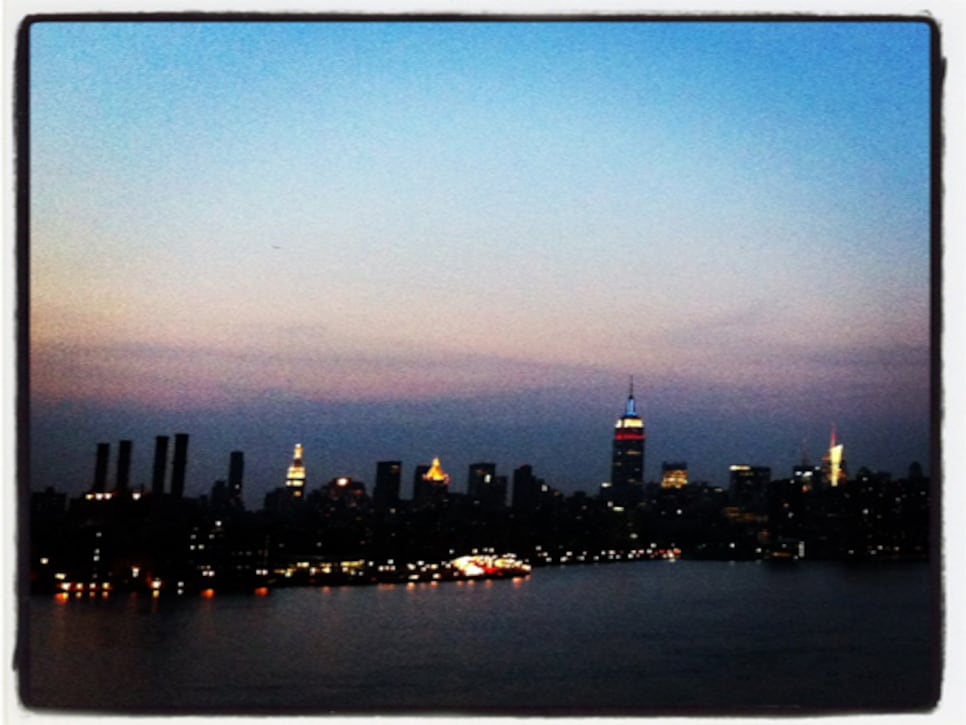 Although the Bay Area set some tempting bait in the form of a memorable week, it was good to come home. It was good to get back to Brooklyn.