The Loop
My latest favorite golf accessory
In May, 11 buddies and I spent a week playing golf in Ireland, and one of the guys on the trip, Mike B., brought a travel accessory I'd never heard of: a pair of cigar-shaped electric boot dryers, which he takes on ski trips. When I'm traveling, I usually dry wet golf shoes by balancing them upside down on the shade of a bedside lamp in my hotel room (a method made both less hazardous and less effective by the death of the incandescent bulb) or by wedging them between the dashboard and windshield in my rental car and blasting them with the defroster. At home, I've always leaned wet golf shoes against a wall in front of a small portable fan.
We had such great weather in Ireland that Mike never had to use his boot dryers, but they got me to thinking. Recently, I bought a larger, at home-version: a shoe-and-boot dryer made by a company called Peet. It stands just under two feet tall and consists of two cylindrical plastic chimneys mounted on a sturdy plastic base. You place wet shoes upside down on the chimneys, and by morning they're dry and toasty, inside and out. The device is silent, and it's so gentle that it won't harm fancy leather, but it thoroughly dries even shoes you've worn while playing all day in the rain.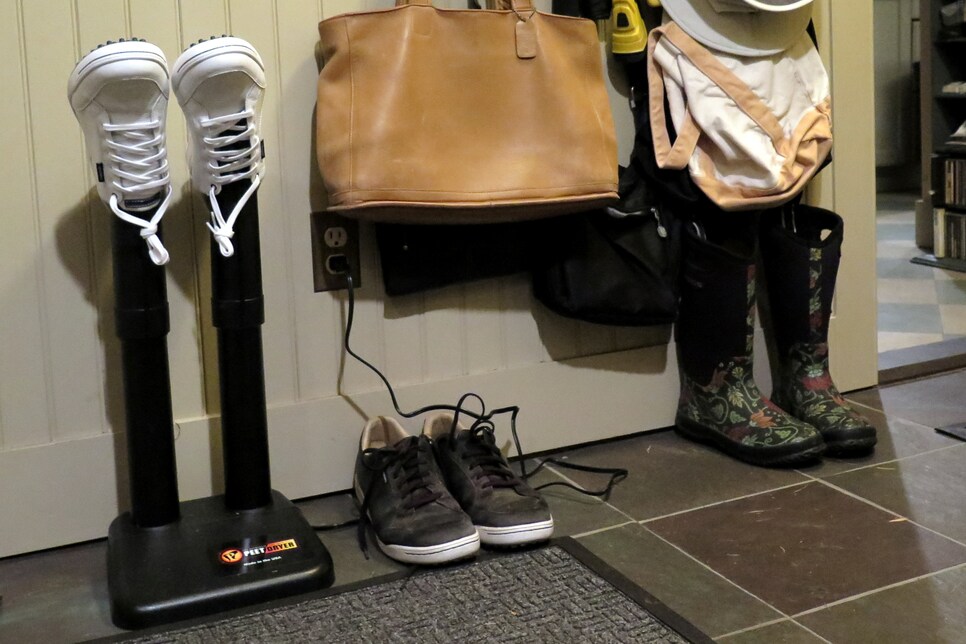 When I bought my Peet dryer, I expected to use it only on golf shoes I'd worn in crummy weather, but since then I've realized that it's great for shoes and boots of all kinds, and that even on nice days ordinary perspiration can make the inside of your shoes damp to the touch. Dry shoes last longer, and they don't get stinky. My wife now uses my Peet dryer on her hockey skates, too. In fact, before long we may have to trade up to the two-pair model.