The Loop
My heartbreaking year on the golf course in 5 painful pictures
I'm not sure what's weirder: the fact that I couldn't seem to get a break on the golf course all year when it really mattered or that so many of these close calls were captured on camera. But fortunately unfortunately, they were. Let's take a look.
It started in March during a friendly putting contest with co-workers at the office (Yes, Golf Digest has a practice putting green in its Wilton, Conn., office. We refer to it as "Royal Wilton." Obviously.). Things got serious, though, when the pot grew to a whole $8. I was in the lead and could practically taste the foot-long sub I was going to buy with my winnings that evening. Then this happened: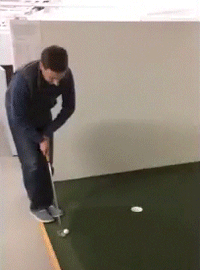 About a month passed and I had a chance for redemption on the same green. This time, I had made the finals of the Spring Opener, one of two annual "majors" contested at Royal Wilton. After my colleague -- and office putting arch-nemesis -- Steve Hennessey made a 15-foot putt (of course) to tie me on the final hole of regulation, I had a 15-footer of my own to win a sudden-death playoff. . .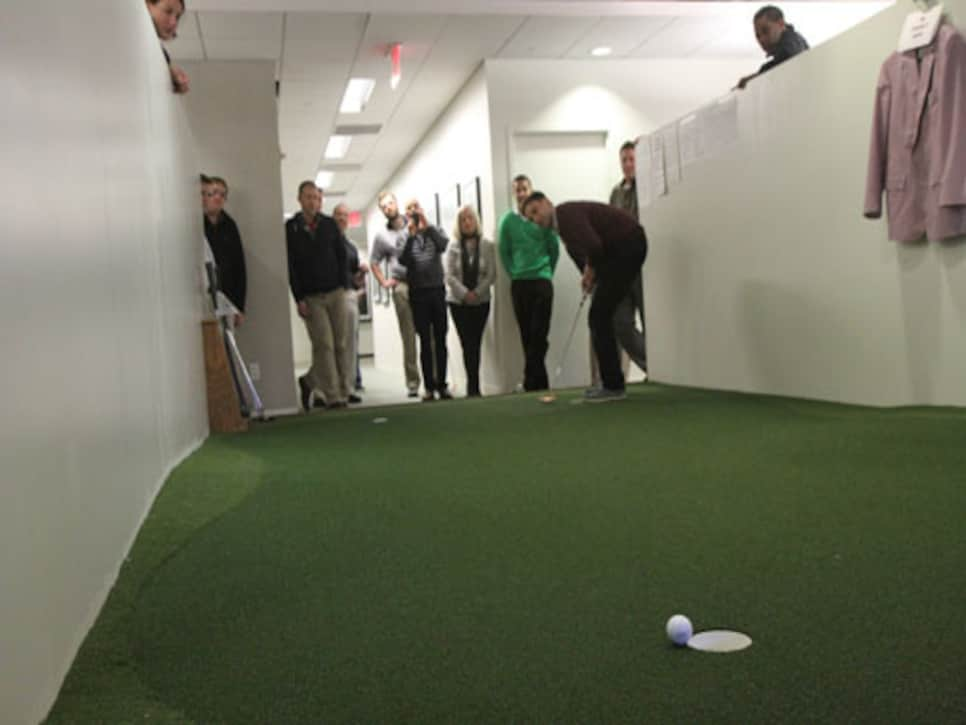 Nope. Didn't drop. And Steve went on to claim that coveted plaid jacket hanging on the wall.
Then came the event on my calendar I'm most excited for every year: my annual golf trip. We went to Williamsburg, Va., this time and unlike other years, I rose to the challenge and played the best golf of my life over a four-day period in June. And? I still lost. To a 25-handicapper. This cocky 25-handicapper: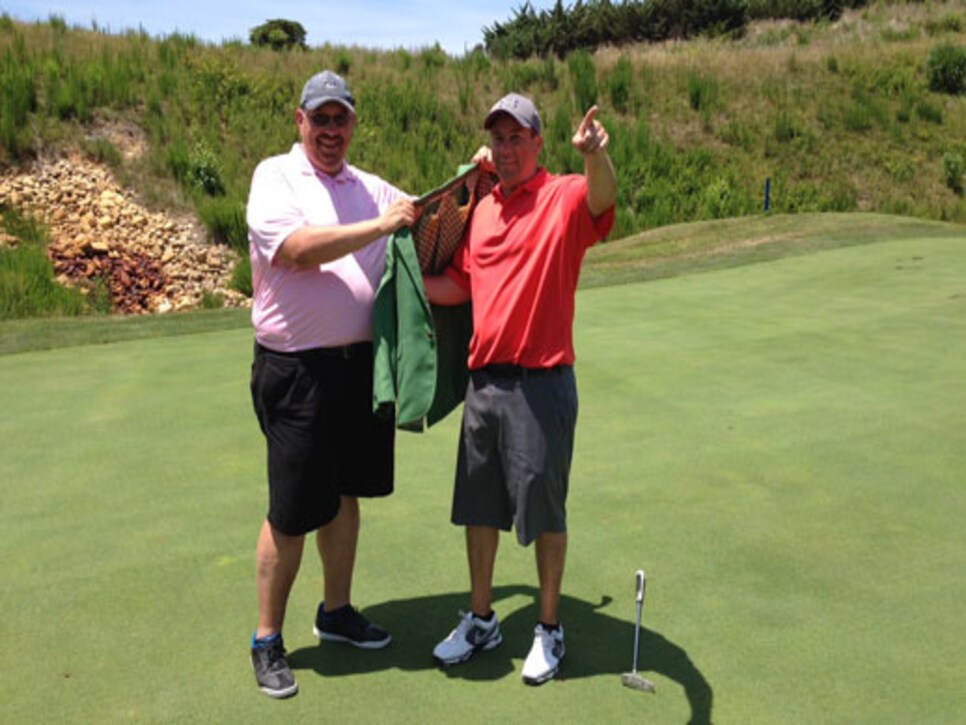 Thanks, USGA, for creating a system that "levels the playing field." I've never seen so many par-net eagles in my life. But at least I can hang my hat -- if not that green jacket -- on the fact I played well under the pressure of an important event. And at least I didn't lose in stunning fashion on the 18th hole. Nope, I saved that for last.
Everyone at Golf Digest looks forward to the annual Seitz Cup. Think the Ryder Cup, but without ugly matching sweaters and captains who take themselves too seriously. This event is a BIG deal at work and I had the honor, along with Keely Levins, of trying to take down the undefeated tandem of Mike Johnson and Ashley Mayo -- the Golf Digest version of Seve and Ollie -- in the day's final match.
Through 16 holes, Keely and I played the role of plucky underdogs and took a 1-up lead. But a Johnson birdie combined with a close miss by us on 17 tied things. Still, we were in great shape for at least a tie with a much shorter birdie attempt on the final hole. Then Ashley did this from 30 feet: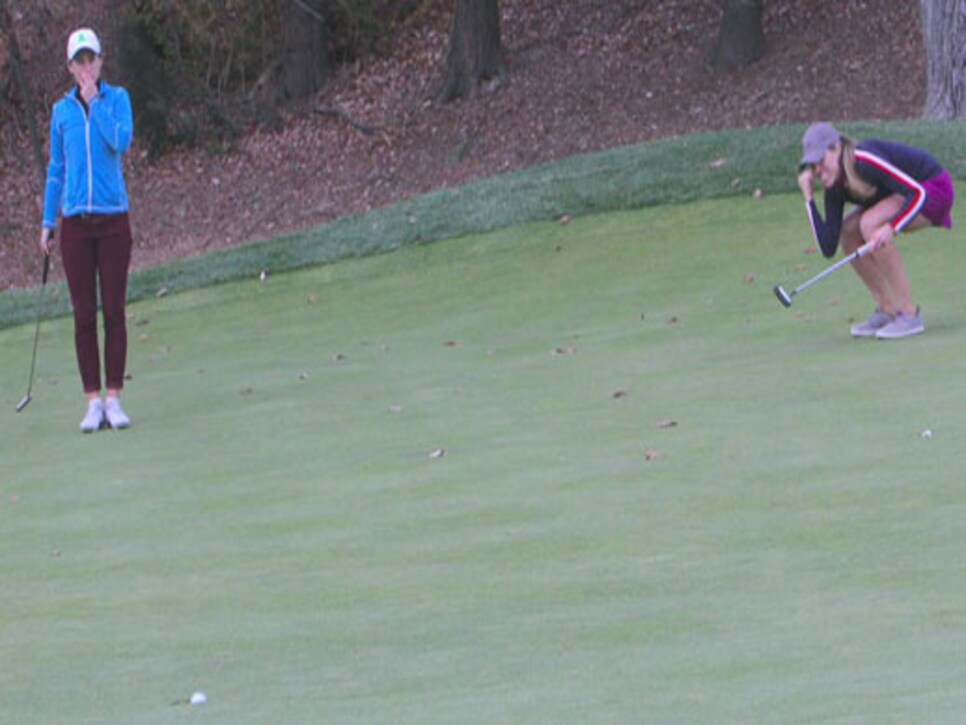 What a putt. What a dagger. That's OK, I thought. I still had my attempt to answer and my 20-footer was in the heart for about 19 feet and 10 inches. . .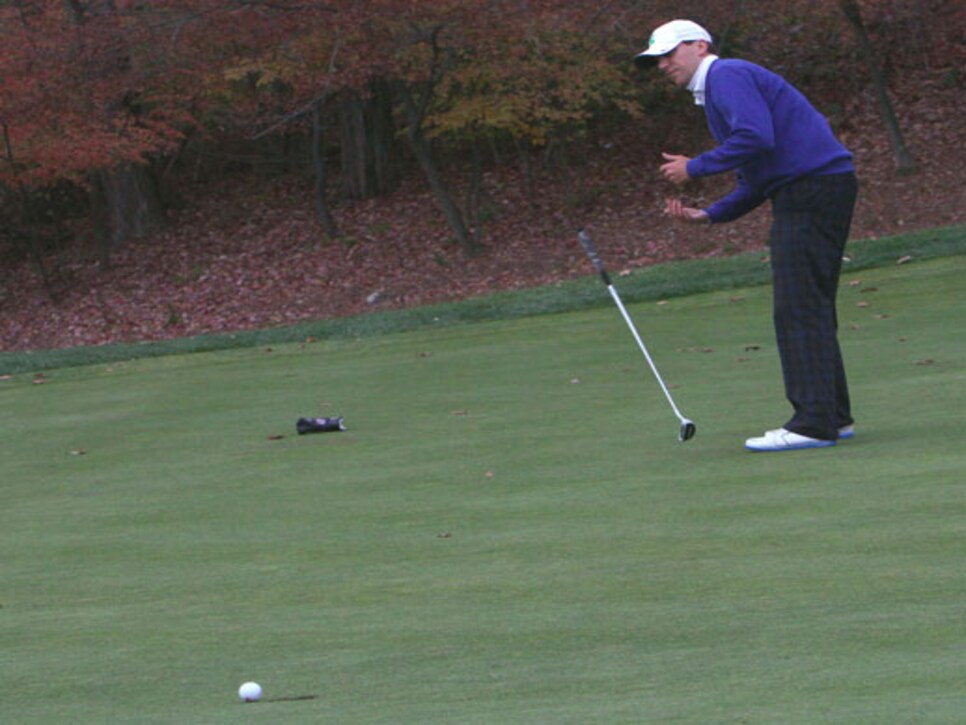 Nope. Didn't drop. Again. With another crushing loss, I was left feeling like this generation's Greg Norman.
In contrast, this photo of me grabbing a seventh(?) chocolate chip cookie -- and a much healthier Max Adler eating his first -- was the only photo taken of me at Golf Digest's last official event of 2014, the Turkey Putt: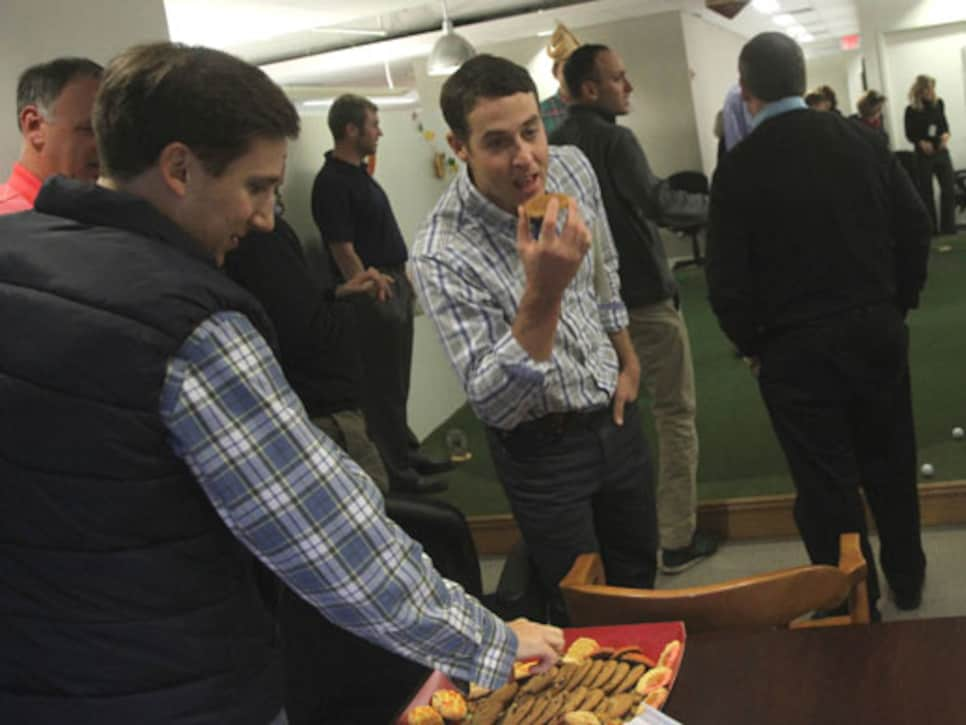 I was not a part of the action, having not qualified for the finals, but in a way, just watching and stuffing myself was more fun. It was certainly less stressful since it's pretty much impossible to lip out a cookie.
Clearly, 2014 just wasn't my year on the course. But better luck next season . . . right? Come on, 2015! You can't get here fast enough.