The Loop
My favorite golf shoes keep breaking my heart
In 2011, I became an enthusiastic unpaid shill for True Linkswear golf shoes, the most comfortable golf shoes I've ever worn. I now own more than a dozen pairs, and I wear them even when I'm not playing golf, and many of my friends have switched to them, too. Last October, though, my most recent pair, called True Motion, basically came apart during the Sunday Morning Group's annual buddies trip to Atlantic City: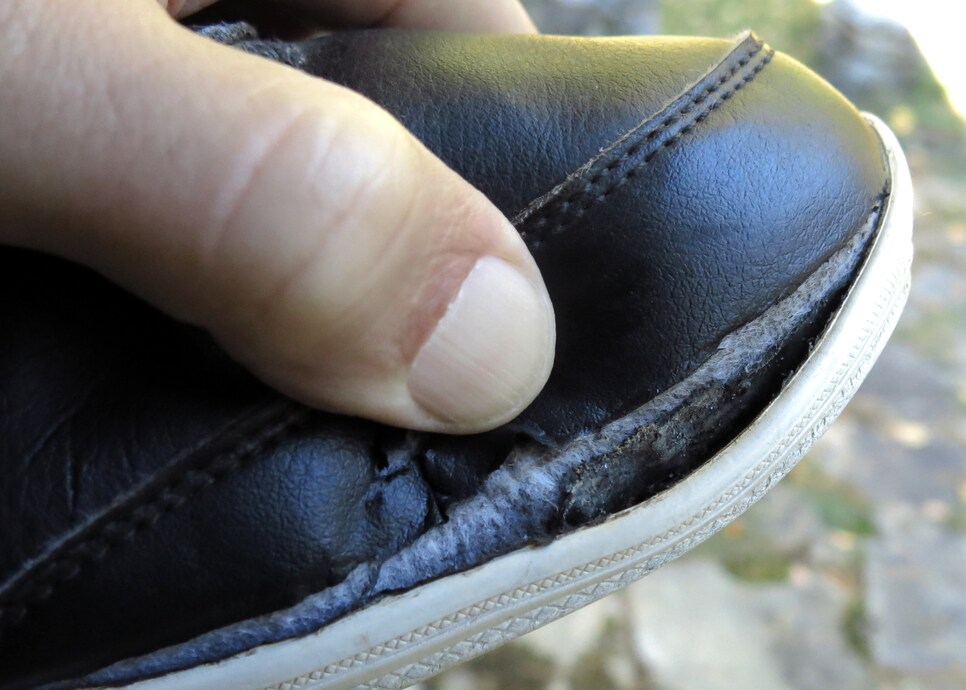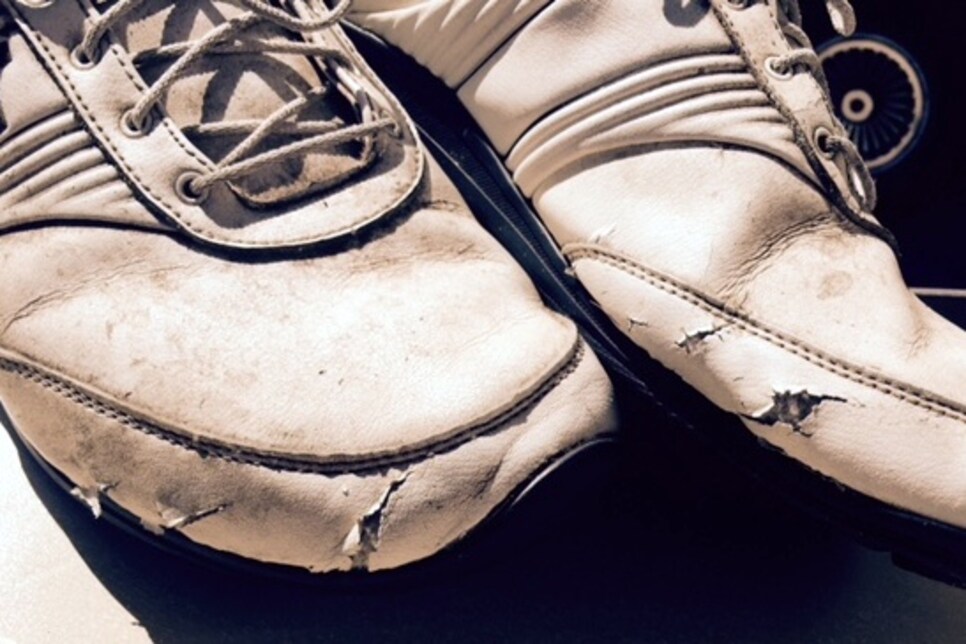 I also heard from a vice president at True Linkswear, who acknowledged that the company had had "past issues" with quality, but said that it had made "a significant switch in factories" and that the next model, called True Elements, would not only correct those issues but would also be "our first breathable & waterproof shoe" and would represent "a remarkable design and construction method" that had been subjected to "rigorous testing standards." I bought a pair in March, as soon as I could find them online, and wore them several times to make sure they truly were waterproof -- as I wrote here: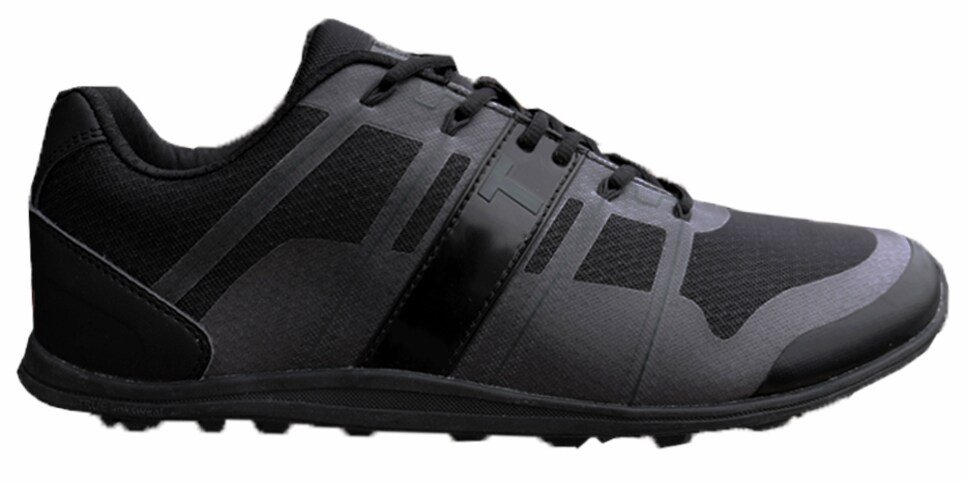 They passed that test beautifully, so I bought a second pair of Elements and put both pairs away, the newer one still in its box, to keep them pristine for an upcoming buddies trip to Ireland, in early May. And here they are at Ballybunion: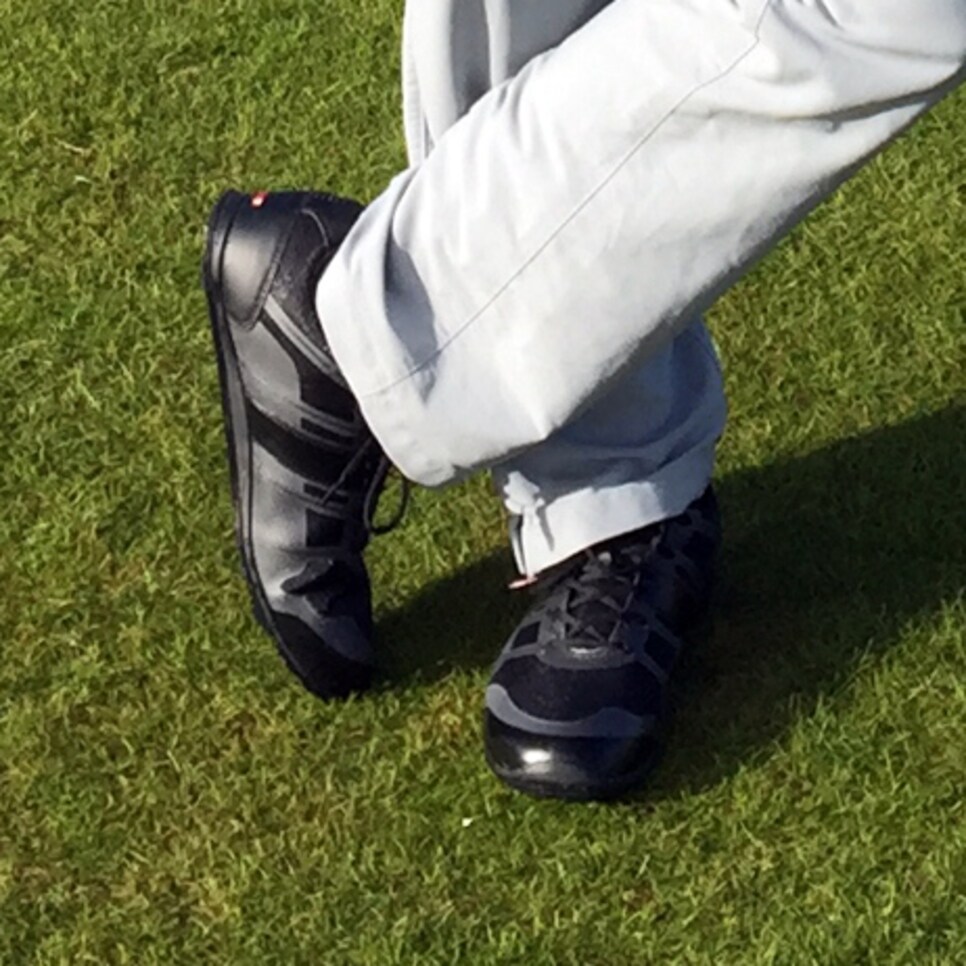 They were the only shoes I took with me on that trip, and they performed beautifully -- with one big exception: before the trip was over, both pairs had developed serious holes in their fabric covering at the points where the shoe bends during walking, on either side of the ball of the foot:

I don't think the holes penetrate the waterproof lining. But they're big, and every time I wear the shoes they get bigger. That V-shaped dip in the outermost layer seems to act like a tiny pair of scissors: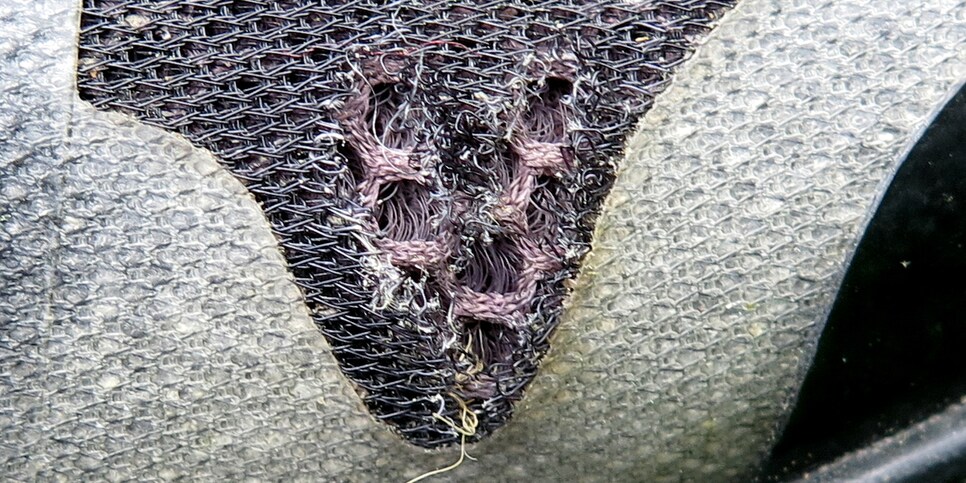 I wore the newer of my two pairs of Elements only twice on the trip -- and I hadn't worn them before, and I've worn them only once since. But one of those shoes already has small holes on both sides, after just a few rounds. Tim D. also took Elements on our Ireland trip, and his shoes have the same kind of holes in the same places:
Now, we played two rounds a day, on foot, on up-and-down terrain -- but shouldn't any pair of golf shoes be tough enough to survive a week in Ireland?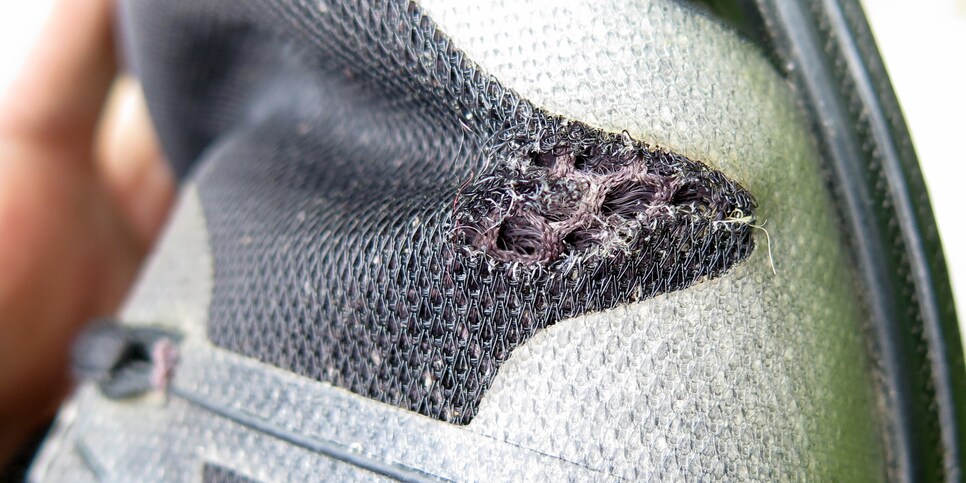 And not long after we got back from Ireland my shoes' self-destruction opened up a new front, on the vamp, just below the laces:

I sent two emails to the vice president who had told me about the company's new manufacturing standards, but I haven't heard back. Maybe I'll hear from him now. But whether I do or not I've bought my last pair of Trues.