The Loop
MotoGP played host to two of the scariest crashes of all time this weekend
This may come as a shock to some of you, but motorcycle racing is pretty dangerous. That's just the way it is when the name of your game is throwing human beings on the back of robot thoroughbreds capable of speeds well over 200 mph and 0-60 acceleration figures in the range of 2.5 seconds. Guys get hurt all the time—including eight-time MotoGP champ Marc Marquez, who broke his arm at the Spanish Grand Prix a few weeks ago—but this weekend was different because this weekend featured not one but TWO of the most downright most terrifying crashes the sport has ever seen.
The first came in the smaller MotoGP 2 division, when a simple off in a blind corner turned left a bike sitting in the middle of track like a landmine, just waiting for someone to come along and detonate it (which, of course, they did.)
The rider you see soaring through the air is Hafizh Syahrin, who apart from some extensive bruising, retained consciousness and was not seriously injured in the crash. Which is saying something because, well, just look at it again.
Then later in the same damn afternoon, this happened in the marquee MotoGP division, turning two bikes into literal missiles that just missed taking out fellow riders by a matter of inches. We're not sure what the likelihood of this working out the way it did is, but it's gotta be a decimal point of a decimal point.
Both Johann Zarco and Franco Morbidelli, who set off the carbon fiber fireworks when they collided entering turn 3, walked away from the wreck, but it's not hard to imagine the various, grisly ways that this one could have gone south. I mean, come on . . .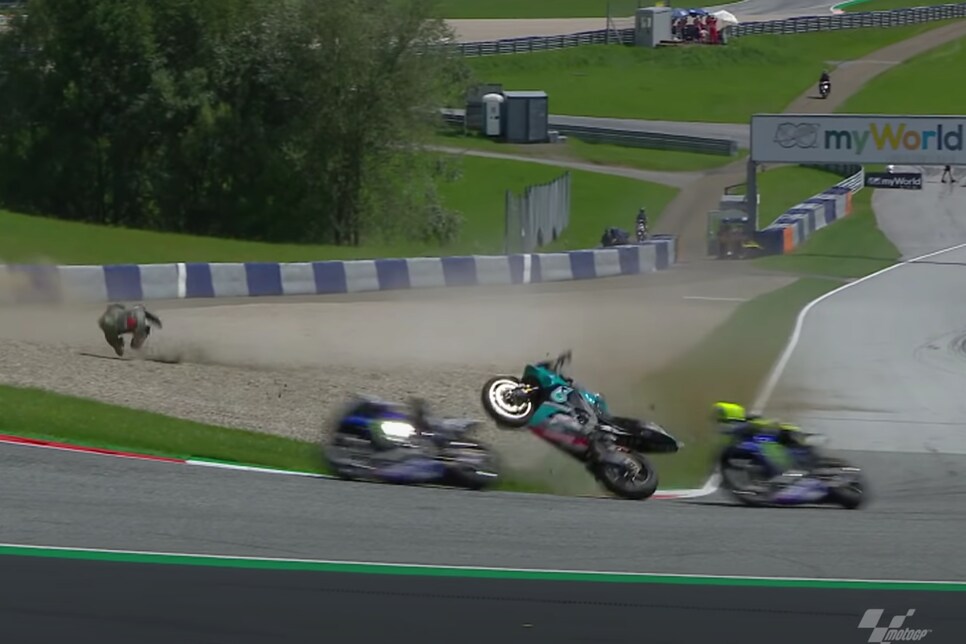 Needless to say, if your mid-quarantine crisis had you dreaming of buying a bike and hitting the open road, maybe you'd be better off settling for or a new grill instead. Just be careful with that lighter fluid . . .