Players switched companies, changed gear, ran low on gear, had too much gear. Yes, it was an insanely crazy—and entertaining—year to be an equipment writer covering the world of clubs, balls and contracts on the professional tours. Here are eight equipment stories from the past 12 months that are worth revisiting.
Jon Rahm leaves TaylorMade, joins Callaway
Jon Rahm entered the new year as the No. 2 player in the world—and with a new equipment sponsor, Callaway Golf, after leaving TaylorMade. Rahm was not unfamiliar with Callaway and Odyssey equipment. He used both while playing college golf at Arizona State, where he won 11 tournaments for then-coach Tim Mickelson before turning pro in 2016. Though some felt Rahm might be taking a risk—after all, he won five PGA Tour and six European Tour events while with TaylorMade—the 27-year-old put any such concerns to rest by winning the U.S. Open and jumping to World No. 1 for the last five months of 2021, giving Callaway a nice early return on its investment.
Brooks Koepka's iron odyssey
The year ended with another big-time player, Brooks Koepka, signing an endorsement deal with Cleveland/Srixon. Given what transpired earlier in 2021, that did not come as a surprise. Having snapped a set of irons over his knee in frustration when he returned home after missing the cut at the Farmers Insurance Open in January, Koepka came to the Waste Management Phoenix Open with a new set of Srixon ZX7 irons—and promptly won in his first start with the sticks. After signing with the company in November, Koepka put a beatdown on Bryson DeChambeau in The Match in his first event using a Srixon driver and ball as well as Cleveland wedges. Still, it was the irons that provided the impetus for the deal with Koepka calling them, "The best iron I have played on tour." Sounds like a good company man.
Bryson DeChambeau's busy equipment year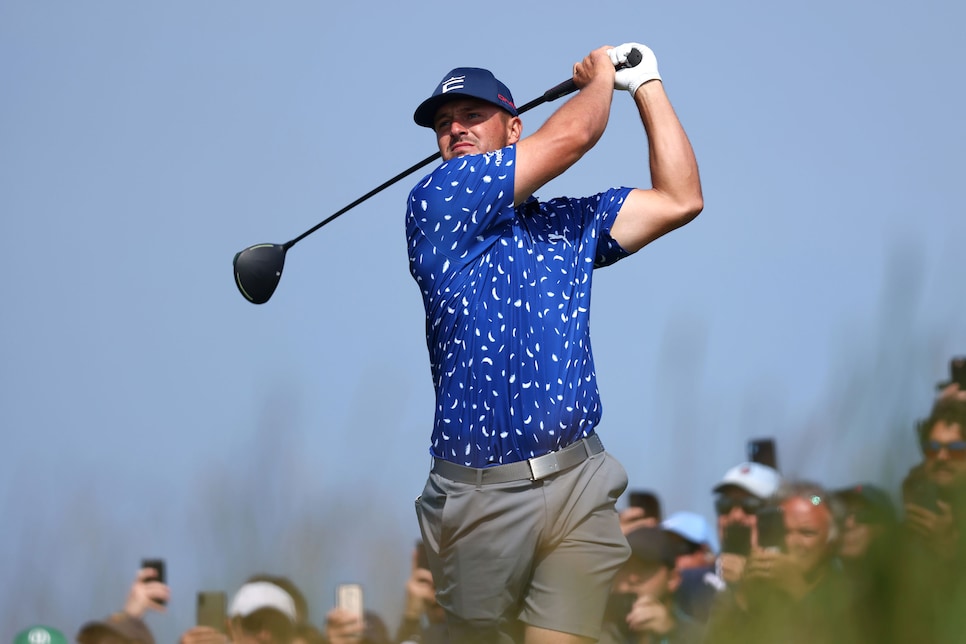 It was a busy year for Bryson DeChambeau in the equipment arena (when is it not?). From his infamous "This driver sucks!" comment during the Open Championship to cracking a utility iron at the Players (that possibly cost him the tournament) to putting in play a longer hosel on his putter to using specially made drivers for the Masters and again at the World Long Drive Championship, DeChambeau is starting to give Phil Mickelson a run for his money as the equipment content king. The Masters driver in particular was pure Bryson. A 5.5-degree Cobra King Radspeed driver, the club itself barely resembled the production model. "There were changes to the head versus the stock Radspeed," Cobra tour rep Ben Schomin, who worked on the driver for several months, told Golf Digest via text message. "We took out the removable weights to save some overall head weight [and] used a thicker face for added durability. [We also] removed the Infinity Face to make face radii changes easier. [The driver has a] flatter toe radius to help with toe mis-hits." Indeed, when it comes to his clubs, DeChambeau's mad-scientist rep is truly warranted.
Phil Mickelson's major driver decisions
Speaking of Mickelson, Lefty is particularly inventive at the major championships, where he has tried a myriad of things over the years with varying degrees of success. True to form, he was at it again at this year's PGA Championship and U.S. Open. At the PGA at Kiawah Island's Ocean Course, Mickelson had a new driver in the bag, a Callaway Epic Speed with 6 degrees of loft that has an actual finished loft of 5.5 degrees with a Fujikura Ventus Black 6TX shaft. The real equipment story, however, was the addition of a TaylorMade Original One Mini driver with a Fujikura Ventus Black 7x shaft. The Original One Mini was designed for control over standard drivers and 3-woods. Its 43.75-inch shaft (more than an inch shorter than many drivers) and 275 cubic-centimeter head (about 40-percent smaller than a normal driver) feel more comfortable for some players. Mickelson won at Kiawah but, of course, couldn't leave well enough alone. A month later at Torrey Pines, he was using a different mini driver, TaylorMade's 300 Series Mini driver. Unfortunately, he could not replicate the PGA magic for that elusive U.S. Open title.
In March, Frank Thomas, the former chief technical director for the USGA who oversaw equipment regulations, died at the age of 81. Thomas led the USGA's equipment rules-making efforts from 1974 to 2000. Prior to coming to the USGA, Thomas worked at Shakespeare Sporting Goods where he developed the graphite shaft in 1969. Thomas walked the line between a love for golf innovation and protecting the game's traditions. Under his guidance, there were new methodologies for testing golf-ball flight that came to be the Overall Distance Standard, and he developed the concept that limited the spring-like effect in driver faces. Wally Uihlein, former Acushnet Golf CEO, summed up the impact of Thomas' passing: "It was not an easy job, but he was more than equal to the task. The industry has lost one of the most important figures from maybe the most turbulent period in the 100-plus year history of the commerce of golf."
A teenager's golf ball shortage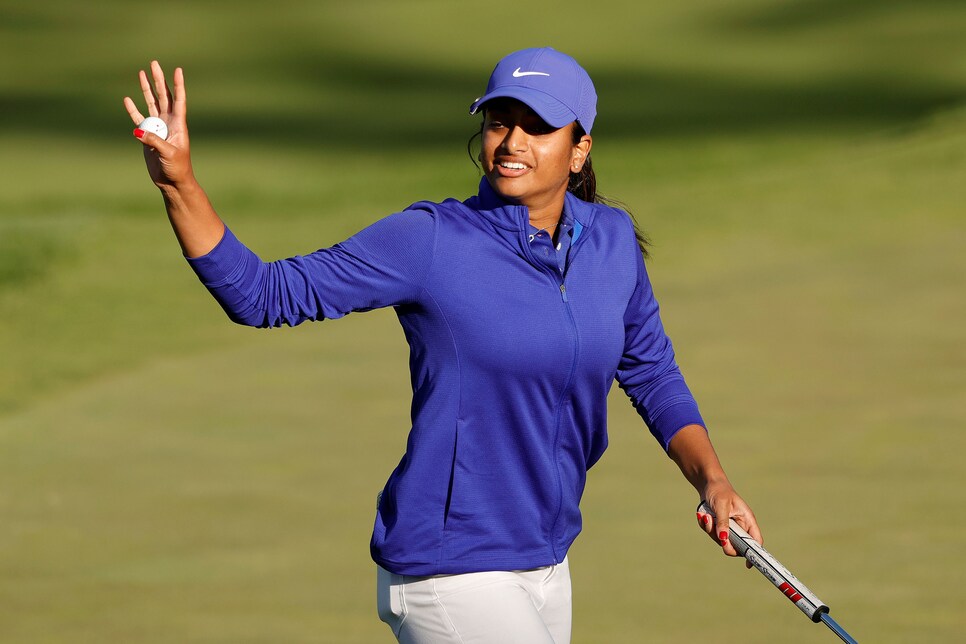 Megha Ganne, a 17-year-old high-school student, was in contention heading into the final round of the U.S. Women's Open. Unfortunately, while Ganne was clearly long on talent, she was short on golf balls. That's because Ganne needed to adhere to the so-called "one-ball rule" that requires participants to use the same brand and model of golf ball, including the year model. As luck would have it (or not have it), Ganne used the 2019 version of the Titleist Pro V1. Noticing she was low on golf balls prior to the final round, she was in a bit of a spot as the 2019 model is not available in golf shops, having been replaced by the 2021 version. Fortunately, the pro shop staff at Olympic Club had a private stash of the 2019 spheres and gave them to Ganne. While the potential golf-ball crisis was averted, final-round nerves playing in the final threesome appeared to be a real thing as she shot a 77 in the final round. She'd finish T-14, which still was good enough for low amateur honors.
Putter woes (and fixes) at the Dick's Sporting Goods Open
Bernhard Langer had 41 wins on the PGA Tour Champions, but in trying for No. 42 at the Dick's Sporting Goods Open in July at En-Joie Golf Club in Endicott, N.Y., he attempted to do something he'd never accomplished before on the senior circuit—win without his trusty Odyssey White Hot 2-Ball Long putter. Langer, playing in the pro-am, drove his cart under a gallery rope—rarely a good idea—caught the putter on the rope and snapped the shaft. That forced Langer to borrow a Scotty Cameron long putter from Scott McCarron to use. Langer did admirably well, finishing T-8, three shots behind winner Cameron Beckman, who had a putter story of his own. Struggling with his putting coming into the event, Beckman decided to go to, where else, Dick's Sporting Goods, and bought an Odyssey White Hot OG blade putter. Said Beckman: "It felt great in the shop, but I just took it out and putted with it [for] two days last week when I was struggling with some confidence, and then obviously I played good this week."
A kids club almost proves very costly
When you're playing the Symetra Tour, every dollar is precious. Not just because the purses are a fraction of those on the LPGA Tour, but earnings count toward the money list that determines who gets an upgrade to the LPGA the following season. That's why the unusual situation Rachel Rohanna found herself was so potentially cruel. During the Copper Rock Championship in April, Rohanna, 30, discovered her young daughter's 7-iron—which was no more than two feet in length—in her bag. Despite it clearly being a kids club and of no use to her, she was assessed a four-stroke penalty for having the extra club in her bag in violation of the 14-club rule. That cost her $900, which lingered as the year went on and Rohanna hovered around the No. 10 spot on the Symetra Tour money list, with the top 10 earning LPGA cards. In 2015, she finished 10th at year's end by a mere $284. Fortunately, Rohanna—who is clearly bringing her daughter up right by having her play golf—again finished 10th on this year-end money list (by $4,429) and will return to the LPGA Tour in 2022.