The Loop
More of your views on the British Open
Your reactions to the British Open, and to our coverage of the Open, continue to pour in. I like these: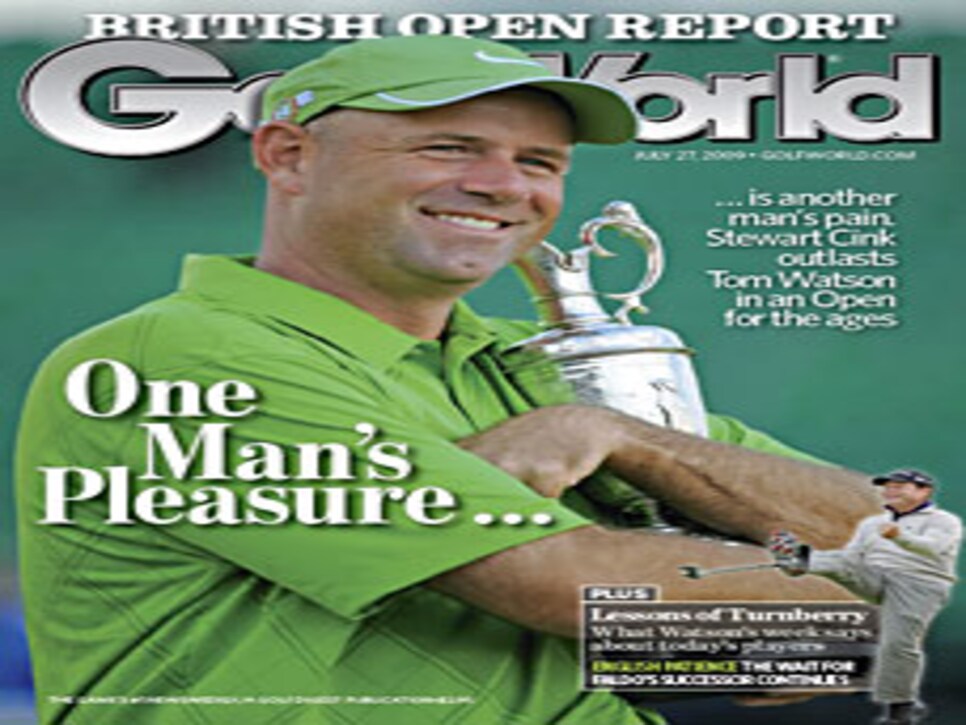 Who can ever forget Kenny Perry's sentimental Masters win, Mickelson's emotional triumph at the US Open and Tom Watson's win for the ages at the Open? What a storybook season so far! >
Oh, wait....I forgot. That was a storybook. >
Golf gets compared to life quite often. In a time when we all needed a fantasy, the sport we all love has shown us life's cruel reality. Let's keep playing.>
Before the start of the British Open, I'm sure there were many that predicted that in the end you would probably see a "Nike swoosh" and a golfer with the initials "TW" left standing. But Stewart Cink and Tom Watson? >
__Dear Editor, I did not root for Stewart Cink at the 2009 British Open. In fact, I think it's fair to say no one in America, outside of Cink's immediate family, wanted to see him deter the Tom Watson miracle in the making. However, the man made a clutch birdie on the 72nd hole to get into the playoff and deserves his due. I think it is a slight to Cink to place a photo of him clutching the Claret Jug on the cover of GolfWord with the caption, "One man's pleasure is another man's pain." It would be truly wrong for the golf media to let him go down in history as the man who stole Watson's Open. Cink played some brilliant golf and deserves to be recognized for that, more than anything else. Thank you. Alan Borowsky __>
It really iritates me to see how many golf commentators are all talking about how Tom Watson choked. It must be a prerequisite on becoming a commentator that you alway show the negitive side of a person. It happened on the Golf Channel it happened on ESPN-2 on first and ten. It got so bad I just turned the TV off. If these people that report all the negatives could still play the sport I might want to listen to them. Most of them are in their 40's maybe 50 but you never see them out on the course. I think what Tom Watson did was fantastic. Even if he didn't win he kept us glued to our TV's for 4 days. Yes it was disheartening for him to lose but to think that a man just shy of his 60th birthday could accomplish what he did. He should be praised not saying he choked. I challenge all the commentators that were there and at the studio to go play a course like they did for The Open and to come close to a score like Mr. Watson shot with what was on the line and see how well they do. It's easy to sit on the sidelines and ridicule.
Dear Editor, What a disgraceful performance at the end of the British Open by Tom Watson. After playing top notch golf for 3 1/2 rounds he turns into a 25-handicapper on the 18th & the four-hole playoff. If this was horse racing there would have been a steward's inquiry. VERY strange finish. William Healey East Hanover, NJ
Jaime Diaz's suggestion that Ernie Els and Retief Goosen lack "competitive toughness" and possibly have "a certain softness" because they didn't "close strong" at Turnberry borders on stupidity.  Has Diaz forgotten that those two South African golfers own a total of four U. S. Open trophies?
On the subject of Jaime's column, in which he suggested that the very fact of a 59-year-old contender suggests a weakness in the present class of tour professionals, brought tons of comment and debate. Check out these comments on Geoff Shackelford's blog.