The Loop
Monday morning playoff, Poulter gets second chance and Senden's family battle: 5 things you need to know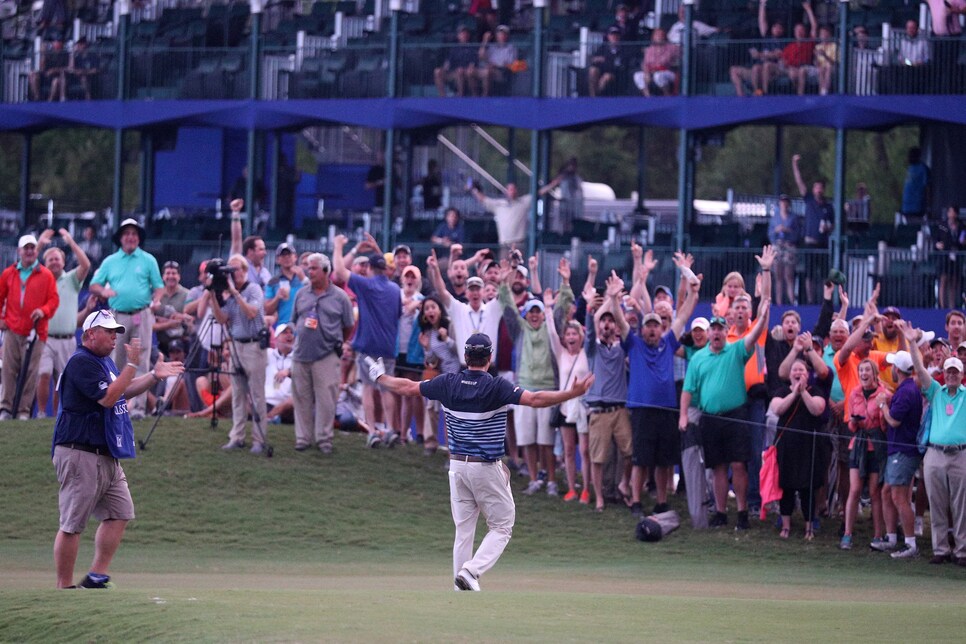 Welcome to the Monday morning Dew Sweeper, your one-stop shop to catch up on the weekend action from the golf world. From the professional tours, trending news, social media headlines and upcoming events, here's every golf-related thing you need to know for the morning of May 1.
Kisner chip-in sends Zurich to playoff
Due to a six-hour rain delay, the Zurich Classic was unable to finish on Sunday. But it closed with a grand finale thanks to a chip-in eagle from Kevin Kisner:
The television filter doesn't do the dark justice. Here's how the scene really looked, courtesy of the PGA Tour's Charlie Kane:
Kisner and Scott Brown shot a 12-under 60 on the day, remarkable considering they parred the previous six holes before the eagle on 18. Very Golden Tee-esque, if you will. The pair will meet Jonas Blixt and Cameron Smith at 9 AM Monday morning in four-ball (best ball) sudden death.
And props to tournament officials and the PGA Tour for transforming the Zurich into a team competition. A handful of critics believed it was gimmicky, and the format and field could use a little tweaking. Conversely, what was once an afterthought on the calendar became one of the more entertaining tournaments of the spring.
Senden shares family battle
John Senden withdrew from the Zurich Classic early last week for a personal matter. On Saturday, Senden shed light on the issue, revealing his 13-year-old was diagnosed with a brain tumor.
"As a family, we appreciate the support and kindness that everyone has offered us at this difficult time," Senden remarked in a statement. "Together, we will stand strong to tackle this disease and look forward to the day when Jacob is cancer free."
The 46-year-old Australian said there's no timetable for his return to golf. Senden has been a tour regular since 2002, with two victories and $21 million in earnings in his career.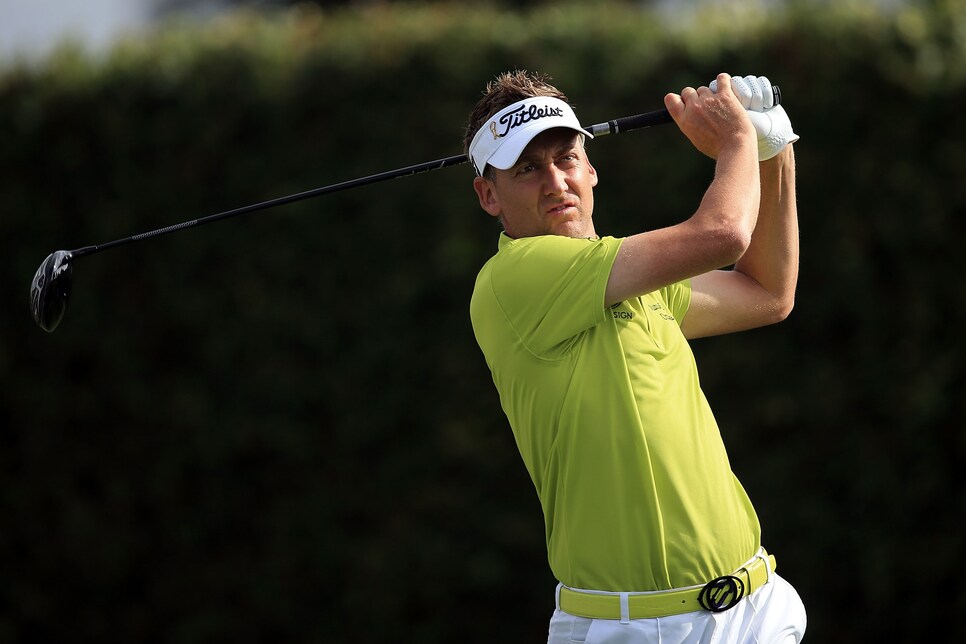 Tour grants clemency to Poulter, Gay
Remember the plight of Ian Poulter, whose future was draped in ambiguity following the loss of his tour card by one measly shot? Thanks to some Sherlock Holmes-level sleuthing by Brian Gay, Poulter will keep his card after all.
The press release is, well, quite Byzantine, but the gist involves a change in major medical exemption qualification standards. Gay pointed out a perceived slight regarding his status, pleaded his case, and the tour showed compassion. As an upshot, Gay's argument also bestowed a reprieve for Poulter.
Given the purgatory that exists for non-exempt players, Poulter clearly owes Gay handsomely. I think the Ferrari collection is good place to start, Ian.
Brothers and sisters do horrible things to each other. Pull hair. Break toys. Tattle. Or, in the case of the Stroud family, smack golf shots in the other's direction.
During Saturday's round, Chris Stroud's drive on the par-4 16th veered right of the fairway...and right into his sister's back:
Given Chris is 35 years old, guessing Momma Stroud won't be putting him in time-out. Still, considering his team managed a birdie on the hole, dude better up the ante for his sister's birthday gift.
Greek Freak(y) golf swing
A look at the Milwaukee Bucks' stats sheet shows that Giannis Antetokounmpo is good at a lot of things. He led the Deers in points, rebounds, assists, steals and blocks this season, on the way to earning his first All-Star nod. Sadly, Antetokounmpo's skills don't translate off the hardwood, as this video from Topgolf shows:
So take solace, readers. You're not a top-five baller in the Association like Giannis. But you sure as hell have a better backswing.