Miguel Angel Jimenez, the next European Ryder Cup captain? Yes, one former captain says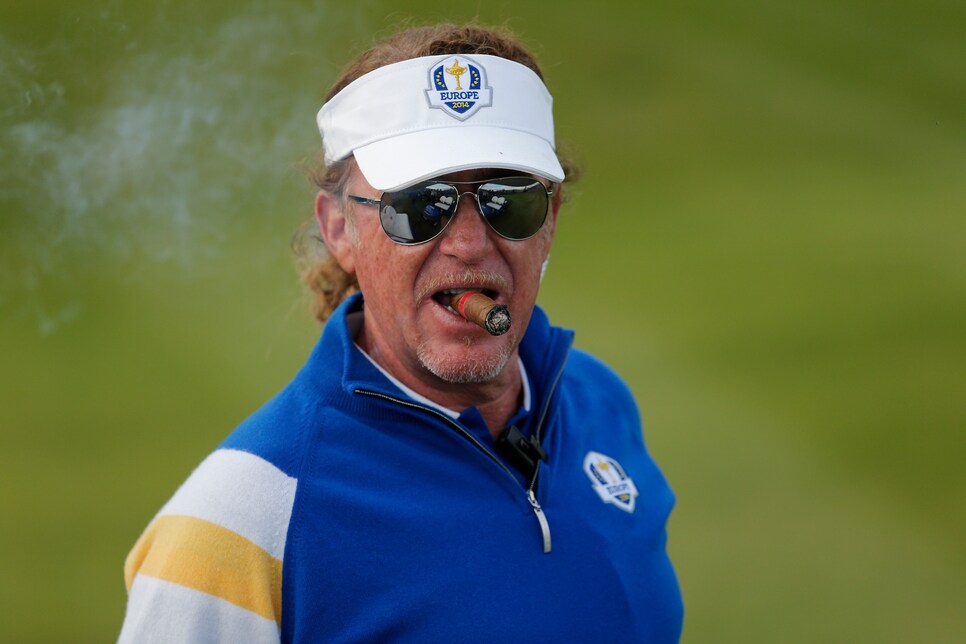 Stories of interest you might have missed…
"If Miguel Angel Jimenez wants to be the next European Ryder Cup captain, he's the man the selection panel should go for," James said. "There's no question that he would make a brilliant leader, and I think he'd be better in Paris in 2018 than in Wisconsin two years later because he is a little extroverted, and it's easier to be that way at home."
Reed's match play credentials established at Augusta State
"If the world didn't get the message at Gleneagles two years ago, it now understands what everyone in Augusta already knew six years ago – do not mess with Patrick Reed in match play," Scott Michaux of the Augusta Chronicle writes.
"Reed – who went 6-0 in singles matches to lead Augusta State to consecutive NCAA championships in 2010-11 – proved to be the orneriest cuss in the crucible of Hazeltine National to lead the United States to a 17-11 victory over Europe in the Ryder Cup. Any future task forces know that Reed is the player you want on your side when you absolutely, positively need a point."
Clarke taken to task for Westwood pick
"A captain must be judged on the strength of his picks, and Clarke's were, to put it kindly, less than stellar. Westwood and Martin Kaymer, supposedly his two matchplay stalwarts, picked up one point from a possible seven (the solitary win coming in Kaymer's dead rubber against Matt Kuchar)…
"This is not a mates' network, but the pinnacle of sport. And the signs are that figures such as Clarke and Westwood have, for all the outstanding service they have rendered in the European cause over 20 years, passed their sell-by date. In Paris, Westwood does not deserve to be a locked-in wildcard just because of his body of work. Nor does Poulter, come to that. As fondly as his eye-bulging brilliance at Medinah is recalled, it tends to be forgotten that at Gleneagles two years later, he failed to win a match."
You are using an unsupported version of Internet Explorer. Please upgrade to Internet Explorer 11 or use a different web browser.