The Loop
Mickelson looks to end Snead comparisons at Congressional
BETHESDA, Md. - Phil Mickelson is one British Open victory away from becoming the Sam Snead of his generation. Slammin' Sammy won seven major championships - three each in the Masters and PGA as well as one British Open - but failed to win the U.S. Open, finishing second four times. That resume omission kept Snead from joining Gene Sarazen, Ben Hogan, Jack Nicklaus, Gary Player and Tiger Woods as the only players with the career Grand Slam.
Enter Lefty, who has won the Masters three times and a PGA Championship, but has been runner-up in the U.S. Open on a record five occasions. This week at Congressional, Mickelson makes his 21st start in America's national championship. The last time the Open was here - in 1997 - Mickelson was T-43, digging a hole with an opening-round 75. Still, he comes back to Congressional with a belief he can win.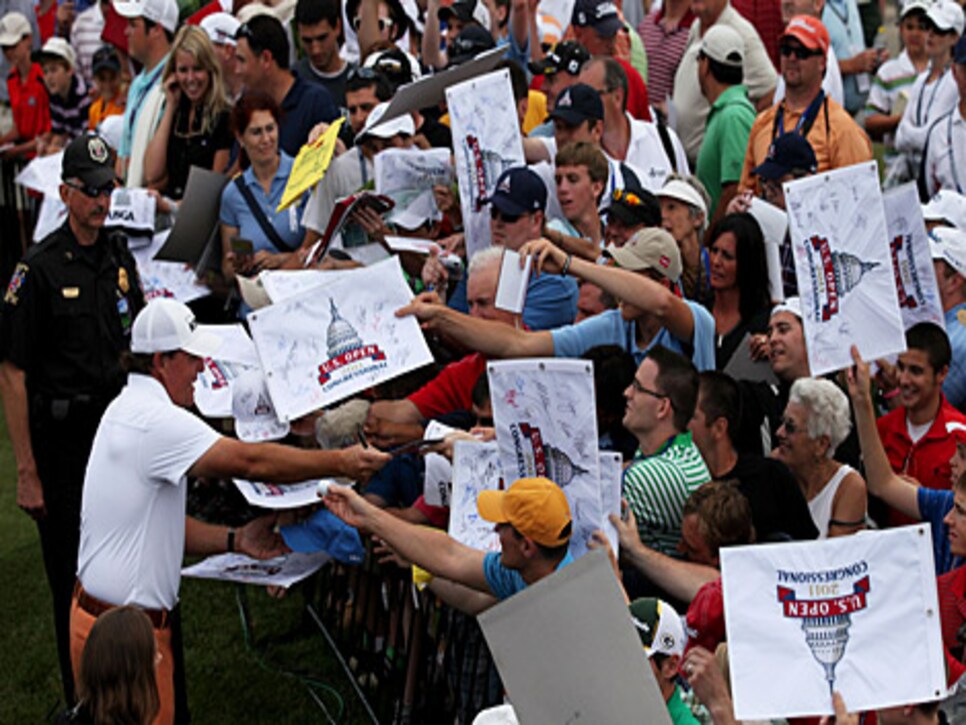 Mickelson's Open routine includes leaving time for preparation, but also for connecting with his fans. Photo by Getty Images
Snead's four second-place finishes in the Open stretched 16 years, from 1937 through 1953. Mickelson was a bridesmaid in the U.S. Open the first time in 1999, when Payne Stewart broke his heart at Pinehurst No. 2 on the final hole. It was a bizarre week in which Mickelson carried a beeper, saying he would leave the course if his wife Amy went into labor. Their first child, Amanda, was born the day after the tournament.
Ten years later, Mickelson was runner-up to Lucas Glover on the Black Course at Bethpage State Park. In between, Phil was second to Geoff Ogilvy at Winged Foot in 2006, painfully making a double bogey on the final hole when a par would have won the tournament; runner-up to Retief (I'm going to make every putt I look at) Goosen at Shinnecock in 2004 and second to Tiger Woods at Bethpage in 2002 when Tiger was in full-Tiger mode.
"I love this tournament," Mickelson said Tuesday at Congressional CC, focusing on the positive side of all his near-misses. "I've had a lot of fun in this tournament, a lot of close calls. Having come so close so many times, I really believe I can win this championship."
While it would seem odd that Mickelson has had so much success in the U.S. Open -- he has been known to hit the ball off the planet on occasions (No. 163 in driving accuracy on tour this year) and that's not a good thing with the Open's penal rough -- the fact is this tournament really tests your short game, and from 100 yards in Mickelson is as good as it gets.
What Phil will need to contend is a solid effort with his putter, which has been known to miss from close range at just the wrong time. "I am looking for a little more consistency on the greens," he admitted, a reference to the fact he is a mediocre 53rd in strokes gained putting on tour. Often, the winner of the U.S. Open is the guy who makes the most six-foot par putts during the week.
There must be times when Mickelson thinks he can't win. For the first decade of his career he had to bear the label as the best player without a major championship, if not one of the greatest ever without a major. Now, with four majors in his pocket, he has to handle questions about whether or not he will ever win a U.S. Open. He handles it all with humor and with patience, two good qualities at an Open.
"I learned a lot from that loss at Shinnecock in 1995," he said about his fourth-place finish at the age of 25. "I was 0-for-forty-something when I won my first major and I am 0-for twenty-something in the U.S. Open. I am trying to not think about winning as much as think about the challenge ahead," he said. "I'm trying to have the same mindset I had before I won a major - a belief I can do it and an effort to not focus on the results."
To get ready for this assault, Mickleson came to Congressional last week and endured the 100-degree heat to develop a plan of attack. On each hole, he would hit numerous balls to determine exactly which route to follow. Essentially, he was developing a roadmap around the course. This week, the temperatures will be cooler, but the demands of the course will be intense.
"At the Masters, on each tee you are thinking you want to hit it as hard as you can and as far as you can," Mickelson said. "At Augusta, you just hit it, find it and hit it again. The U.S. Open is all about minimizing your misses." Still, Lefty indicated the driver will come out of the bag a lot on the 7,574-yard layout.
With Tiger Woods not in the field for the first time since 1994, when he was an amateur, this is as wide open of an Open as there has been in nearly two decades. There is truly no clear-cut favorite. Mickelson is No. 5 in the Official World Golf Ranking, tailing No. 4 Steve Stricker, No. 3 Martin Kaymer, No. 2 Lee Westwood and No. 1 Luke Donald.
But, as Mickelson notes, "No. 1 and 2 in the world haven't won a major yet." In fact, neither has No. 4 (Stricker), No. 6 (Matt Kuchar), No. 8 (Rory McIlroy), No. 9 (Dustin Johnson) or No. 10 (Paul Casey). Only No. 7 Graeme McDowell joins Kaymer and Mickelson as major winners among the top 10 players in the world.
The dearth of major-championship trophies on the mantles of the top-ranked players reflects the parity in the game right now - some would say lack of a breakout star player - and it indicates just how up for grabs this U.S. Open is.
And when Mickelson points out that neither of the top two players has a major, he just might be hinting that someone with experience closing the deal may be hoisting the U.S. Open trophy on Sunday. If it's Mickelson, well then he will be only one British Open away from the career Grand Slam. Then that talk can start, and Phil can smile in a bemused way and patiently answer some more questions.