The Loop
Mickelson ties career birdie best, course record, and Singh for the lead on Saturday at Crooked Stick
CARMEL, Ind. -- Some people see the glass half-empty, others half-full. Phil Mickelson looks at it and simply wants to figure out how to fill it up.
Emerging from a months-long period where his game "went south for awhile," Mickelson fired an 8-under-par 64 Saturday at Crooked Stick GC, and enters the final round of the BMW Championship tied atop the leaderboard with Vijay Singh.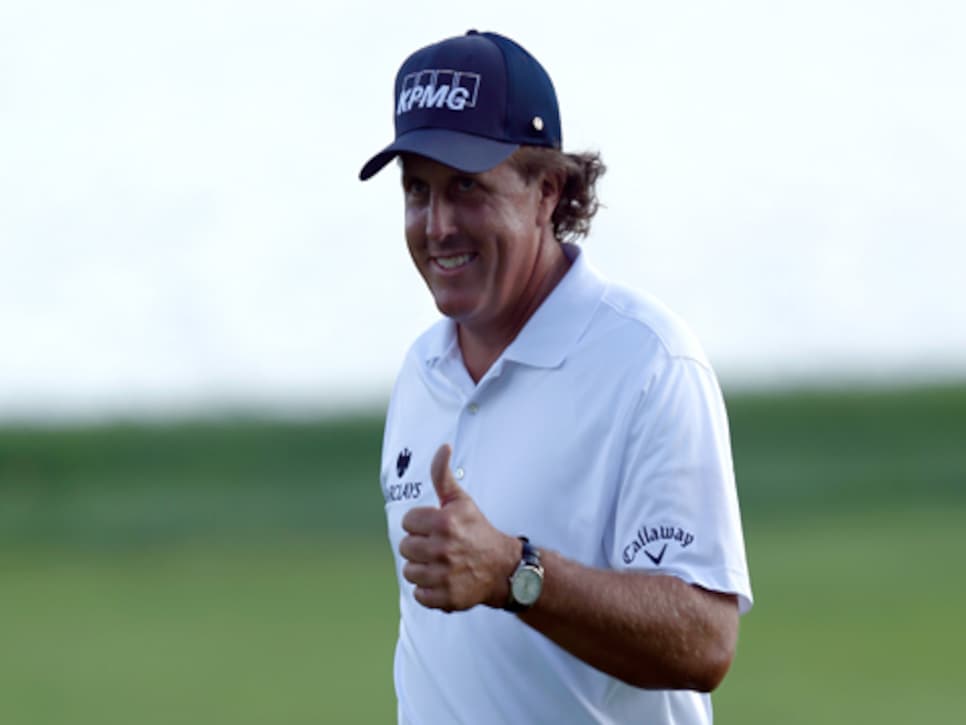 Photo: Scott Halleran/Getty Images
"It was a fun day. I got it going with the putter. It's nice to be playing well again," said Mickelson, who tied his low round of the year. He fired a 64 in the final round of the AT&T Pebble Beach National Pro-Am when he won a showdown with Tiger Woods to register his 40th PGA Tour title.
The left-hander, who sits at 16-under 200 through 54 holes, tied his career high with 10 birdies, the seventh time he had dropped that many, but it was the first time he had been so economical with his putting stroke since the opening round of the 2006 BellSouth Classic at TPC Sugarloaf.
Mickelson arrived at Crooked Stick fresh off a T-4 finish at the Deutsche Bank Championship, ending an unseemly summer string of seven starts in which he had finished no better than T-36. As is his wont, Lefty looked upon his slide as an opportunity to scrutinize the various parts of his game rather than to fret over them.
"It's actually been, looking back on it, a great three or four months, because as bad as I've played, it's forced me to really analyze and look at and dissect the parts of my game to get it back to where I wanted it to be," he said. "It's taken me some time, and certainly I have a little ways to go.
"When was it its best? What was I doing then that made it its best? How do I practice? How do I hit the shots? What allows me to have good distance control, trajectory, all those things," Mickelson added, noting the questions he was asking of himself. "Although it's taken me three, four months of poor play, I feel like now it's back to a level where I'm going to start playing the way I know I'm capable of playing."
Certainly a key area of marked improvement has come on the greens after he changed to a claw-style putting grip two weeks ago at The Barclays.
If Mickelson, 42, were to win Sunday, he would give himself a chance of capturing the FedExCup title, one of the few omissions in a resume that earned him entry into the World Golf Hall of Fame in May. (Which is about the time his struggles began, perhaps nothing more than a coincidence?) It also would allow him to settle a score going back two decades.
Previous to this week's third playoff event, the only other occasion in which Crooked Stick hosted a PGA Tour event was the 1991 PGA Championship. The ninth alternate ended up winning, a guy named John Daly.
By Mickelson's way of thinking, he should have been allowed to compete in that PGA. In January of '91, Mickelson, then the reigning U.S. Amateur champion, won his first tour title at the Northern Telecom Open. That he remained an amateur meant he couldn't compete in the PGA, which is restricted to professional players.
Though he won the 2005 PGA, Mickelson still is irked by the circumstances.
"I remember that I qualified for the tournament and wasn't allowed to play in it, and that really upset me back then," he said Saturday. "I won the Tucson Open in '91, which qualified me to play the PGA Championship, and I wasn't allowed to play because I wanted to graduate college and stay an amateur. I would have loved to have competed. I felt I deserved to after I had already qualified, and I look back on that 20 years later, and I'm still upset."
Maybe he'll get over it with a win Sunday.