The Loop
Michael Allen makes remarkable turnaround at Senior PGA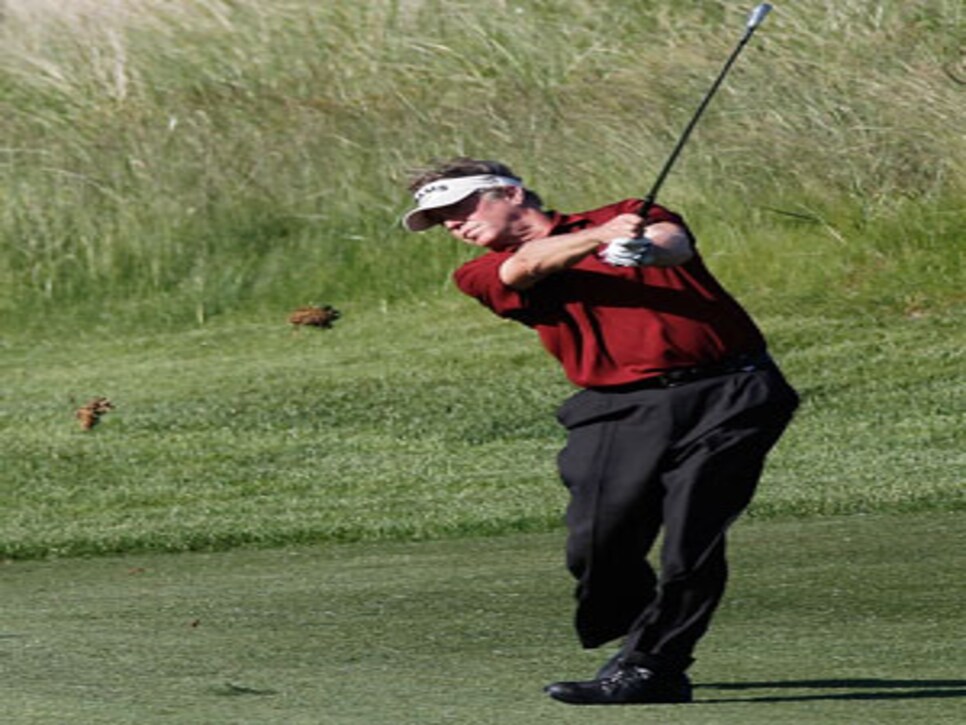 BENTON HARBOR, Mich. -- Same guy, same course, different day.
Michael Allen shot a 77 Thursday in the first round of the 73rd Senior PGA Championship. He was 13 strokes better than that Friday, carding a course-record, seven-under 64 to vault into contention on a much calmer day at Harbor Shores.
Allen, 102nd after his six-over opening round, was T-5 at one-under 141 when he got to the clubhouse, three strokes behind leader Roger Chapman, who was early in his second round.
It was the lowest round shot in the Senior PGA since Allen Doyle closed with a 64 to win the event in 1999 at PGA National GC. His turnaround equaled the 13-shot swings by Brad Bryant (80-67) and Bill Loeffler (82-69) from the second to third rounds during the 2010 Senior PGA at Colorado GC.
Allen -- the hottest player on the Champions Tour this season with two victories and four other top-four finishes -- made seven birdies (only one on a par 5), saved par after hitting his approach long on No. 7 and didn't have a bogey.
Following his bad first round, Allen retired to the house he is renting on Lake Michigan where he relaxed with about a dozen friends over dinner and drinks. "[When] I finished yesterday, I was pretty pissed, and a few bottles of wine later I'm feeling a little better, you know," Allen said. "I didn't get too overly dramatic about it, but I knew I had to play a good round today and I didn't want to come out and embarrass myself."
As a result of his hot play Friday, Allen is right back in the hunt for a title he won in 2009 in his first Champions Tour event. "I love the challenge of playing a really hard course, and that's what this is," Allen said. "So I just knew today I was going to go out and one way or the other and try and play a good round and try and beat the golf course. And I was able to today."