The Loop
Meet the U.S. Curtis Cup team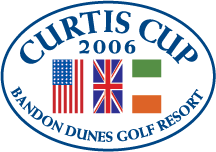 Amanda Blumenherst, 19, Scottsdale, Ariz.
*Virginia Derby Grimes, 42, Meridian, Miss.
Jennie Lee, 19, Henderson, Nev.
Paige Mackenzie, 23, Yakima, Wash.
Amanda McCurdy, 22, El Dorado, Ark.
**Jane Park, 19, Rancho Cucamonga, Calif.__
Jenny Suh Jenny Suh__, 20, Fairfax, Va.
** played in 2004 Curtis Cup; 1-2 overall record (0-1 foursomes; 1-1 singles)
U.S. CAPTAIN CAROL SEMPLE THOMPSON – Seven-time USGA champion Carol Semple Thompson, 57, of Sewickley, Pa., has competed on a record 12 USA Curtis Cup teams, including the 2002 squad in her home area of Pittsburgh, Pa., when she holed a 27-foot putt from just off the 18th green at Fox Chapel Golf Club to retain the Curtis Cup for the American side. Thompson owns an overall Curtis Cup match-play record of 18-15-4, including 9-8-1 in singles competition.
Thompson's first USGA title came at the 1973 U.S. Women's Amateur when she defeated Anne Quast Sander in the final, 1 up, at Montclair (N.J.) Golf Club. She has since gone on to win two U.S. Women's Mid-Amateur titles (1990 and 1997) and four consecutive USGA Senior Women's Amateur crowns (1999-2002). In August of 2005, Thompson became the first person to ever compete in 100 individual USGA competitions when she played at the U.S. Women's Amateur at Ansley Golf Club's Settindown Creek Course in Roswell, Ga.
In addition to her Curtis Cup experience, Thompson also played in five Women's World Amateur Team Championships for the USA. Thompson's father, Harton S. Semple, was president of the USGA from 1974-75, and her mother, Phyllis, has been active on various USGA committees.