The Loop
McIlroy's win a FedEx Cup success story
The Deutsche Bank Championship was a victory for the abacus over the algorithm on Monday, helping reaffirm that with the FedEx Cup playoffs the parts are greater than the sum.
Rory McIlroy solidified his standing as the best player in golf in dramatic fashion, withstanding a Tiger Woods rally and overcoming a Louis Oosthuizen advantage to win by a stroke.
This is why we watch, of course, not to see how the FedEx Cup standings shake out. NBC does an admirable job of updating the latter, but the standings still rely on an indecipherable point system that the players can't follow even as it dictates their future.
Charley Hoffman, for instance, required a two-putt par at the 18th hole to advance to round three this week, the BMW Championship. Did he know?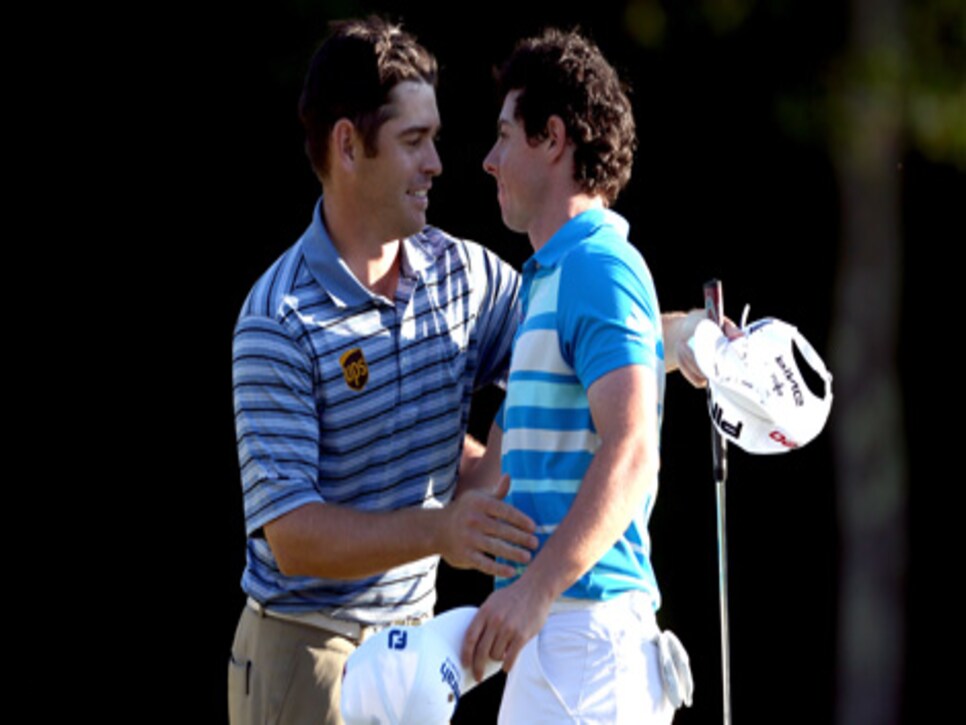 "No clue," he said moments after holing his par putt. "No idea. None at all."
Advantage abacus. An algorithm was not required to determine that McIlroy held a one-stroke lead over Oosthuizen at the 18th hole of the TPC Boston, or that Woods likely needed a birdie-eagle finish to tie.
Winning a tournament, meanwhile, against a stellar field to boot, will always trump winning the FedEx Cup, notwithstanding the $10 million accorded the winner of the latter.
Careers will continue to be judged by the number of victories on a resume, not by FedEx Cup wins. And McIlroy, with three victories, one a major, likely has cinched PGA Tour player-of-the-year honors, which matters more than whether he wins the FedEx Cup.
These are the flaws with the FedEx Cup. Sunday explained the brilliance. The top four names on the leaderboard were McIlroy, Oosthuizen, Woods and Mickelson, or as good as it gets in golf. The FedEx Cup has delivered on its mandate: to bring the best players on the PGA Tour together for an additional four weeks at interesting courses (Bethpage Black last week, Crooked Stick and East Lake to follow), injecting interest in professional golf post-PGA Championship.
The Deutsche Bank did its part by producing a playoff-worthy tournament that emphatically reiterated the point that golf is no longer a one-man show. Woods began the final round three strokes behind McIlroy (and six behind Oosthuizen) and went out in four-under par 32, yet gained nothing on McIlroy.
"Tiger probably thought he was going to get some help out of these guys, maybe...like the old days when people basically would lay down and say, 'go ahead Tiger, you can win another one,'" NBC's Johnny Miller said. "Those days seem to be gone now."
McIlroy's closing 67 did not even represent his A game, either. He was largely hanging on at the end and prevailed only when Oosthuizen missed a 15-foot birdie putt on the 72nd hole.
In the meantime, McIlroy hit a pair of shots that belied his standing atop the golf world. From the seventh fairway, he chunked his second shot in the manner of a 15-handicap. Worse yet was his 3-wood tee shot at the par-4 15th hole, when he again chunked it, this time off a tee, his ball traveling a scant 170 yards.
So it wasn't always artistic, but it was a success. As for who leads the FedEx Cup standings, who cares (for the record, McIlroy does)? What matters is that they get to do this again later this week at Crooked Stick.
For that reason alone, the FedEx Cup playoffs are triumphant, even without, we should note, an algorithmic assist.