The Loop
McIlroy still can't figure out Sawgrass, exits early once again
PONTE VEDRA BEACH, Fla. -- As "Aw, shucks" threesomes go, you'd have to go a ways to top the group of Rory McIlroy, Phil Mickelson and Steve Stricker. They lead the league in disarming smiles, bashful waves and, in the case of Stricker at least, occasional tears. Watching them play Friday at TPC Sawgrass in the Players was to see a lot of what is right is right with pro golf.
At times it was almost as if Rory and Phil were in a contest to see who could give away the most golf balls to kids. Made me wonder how many balls their poor caddies have to lug around to get through 18 holes. When McIlroy or Mickelson arrived on a tee box or at a green they were greeted by the fans like long gone relatives returning home. Pure affection.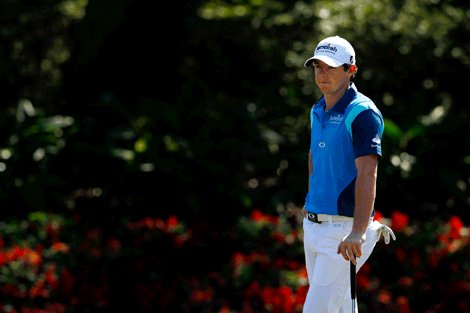 *McIlroy has never made the cut at the Players, but he remains determined to play better there. Photo by Getty Images
Sadly, the quality of the golf did not match the genuineness of sentiment between player and fans. Only Mickelson, with a 71 in the second round, made the cut, finishing 36 holes at two under par 142. McIlroy stumbled to a 76 and will head home for the weekend at four over par. Stricker was six over.
Some guys just can't play certain courses and it looks like we can add McIlroy to a list that probably includes Tiger Woods as those who cannot handle the Stadium Course at TPC Sawgrass. Young Rory has now teed it up in the Players three times and has yet to strike a competitive blow on the weekend.
"I just need to try and get the hang of this golf course somehow," McIlroy said, patiently answering every question that came his way after a frustrating two days on the golf course. He birdied his first hole Friday and that was it for red numbers for him.
"I just find it pretty difficult," he said. "Off the tee I find it pretty difficult around here. You have really got to position yourself in the fairway and give yourself at least a chance to get at some of these pins. I just didn't do that over the last couple of days."
And playing in the morning, with the wind down and the greens not as firm as they will be in the weekend, there was a score to be had out there, just not in this threesome.  Zach Johnson scorched Sawgrass to the tune of a 66. Charlie Wi was able to get around in 67 strokes and Sung Kang, who made an 8 on his very first hole Thursday, followed a 75 with a 68 Friday to make the cut.
"Whenever you play Sawgrass, the greens are so difficult; if you just relax for a second, you miss it in the wrong spot, and it's very easy to make a bogey or double, and I've done that many times in the past," Wi said. "It's a place where you have to stay focused and be ready for the shot that's coming up and make sure that you are fully committed."
And that's it in a nutshell, although Wi could have gotten to the kernel a little faster. Sawgrass is a golf course that punishes mistakes. Players who make a lot of them -- like Woods even when he was playing well -- do not fare well here. This is not a place to show off your recovery game. McIlroy thought he was ready this time, however.
"I've come back here a much better player, I feel," he said. "A much more consistent player; experienced player and, yeah, I felt like I would come here and think my way around the golf course and just try and play steady golf. I tried to do that and it just didn't happen."
Saturday, of course is moving day at a golf tournament, the day on which you try to position yourself for a run at the title on Sunday. But Friday is trunk-slamming day, when the guys who missed the cut angrily deposit their sticks in the back of that week's courtesy car, slam the lid and head home. With McIlroy, there was no anger, just frustration -- and a bit of determination.
"Hopefully, I'm coming back here another 20 years," he said in a slight poke at himself for skipping the Players last year in what he now admits was a stupid form of protest over the PGA Tour's minimum event rule. "If I don't figure it out on my 20th go, there's something wrong," he said with a laugh.
"I shoot 14 under last week and I feel like I hit it just the same this week, and I'm going home," McIlroy said. "But you know I'm not getting down on myself about it. I don't know what it is about this place, but as I said, I'll come back next year and give it my best and try to make it to the weekend."
McIlroy and Luke Donald, who made it to the weekend at three under par, have been playing a game of leapfrog involving the World Ranking for several months now. In the last 11 weeks, there have been six lead changes at the top spot between the two of them, with perhaps another coming this Sunday.
McIlroy reclaimed No. 1 last week with his runner-up finish at the Wells Fargo Championship, but now Donald has a chance to take it back with a strong weekend. For Rory, it will be another weekend off at The Players.  Still, he walked away, he didn't run and he didn't huff. You get the feeling the kid will figure this place out.