News
McIlroy, Rose now chasing a Tiger from their past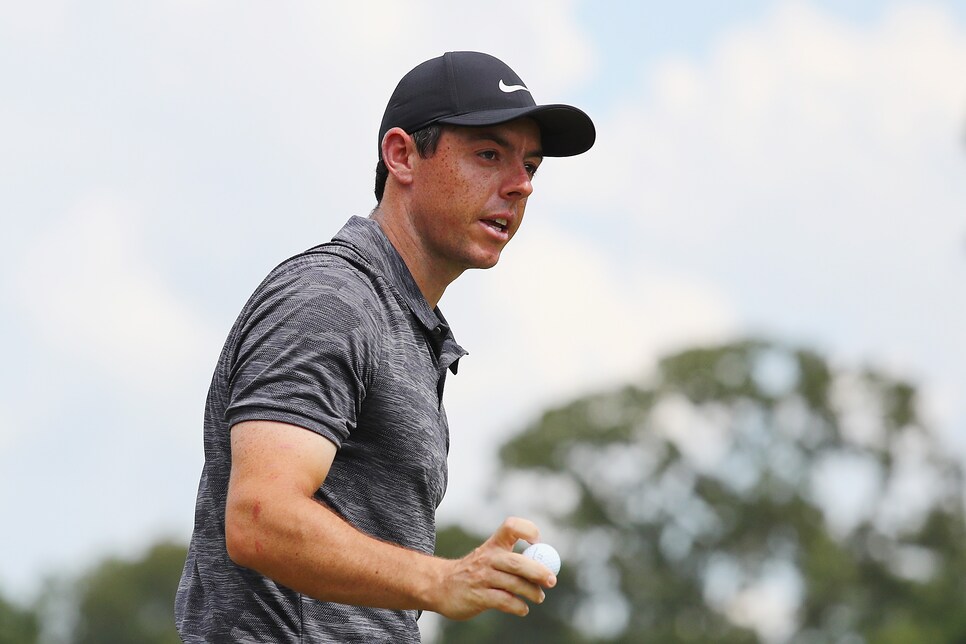 ATLANTA -- Rory McIlroy used to dream about playing with Tiger Woods in the final group in the final round of a tournament. Sunday at East Lake, he'll find out what it feels like for real.
The two will go off last, at 2:05 p.m. EDT, with Woods holding a three-stroke advantage over McIlroy and Justin Rose after a titillating third round on Saturday at the Tour Championship that included six birdies in Woods' first seven holes en route to a five-under 65.
"All I can do is concentrate on myself," McIlroy said of the pairing. "The game is hard enough without looking at other people."
Especially when one of them is named Woods.
The bigger mystery is whether the 42-year-old 14-time major champion will close it out the way the player McIlroy, 29, grew up watching. Woods is 42 for 44 in his career when leading after 54 holes on the PGA Tour, the last of those victories coming five years ago at the WGC-Bridgestone Invitational, where Woods led by seven going into the last day and went on to win by nine. Of the 23 times he has led by at least three strokes going into the final round, he has gone on to win every time.
But Woods' prior record isn't a prologue. That was then, this is now. So much has happened in between, mentally and of course physically, everything from sordid scandal, to surgeries -- plural -- including one to fuse his spine nearly 18 months ago.
He has had other chances, too.
Early on in this latest and last comeback Woods trailed by a stroke going into the final hole of the Valspar Championship in March, a long par 4, and hit 2-iron off the tee for fear of finding the rough with the driver. He ended up having a much longer shot in and got it only to 40 feet before two-putting to lose by one.
A few months later, on the final day of the Open Championship at Carnoustie, Woods' game remained vulnerable when the matter mattered the most. His putting betrayed him on a couple of early birdie opportunities and his swing did late with a couple of loose ones off the tee when he took the lead into the back nine.
At the year's final major, the PGA Championship, a bogey-double bogey start to the opening round and a ho-hum even-par 70 proved too much to overcome in the end, despite a sizzling 64 on Sunday.
But he's also come a long way since.
"In March, I didn't really have a golf swing yet," Woods said. "I was still trying to figure out how to play. My body is so different than it was then, and my equipment is so different than it was then, too, as well, because of my body and because of my swing. I've gone through a lot this year to get myself to this point."
And what a point he is at. He is on the precipice.
How far has Woods' game come since the first time McIlroy played with him early in the year at Riviera, where Woods missed the cut?
"Just not as much rust," the Northern Irishman said. "He's not making the mistakes that he might have been at Riviera, short-siding himself. The short game is way better. I thought the first two days at Bellerive was pretty good. There was a couple loose shots in there, but his iron play is spectacular."
Through three rounds at East Lake, Woods is third in fairways hit, first in scrambling and first in strokes gained-putting.
The only thing left to do is be first on the leaderboard come the end of Sunday. It's a place he has been 79 times in his career on the PGA Tour, evoking a certain familiarity among not just those watching him but those chasing him.
"I've been saying for a while now, he's playing easily well enough to win, and it's just a matter of time," Rose said. "You just don't want it to be on your watch."
"Maybe," said Rose, who has the added distraction (or concern) of the FedEx Cup and $10 million being at stake as well. "It's a little more unknown now.
"His history, his statistics from this point are impeccable. They're incredible. But he's human, and there's a lot on it for him tomorrow, as well as the rest of us."