The Loop
McIlroy makes it through second round (mostly) in one piece
JOHNS CREEK, Ga. -- Yes, if this 93rd PGA Championship hadn't been a major, Rory McIlroy would have pulled out because of the sore right wrist. Yes, attempting to hit a full-blooded shot with the the ball lying so close to a tree-root was "a mistake in judgment." And yes, a 22-year old Lee Westwood probably would have taken on said shot, even if a 38-year old Lee Westwood probably wouldn't.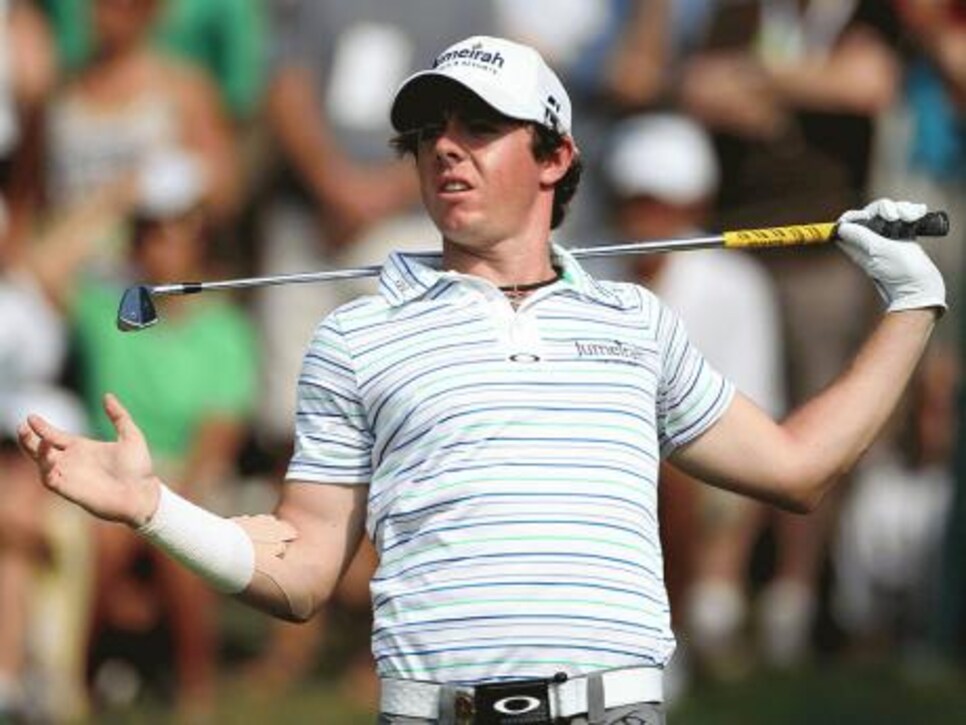 "Hindsight is a great thing," sighed McIlroy. "I thought I would be able to get away with it, let go of the club at impact and hopefully it would be okay. But it's hard to let go at just the right moment; the club is coming down so fast. I let it go just a little bit too late and jarred the wrist against the root."
In other news, the U.S. Open champion added a second-round 73 to his opening 70, qualified for the weekend and headed off for more treatment, his wrist still heavily strapped after his now-infamous altercation with that now-infamous root. All in all, not a bad day to be alive, even for a multimillionaire 22-year old with a famous tennis-playing girlfriend.
"It was tougher mentally more than physically," said McIlroy. "I can't get it out of my head and I've been 'protecting' the wrist through impact, especially when I have to go down for the ball out of rough or a bunker. In that respect it was a frustrating day.
"It's there in the back of my mind.  It's tough, whenever I want to hit a shot, I want to try and hit one a little harder, release it, but self consciously, I just come out of it a little bit. It's tough when you can't hit the shots that you want to hit.
"The good news is that it didn't hurt as much as it did yesterday, when it was feeling pretty bad. The treatment I got last night and this morning helped a lot. It was a bit stiff when I woke up but it soon loosened up."
Tour physiotherapist Cornell Dreisen, who works with Masters champion Charl Schwartzel, oversaw McIlroy's on-course treatment. One Ashok Reddy, a local orthopedic surgeon, took over last evening.
"The first I knew that something had happened was when I got a call from Titleist yesterday," said Chubby Chandler, McIlroy's agent at International Sports Management. "They told me that a new 7-iron would be delivered the next morning in time for Rory to play. I thought he'd wrapped it around a tree or speared it into the ground or something.
"But we should never be surprised when Rory is involved in stuff like this. With people like him and Tiger -- those who play on the limit of their capabilities -- things happen."
True, but the same can't be said for McIlroy's ultimately pedestrian round, one played, he felt, at a level maybe 25 percent below par healthwise. Apart from one hole that is. Having just made what he later described as a "good birdie" at the tough, uphill 16th hole (his seventh), the young Irishman dumped his tee-shot to the short 17th in the pond fronting the green. Another tee-shot followed. Then three putts. Triple.
"I was in between a 6-iron and 7-iron," he explained. "I ended up going with the six. The wind was off the right so I was trying to hold it against the breeze just to take a little yardage off it. I felt if I flushed it, I could have gone into the back trap. So I took a bit off it, but the ball got up in the air on me and the wind affected it a little more than I wanted it to. If it had been online with the pin it probably would have pitched on the green, but it was a few yards left and didn't make it over the water."
The last thing this remarkably assured, confident and yes, nice young man had to deal with were more questions on the role of his caddie in what will surely become known as "Rootgate." Already under fire this year for perhaps costly mistakes made during the final round of the Masters earlier this year, J.P. Fitzgerald, according to some sources, should have been telling his man to chip out sideways. And if that failed, wrestling his young charge to the ground before the specter of career-ending injury raised its head.
McIlroy was having none of that, however.
"He's my caddie, not my father," he said with a shrug.