The Loop
McIlroy filling Tiger's void and more
BETHESDA, Md. -- The press conference question caused Rory McIlroy to bury his face in the crook of his left arm. Heavens, it even caused him to blush. He had been asked about the veteran pro Padraig Harrington's declaration that he, McIlroy, would be the one who broke Jack Nicklaus's record of 18 major championships. As he lifted his head, he came up with the smile of an elder amused and confounded by the things kids say. McIlroy, 22 years old, said of Harrington, who has dental fillings older than that, "Oh, Paddy, Paddy, Paddy," singing it softly, blushing all the while.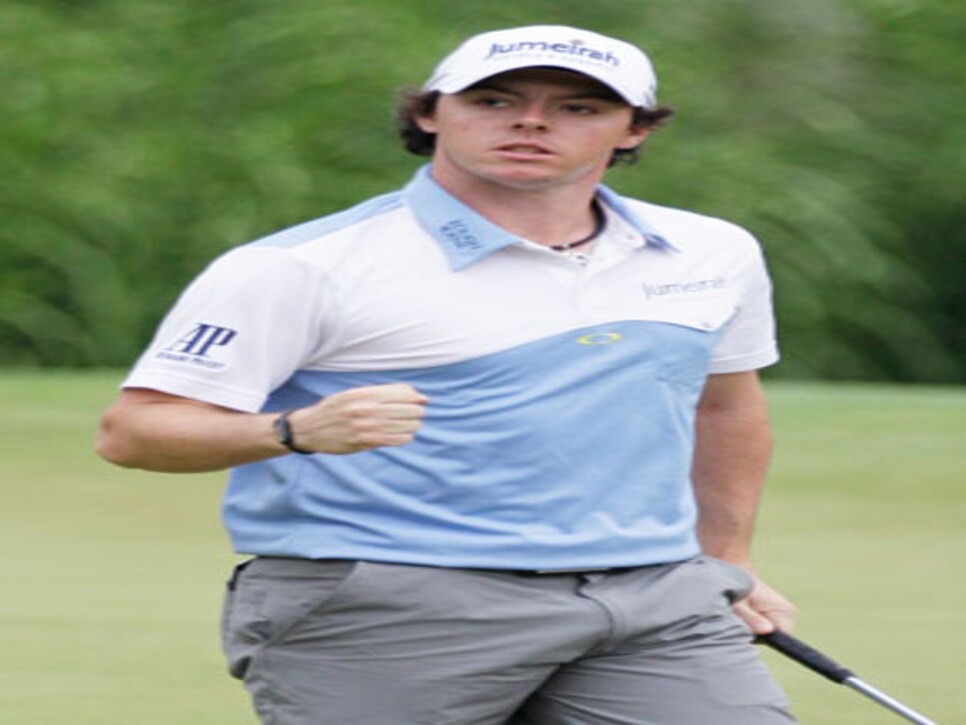 He had shot a third-round 68 to take an eight-shot lead into Sunday's last round of the U.S. Open at Congressional Country Club. Because he led the Masters by four shots on Sunday two months ago and contrived one of the most embarrassing losses in golf history, it's fair to say this ain't over 'til it's over. Maybe someone has lost a major from eight shots in front. I could look it up. But I won't, for two reasons: 1) I'm so far in the tank for McIlroy that I don't want to think about another calamity, and 2) there's no way McIlroy can lose because if he so much as wobbles, Nicklaus himself will drop from the sky, in a golden parachute, and administer a master's lesson. It was only two weeks ago, remember, that Nicklaus spoke to McIlory about never doing that Masters thing again. Here's McIlroy's report of the lesson: "He just said he would kick my backside."
As for Harrington's idea that McIlroy will win 19, 20 majors, the wise young man suggested Paddy should shaddup already, only he said it this way: "You know, I'm still looking for my first one. I've put myself in a great position to do that tomorrow, and we'll see what happens from there." Maybe so, but tens of thousands of golf customers at Congressional have approved him in advance, sending up chants of "Let's go, Rory ... Let's go, Rory." And when he walked through the wall of noise down the 18th fairway, he heard it all. "It was incredible. The support that our group got out there was fantastic. It's nice when you get nearly a standing ovation on every green you walk up onto. Hopefully, I can just give them something else to cheer about tomorrow."
He's ready. "It would mean a lot," he said, to win this Open. "I feel like I've -- even though it's been a very, very short career, I've sort of -- yeah, I've learned a lot from all these experiences and I feel as if I've had enough experience leading majors and being up there that the time is right to go ahead and get my first one."
There was a wonderful stammer to those words, a boyish attempt to say what he felt without saying it brashly. It was another reminder of what we have here and what we're not missing in any way. The first reminder came Friday evening, late in a press conference, when McIlroy told the assembled literati that he planned to go to a movie, "The Hangover Part 2." Of course, veteran movie-goers know that the new "Hangover" is exploitive dreck, a sequel unworthy of its parentage. But McIlroy's taste in film is not the point here. Point is, he shared a small slice of his life with reporters and when's the last time Tiger Woods did as much? Tiger, Tiger, out of sight. The greater point is, if anyone missed Tiger, if maybe millions missed Tiger, if all of freakin' Thailand missed him, I daresay this U.S. Open hasn't missed him a whit, iota, or even a tad.
This Open has what it never had in Tiger's time, now past. This one has a kid to root for.