The Loop
McIlroy embarks on journey as new No. 1 in Miami
MIAMI - Rory McIlroy says he is not uncomfortable with the spotlight on him. On Thursday at Doral Resort & Spa, he'll learn what it's like to play with a bull's eye on as well.
The newly minted No. 1 player in the world, McIlroy tops what is thus far the best field of the year at the WGC-Cadillac Championship at Doral's wind-whipped Blue Course. The top 50 in the world all are in attendance, and 73 in all, including Tiger Woods, Phil Mickelson and Luke Donald, the latter who was supplanted from the top spot after McIlroy's two-stroke victory at the Honda Classic.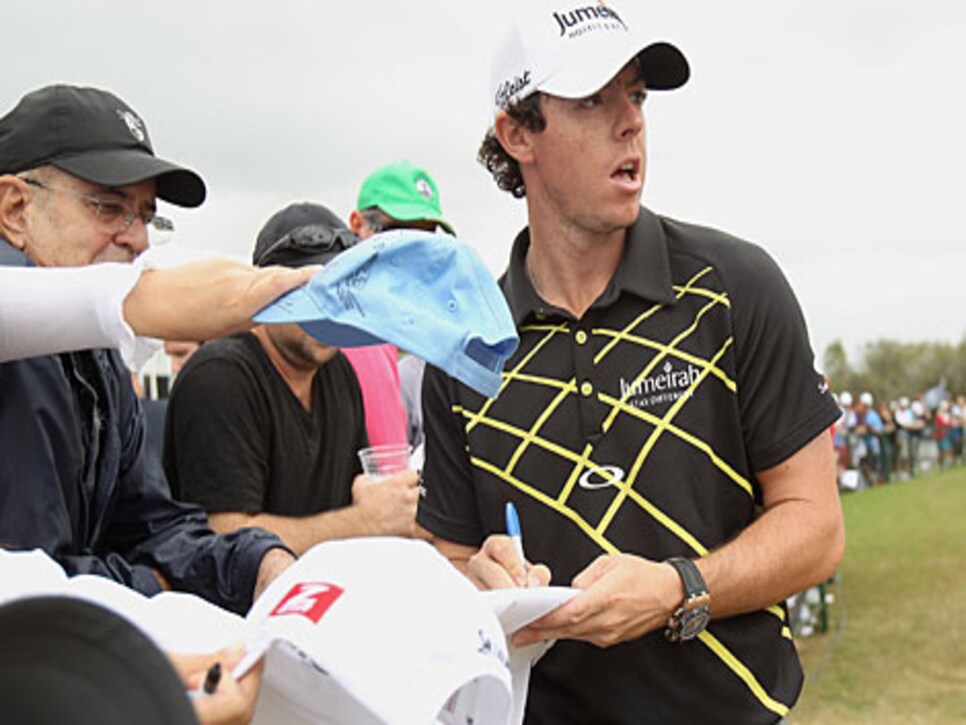 Photo by Scott Halleran/Getty Images
"It depends what type of mind you have and if you thrive in the spotlight, if you welcome it," said McIlroy, the second-youngest player, at 22, to become No. 1 in the world, trailing only Woods. "I feel like I do thrive in the spotlight, and I like the attention. Not that I'm an attention-seeker, but you're doing something right when you're in the spotlight."
McIlroy, Donald and No. 3 Lee Westwood begin the tournament on No. 10 tee at 11:50 a.m. EDT. Sergio Garcia and defending champion Nick Watney join Woods on No. 1 at 12:40 p.m. Mickelson, who has finished first and second, respectively, in his last two starts, begins on No. 10 at 11:20 a.m. with Adam Scott and WGC-Accenture Match Play winner Hunter Mahan.
Woods is coming off his career-low final round, a 62 at PGA National's Champion course, but that rally wasn't enough to catch McIlroy. It caught Mickelson's attention, though.
"Yeah, obviously he was paying attention a couple of weeks ago, which is nice to see," Mickelson said with a wry smile, alluding to the final-round 64 he shot while playing alongside Woods on the way to winning the AT&T Pebble Beach National Pro-Am. "It is good to see him back and playing well. He's always the name that you look at. He's the first name that you look at on the leader board to see how he's doing."
That was true at the Honda Classic, where attendance was up 45 percent over a year ago as Woods made his first appearance in the event, and it will be the case this week, too. Woods, however, downplayed what he was able to do in Sunday's final round.
"Well, it's a whole new golf course. It doesn't count. That tournament's over with, whether you missed the cut or win the tournament, it's over," he said. " Now we are on to a new week, a new golf course, and have to learn it and be ready by Thursday."
There also is a new name atop the rankings, a place Woods occupied for a record 663 weeks. "He has fantastic talent, and he made a few mistakes but he recovered every time," Woods, who is 15th in the world, said of McIlroy. "And you're not going to play perfectly all the time, people don't realize that. You're going to make mistakes, which he did, and that's fine. He recovered and if you look at it, he missed on the correct side each time. Fourteen, he hit it to the right, that's the only place you can miss it, and same with 15 and same with 17. He did all of the things that you needed to do."
"Certainly he was a very worthy No. 1 golfer in the world," Mickelson said. "We have not had â¿¿â¿¿ we have not had somebody play to the level of Tiger, and so we have four, five, six guys that are battling for the No. 1 spot it seems like monthly. I don't know where it will all settle, but certainly he's a worthy No. 1."
While Woods is seeking to return to the top of the ranking, Mickelson has never reached that height, though he believes he still has the resources, mostly because of his improved putting this season. He said he was "happy to be a part of the conversation again.
"I think that I have not played to the level that I know I'm capable of," he added. "But if I just play the way I did for a number of years while Tiger was dominating, I think that my points would put me up there, yeah."
The confluence of the generations -- McIlroy at 22, Woods, 36, Mickelson 41-- has stirred additional buzz as the Masters approaches. To McIlroy's credit, he is only focusing on his own game and not thinking too far ahead on the rankings or how others have fared at the top, including, of course, Woods, the ultimate benchmark for the newest generation.
"I'm going to let other people make the comparisons," he said. "I've never said that I want to be the next anyone. I just want to be the first Rory McIlroy and however good that turns out to be then I'll try my best to win tournaments and to win majors and to be the best player in the world.
"But it's never like I set out to win 18 majors like Tiger has. I've always just wanted to win golf tournaments, ultimately to win majors, and to be No. 1 in the world. I've been lucky enough to win a major and get to the No. 1 position, but there's still a long road ahead, and I feel like I can accomplish a lot more."
Just four days after rising to No. 1, McIlroy embarks on that long road.