The Loop
McIlroy can't escape Tiger, as both look to rebound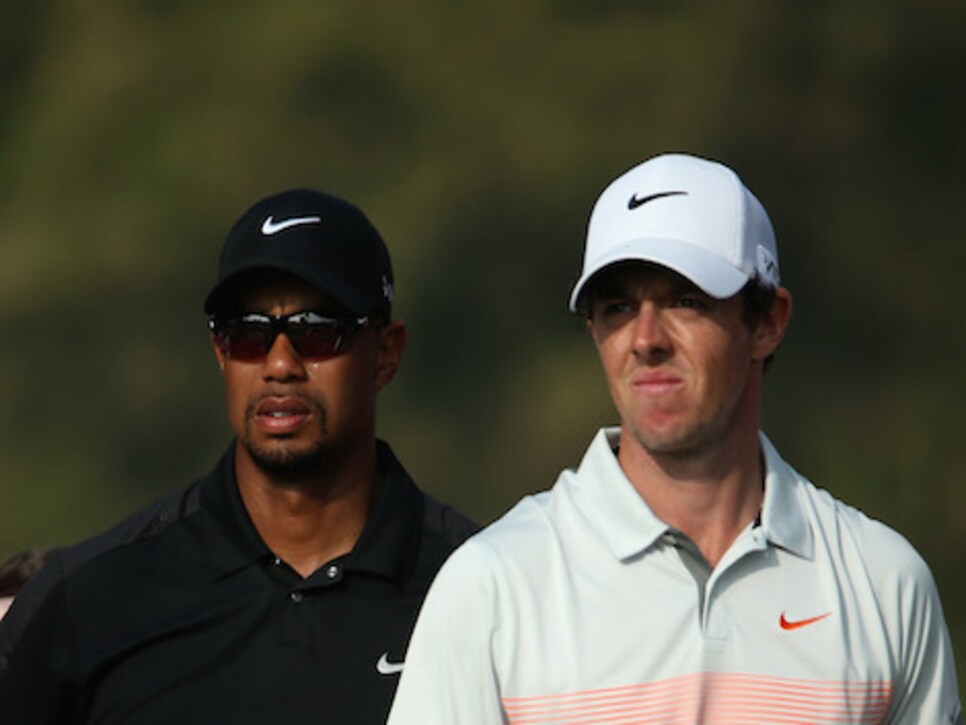 MIAMI - After surrendering what at one point was a four-stroke lead Sunday at the Honda Classic, the last thing Rory McIlroy needed was to see constant reminders of Tiger Woods, golf's ultimate closer, practically everywhere he looked.
And that was without leaving his hotel room.
One of 69 players entered in this week's WGC-Cadillac Championship at Trump National Doral, McIlroy is staying at the newly renovated resort in the Tiger Woods Villa, which was officially dedicated with a ribbon-cutting ceremony here Wednesday afternoon. Woods and Donald Trump wielded scissors to do the honors, which is about the most strenuous thing the No. 1 player in the world has done since Sunday, when he withdrew from the Honda Classic with back spasms.
Both McIlroy and Woods, the defending champion, are on the mend as the year's second World Golf Championship begins Thursday at Trump Doral's revamped Blue Course.
Woods said Wednesday that he intends to compete, even though he hasn't hit a shot longer than 60 yards since Sunday and wasn't planning to do more than chipping and putting on what is virtually a new golf course throughout.
"I feel better, how about that? I feel good," said Woods, who has just 10 competitive rounds under his belt this year. "It's been a long couple days of just treatment nonstop, trying to get everything calmed down, first of all, get all the inflammation out and from there, getting the firing sequence right again. And once we did that today, feels good."
Woods, 38, has worked out with almost fanatical consistency since he turned professional in 1996, and he dismissed the idea that his weight training might have contributed to some of his injuries over the years or might be aggravating a back problem that first struck last August at The Barclays. He said most of his training today is intended to prevent injuries.
"That's been a constant throughout my years working with my team, ever since I turned pro, is what can we do to make sure I have a long career?" Woods said. "Unfortunately there are times where I've damaged my knee pretty good and I've had surgeries over the years. I've had knee injury, wrist injury, elbows, you name it, now I've had back, neck. It's the nature of repetitive sport.
"As we get older, and I've learned it as I've aged, I don't quite heal as fast as I used to. I just don't bounce back like I used to.  There's times that watching my kids run around '[I think] I wish I could do that again.' They just bounce right up, bruises, and they are gone in a day. It's just not that way anymore."
McIlroy, still trying to bounce back from his disappointing 2013 season, took a small step backwards when he lost to Russell Henley in a four-man playoff after leading the Honda Classic after each of the first three rounds. Perhaps the youngster from Northern Ireland will get a little inspiration spending so much time in the presence of Woods, so to speak.
"I'm staying in this Tiger Woods Villa here and there's pictures all over my room of him," McIlroy, 24, said, drawing laughs.  "I sent him a message [Tuesday night], 'Can't get away from you here, I can't go to the bathroom without looking at you.' No, it's not like you're coming into the tournament thinking of one particular player.  But obviously if Tiger's not 100 percent it makes it a little easier on the field for sure. "
Of course, Woods, winner of 79 PGA Tour titles, wasn't around at the end last week. McIlroy just couldn't find the right shots down the stretch as he closed with a 4-over 74 at the difficult Champion Course at PGA National Resort and barely missed capturing his first tour win since the 2012 BMW Championship.
Though he hasn't reviewed what transpired over the closing holes, McIlroy has worked on the shots that troubled him. His confidence has needed no such attention.
"The run of form that I've been on, it validates what I've been working on and what I've been trying to do with my golf game," he said. "I'm in a really happy place with where everything is at in my swing. Mentally I feel good. My putting feels good, scrambling. So it means when you go out to the golf course, you're confident and you're thinking about shooting low scores. You're thinking about getting into contention straightaway.
"If you keep giving yourself those chances, then hopefully learn from the mistakes, then you're going to eventually walk through the door and win, and then when you get into the habit of it, it becomes a bit easier."
Sounds like a formula that he'll be reminded of constantly this week.