The Loop
McDowell missing 2010's magic after collapse
PONTE VEDRA BEACH, Fla. -- Between winning the U.S. Open and clinching the Ryder Cup, Graeme McDowell emerged in 2010 as the ultimate pressure player. Surely then, closing out the Players wouldn't be a problem.
But the magic that made McDowell appear unflappable last year has disappeared so far in 2011. After taking the 54-hole lead at TPC Sawgrass' Stadium Course, McDowell collapsed with a 79 in the final round to drop all the way to T-33.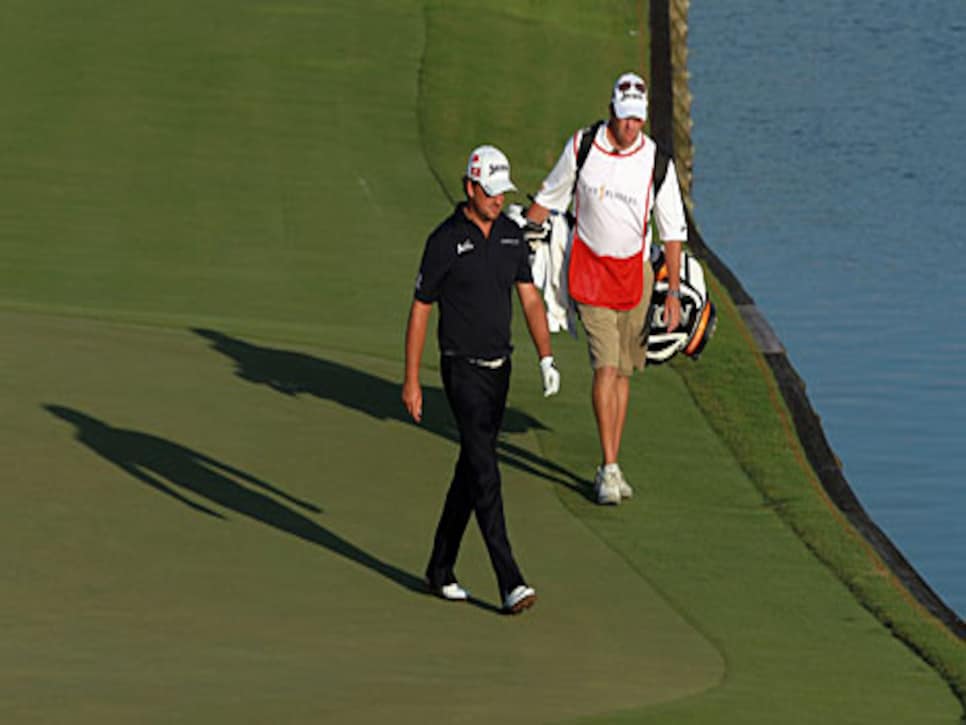 "I just couldn't seem to get any momentum," McDowell said. "You need a little momentum out there, and I couldn't seem to read the grain. I wasn't reading the greens the way I've been reading them. Couldn't hole anything. It was just a bad day at the office."
It was a long day as well, but McDowell displayed his usual grit after some early mistakes. In the end, though, his list of miscues added up quickly.
On No. 6, McDowell's drive went way right, rattling off the trees. On the next tee, he yanked one into a hazard. On No. 9, he hooked his second shot into a bush where he needed two hacks just to dislodge his golf ball. And when things aren't going your way, Pete Dye's most famous track has a way of turning a bad day into an utter disaster. McDowell found the water on both 17 and 18, as he morphed from a contender into someone merely trying to stay out of the way of playing partners K.J. Choi and David Toms.
Actually, McDowell's collapse could be traced back to No. 18 in the morning as he finished up his third round. Hitting his approach from the right rough, his ball bounced off a mound short and right of the green with considerable draw spin and then he watched in amazement as it rolled some 60 feet across the green and into the hazard. A double bogey cut his lead over Toms and Choi from three to one.
"It's just one of those days," McDowell said. "Everything I tried just went wrong. I just made a few sour-looking swings coming in there."
With his newfound fame, McDowell's off-season was a little more cluttered than in years past. He also signed a lucrative deal with Srixon after leaving Callaway. At various points on Sunday, that looked like an omen as he appeared on his way to joining Tim Clark and Henrik Stenson as the third straight player to win this event playing Srixon. Instead, he might need the manufacturer to send him a couple more sleeves of balls after the way he finished.
"It's going to hurt for a few hours, but it was a tough task today," he said. "The golf course and the wind got up. It was tricky, and I just didn't have it."
Still, the 31-year-old was excited just to be back in the hunt on a Sunday. After beginning the 2011 season with three straight top 10s, he has sputtered, missing cuts at the Masters, New Orleans and Bay Hill, where he opened with an 80.
"I feel a lot better," he said. "Two weeks ago I was in pieces with my golf game, and I found it a little bit this week."
Even if he misplaced it when it counted on Sunday afternoon.
(Photo: Scott Halleran/Getty Images)