The Grind
Max Homa's funny message to Tiger Woods, Phil Mickelson's potential next move and Patrick Reed becomes an NFL star's swing coach
Welcome to another edition of The Grind where we are really beginning to think Tony Finau is cursed. How else do you explain how a guy can play so much great golf over a five-year stretch and NOT win? Not even when he fires a final-round 64 at Riviera. Not even after Viktor Hovland recently ended the "Puerto Rico Open curse." Not even when Finau's playoff opponent ended up stuck next to a freaking tree on the first extra hole! Anyway, we'll try to make sense of it all and everything else happening in the world of golf. Let's get cooking.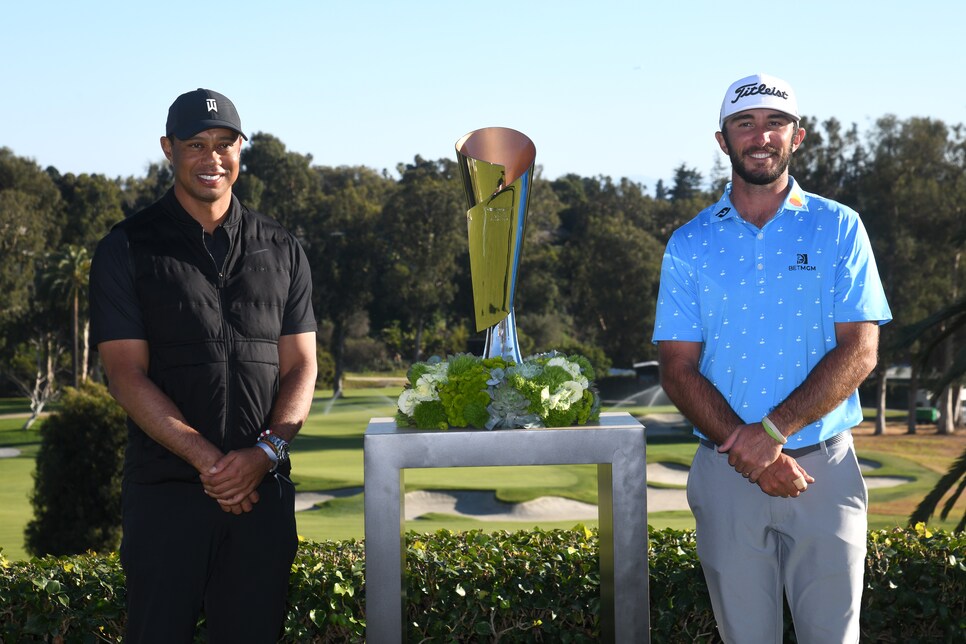 But first, Homa apologized to the GOAT for missing a potential winning putt on the final hole of regulation. "He told me, 'Way to hang tough' after I missed that putt on 18," Homa said. "And I told him I was embarrassed I missed a shortie in front of the most clutch athlete ever." Classic. But a win's a win. What a week. And what a shot on that first extra hole of the Genesis Invitational:
Notice how he didn't bitch and moan about the break he got, but just went to work? Yeah, I could never do that. But that's why he's playing golf for a living in SoCal and I'm stuck in New York, where shoveling snow has been my only form of physical exercise in months. Anyway, impressive stuff, Max. That's two very solid PGA Tour victories now, and there's certainly not a more popular winner on Golf Twitter—considering he's pretty much the King of Golf Twitter.
Phil Mickelson in the TV booth: We've addressed Mickelson's TV cameos before, but now there's an actual report out there that he's had exploratory talks about doing it as more of a regular gig. "It wouldn't surprise me if in the next 12 to 24 months you might see more of Phil on the air," said Mickelson's longtime agent and business partner, Steve Loy. Yes, please. Although, we'll miss his shenanigans on the course those weeks, Mickelson would be a huge addition to any network's broadcast. I just hope he's not expecting Tony Romo money.
Tae Hoon Kim's luck: And his growing car collection. In his first PGA Tour round ever, Kim aced Riviera's 16th hole to win a 2021 Genesis G80:
Tony Finau's luck: Back to Top-10 Tony, he now has 37 top 10s since that Puerto Rico Open win five years ago. That's 21(!) more than anyone without a victory during that span. He can top 10 in his sleep—or with a dislocated ankle like at the 2018 Masters. And only the current top-3 in the Official World Golf Ranking–Dustin Johnson, Jon Rahm and Justin Thomas—have more top 10s in that time overall. But those three have combined to win 29(!) times while Finau remains stuck on one career PGA Tour title! TWENTY-NINE!
It's just mind-boggling, especially because Data Golf recently concluded that Finau, who has finished runner-up in three consecutive starts, significantly outperforms in final rounds in terms of expected strokes gained. He just never wins. Heck, he finished second when he was on Golf Channel's Big Break in 2009. He couldn't even close out a reality TV competition! Anyway, hopefully this changes soon. He's too good for it not to. Unless, like we said, he's cursed.
Damaging your nails: First off, hats off to Tyler McCumber for playing through what sounds like a gruesome fingernail injury stemming from a hotel accident. He was actually in contention through two rounds, playing in the final group on Saturday before a rough weekend. But again, he had a legit excuse considering he underwent a surgery on his hand on the eve of the tournament. Oddly enough, I think I have an in-grown toenail working right now, which is weird because I never do anything anymore (other than the snow shoveling). I did bump it up against a chair the other day, though, and let me tell you that was NOT fun. Tyler is one tough cookie and much more resilient than me. Then again, that's not saying much.
Damaging your house: Be careful practicing at home, folks. Even the best golfers in the world are capable of doing things like this:
The PGA Tour heads to THE CONCESSION Golf Club in Bradenton, Fla., for the first time for the newly named—and placed—WGC-Workday Championship at THE CONCESSION. Love that name. Patrick Reed is technically the defending champ at THE CONCESSION this week. We say technically because, again, this event has a new name, a new location, and it wasn't even played last year due to COVID-19. Seriously, wouldn't it have made more sense to hold the WGC-Match Play at THE CONCESSION? Just saying. It's also Puerto Rico Open week and as we discussed earlier, no need to worry about winning this thing anymore because there's no Curse of Coco Beach. There's just a Curse of Finau.
Random tournament fact: Rickie Fowler is NOT in the field at THE CONCESSION. Why is this a big deal? Because it's the first time since 2010, his first full year as a pro, that he didn't qualify for a World Golf Championship event.
RANDOM PROP BETS OF THE WEEK
—Tony Finau will finish runner-up this week: Even odds
—Tony Finau will make good money either way: LOCK
We loved this photo of Rory and Noren vs. Arnie and Hogan:
Club Pro Guy's brilliance knows no bounds. Check out his hilarious announcement on the new golf course he's "developing" called Three Jack National:
"Similar to the way Augusta National sits on the site of a former nursery, this club sits on the site of a former SEARS automotive and tire center." Sounds like this 74-acre plot has some great bones. Can't wait for more updates.
VIRAL VIDEO OF THE WEEK (TRICK-SHOT DIVISION)
Here's the latest effort from Josh Kelley:
Incredible. How is this guy not on tour?
"God, I hope so." —Tiger Woods on whether he'll play in the Masters. God, we hope so as well.
THIS WEEK IN CELEBRITY GOLFERS
Here is Washington FOOTBALL TEAM wide receiver Terry McLaurin showing off his improved swing after getting some video lessons from Patrick Reed:
Nice job, Terry. When you're finally ready to take that swing to the golf course, though, maybe ask someone else for help with the rules. . .
THIS WEEK IN PUBLIC DISPLAYS OF AFFECTION
Tony Finau's son kissing the TV after dad lost the playoff: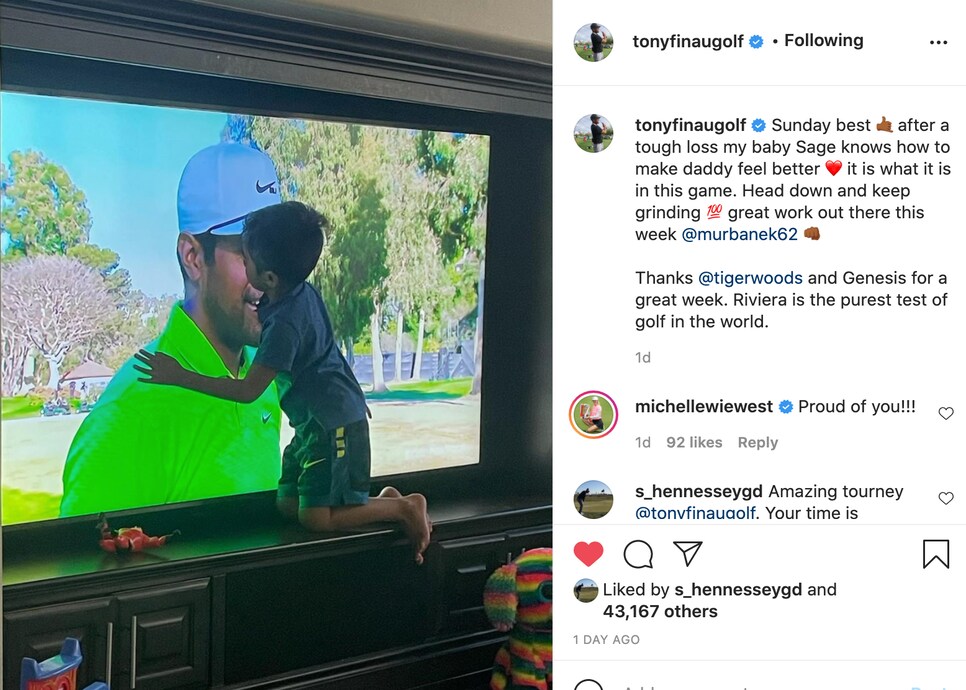 It just breaks your heart, doesn't it?
CBS announced its final-round coverage of the AT&T Pebble Beach was the most-watched regular PGA Tour event broadcast on any network in two years. Apparently, golf fans disn't miss the celebrities too much. . . . The LPGA's first major announced it won't put that dumb "Great Wall of Dinah" up behind the 18th hole this year. This is a no-brainer, but I will miss Golf Twitter bitching about it. . . . The PGA Tour announced there will be no more drawing names out of a hat for a playoff and that the order will simply be determined by first to finish, first to play. This makes sense, but I'll miss the extra chance for sponsors to find creative ways to get in the mix:
And finally, speaking of sponsors, the USGA is loosening its rules regarding amateurs being able to make money from their likeness and having endorsements. So. . . is anyone interested in endorsing an 8-handicap? Asking for a friend me.
RANDOM QUESTIONS TO PONDER
What did Tony Finau do to piss off the golf gods?
Is Tiger going to play in the Masters?
Is it ever going to stop snowing?