FORTINET CHAMPIONSHIP
Max Homa just finished the best year of his career, but that doesn't mean he's even remotely satisfied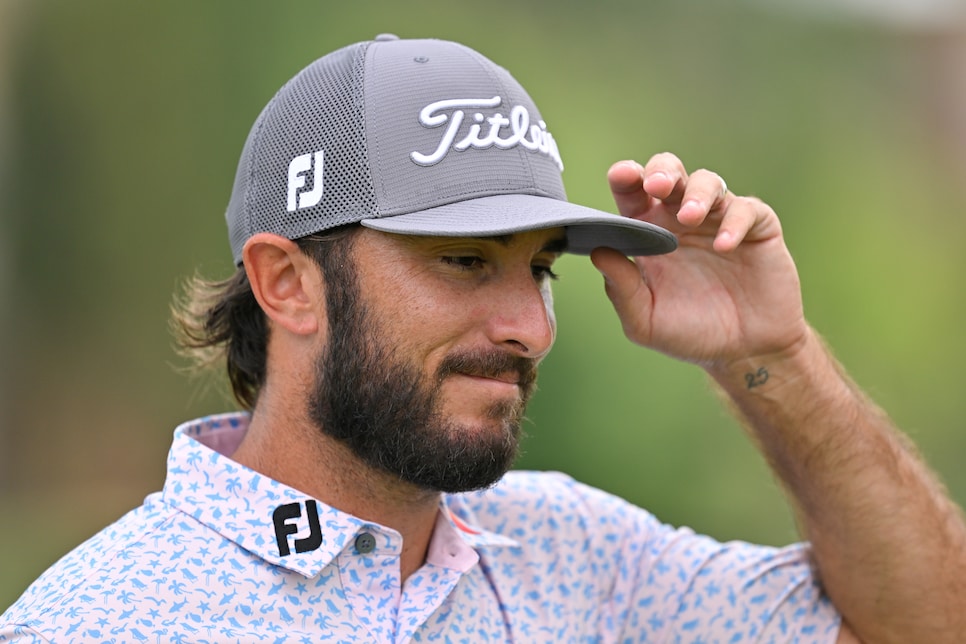 Max Homa is a lot of things this week at the PGA Tour's season-opening Fortinet Championship. First starters, he's the defending champion, after shooting a final-round 65 last year to clip Maverick McNealy by a shot.
Ranked No. 22 in the Official World Golf Ranking, Homa is among the betting favorites at Silverado Resort in Napa, Calif., sharing that distinction with Hideki Matsuyama.
The 31-year-old is also now in a higher tier on the PGA Tour after completing his best year on tour by far, which ended with two victories (Fortinet, Wells Fargo) a fifth-place tie in FedEx Cup standings and a spot in next week's Presidents Cup after U.S. captain Davis Love III picked him.
Everything is great in Homa's world. His game is in a good place, his mindset is as well and his wife Lacey is expecting the couple's first child, a boy, later this year.
But there are always more goals to achieve.
"I think appreciate that's good, but you appreciate that too long and you might get a little bit complacent and I've been just trying to go with the flow," Homa said Wednesday in Napa. "My goal in this game has always been just to progress and whether I'm 22 in the world or hopefully 1 in the world one day.
"As great as my game has felt and as great as my season was last season and as cool as it is to play a Presidents Cup, I'd like to play the Ryder Cup next year," he said, "I'd like to not need a pick, a captain's pick, all those things, you always have so much more to work for.
"I got to the Tour Championship three weeks ago and my coach, Mark [Blackburn], asked me … does it feel as good as I thought it would feel because it took me eight [years] to make it there. I said, 'actually, it doesn't feel as good as I thought it would because now I'm bummed that I was like 16th going in there.' I was like maybe that's the beauty of this is that there's always something else to kind of push for."
Still, Homa is quick to make sure people don't view any of his drive as coming from someone who is not happy, or someone who is not able to appreciate the progress in his professional path.
To that end, he was asked Wednesday what he'd tell his younger self, now that he's among the top players in the world.
"If I had to write a letter to myself then and say you're going to make a Presidents Cup team, that would have been like almost unthinkable, but the beauty of this game is that you go one shot at a time, one range ball at a time, and you add up, I don't know, almost like a million golf balls I've hit since then and you can quantify it and you can say, dang, like I made this," he said.
"You might as well just keep going. Failure is in quitting. That's something that I think I've had, but it would have been more useful to tell myself in 2013—if you just keep digging it, you'll be quite happy in the end."