The Loop
Matty G's Masters Pick(s)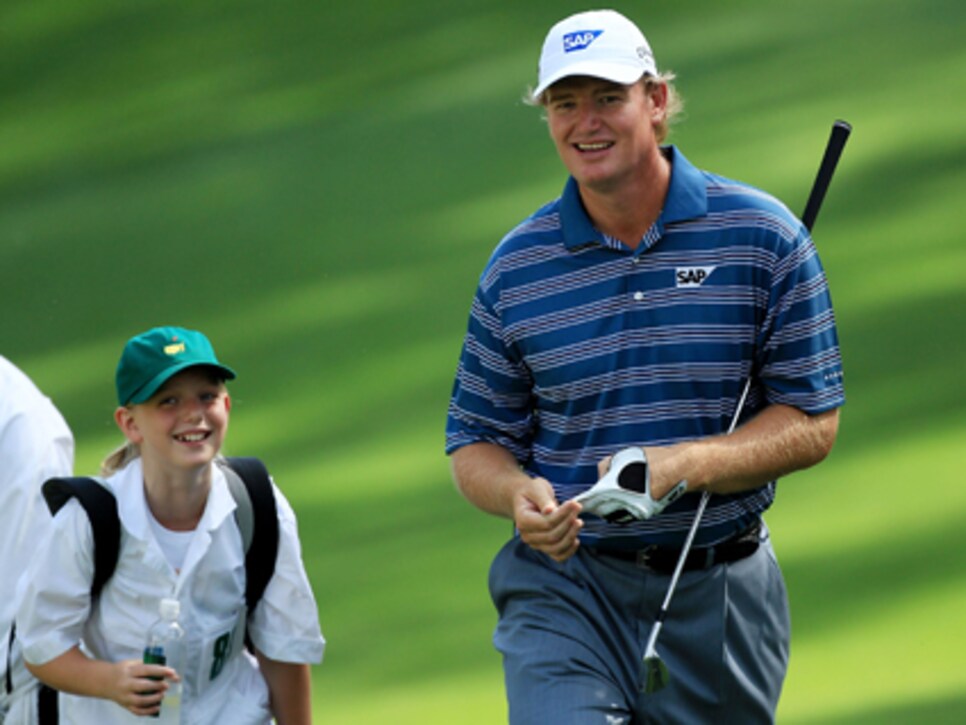 No. I went from '97 to '07, but now it's out of my jurisdiction.
"Who do you like to win?"
Picking a winner at the Masters is like predicting the weather at Old Head in Ireland. That being said, here's what I told Bo Bounds of ESPN Radio in Jackson, Miss.:
-I'm rooting for Ernie Els. He has been my favorite tour player since I seriously started following golf. I know he has been haunted by the loss to Phil in '04 (Els shot 67 in the final round, only to get beat by Mickelson's 18-footer at 18), and EZ's putter has been lost ever since, but those demons seem to be dust now and I wish him the best this week.
-Dustin Johnson is a decent sleeper. So much so he might not be a sleeper anymore. As a college classmate of his put it to me recently: "He might just be dumb enough to win it." I guess that makes sense. I know he is silly long and his short game is underrated.
"Can Tiger win in the face of all this adversity?"
I'm in the crowd that thinks if he wins it's bad for golf. If Tiger can be off for four months, have has real life dissected by the masses, attend 45 days of some undisclosed therapy, most likely lose his wife and gajillions of dollars in worth and endorsements -- only to come back to Augusta National and beat the field? -- then he is officially a man-chine and the rest of the professional world of golf should fold up their tents and go home for good.
My Tiger prediction: He misses the cut. And I don't feel great about saying it, or writing it, I've always been in awe of his ability (on and now off the course), but there has to be a line of his limitations. His father's death was one -- he missed the cut at the U.S. Open at Winged Foot in '06 after being away from golf for a few weeks. This latest set of circumstances -- combined with the demands of this golf course -- I'm thinking he misses the cut here as well. I hear his length is back, but his brain and feel around the greens must be rusty. I've also noticed he looks a little heavier (10 pounds?) and it's possible he's out of playing shape. I think he came back at Augusta because of the control over the crowds and the media that the Masters has to offer -- not because he's ready to win again. If I'm wrong, I'm happy to admit it.
To be considered: As I left Las Vegas in March I stopped by the sports book. I looked up at the board and I wanted to put a little money on some guys with good odds. I put $10 on Rory Sabbatini to win $410. He has played well at Augusta, for at least a round or two, and I like his swagger and attitude. He has a tough enough chin to win a major, why not the Masters? I bet $10 on Lucas Glover to win $310. No reason other than he has won a major, he's got a ton of talent and those are good odds.
I also put $10 on Davis Love to win $1,260. Can anyone tell me what time he tees off this week? (Don't spend too much time looking. I admit -- he isn't in the field.)
My skin is tingling, it's warm again in New York and I have a flatscreen and a fridge full of cold beer. It's Masters week. Enjoy the show.