Takeaways
Matthew Wolff roars (minus one big blemish), Sam Burns continues to cook, and the sleeper contender we all should have seen coming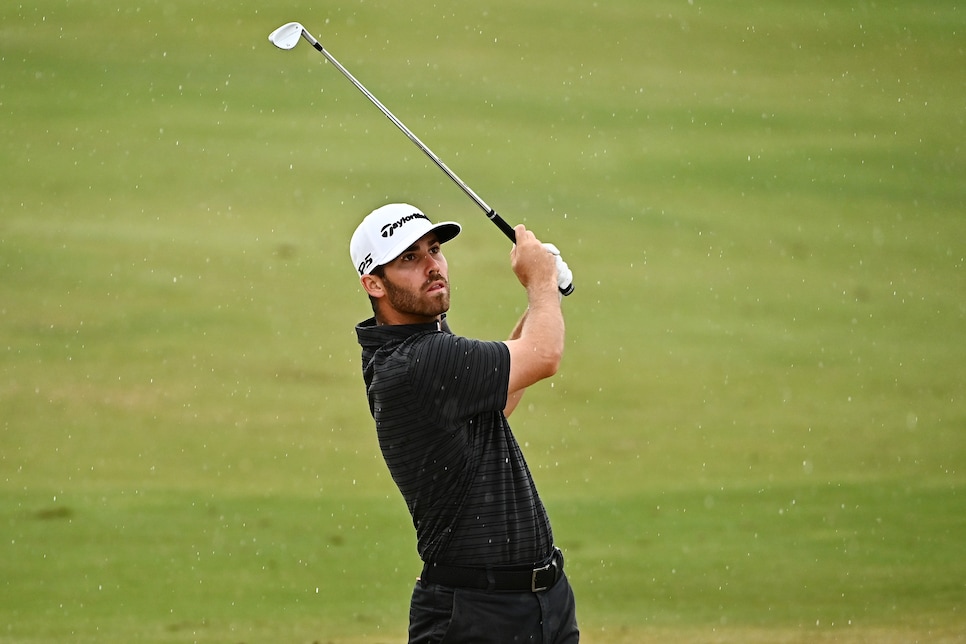 Matthew Wolff was one of the most talked about players on the PGA Tour entering last year because he was one of the biggest question marks. If his last four rounds are any indication, though, the 22-year-old may be close to rejoining the ranks of fellow Class of 2019 stars Collin Morikawa and Viktor Hovland.
Wolff backed up an opening 64 with a 67 to move to 11 under through two rounds in the Shriners Children's Open at TPC Summerlin in Las Vegas. And it could have been much better if not for one disastrous hole.
After hitting all 18 greens in regulation during his opening round, Wolff hit 11 of 12 to begin his second round as he climbed to the lead at 12 under. But a conservative and wayward tee shot on the par-4 third hole led to a triple bogey.
"I felt like it was really solid other than that one hole, No. 3, just got a little scared on that tee ball and a little hesitant, left it out to the right, and then compounded mistakes," Wolff told reporters after. "But bounced back with two more birdies coming in and still got a 67. So really confident with where my game's at, where my head's at, feel like I'm in a good spot and just making sure to kind of minimize those mistakes, and I know if I do that on the weekend, I'll like where I end up at the end."
Overall, Wolff is certainly liking where he is right now following a difficult stretch earlier this year when mental-health struggles caused him to take some time away from the game. So it's great to see the guy who finished top five in his first two career major starts having a good time on the golf course again.
"I mean, the last six months I've been a roller coaster. I had a good finish at the U.S. Open at Torrey Pines [T-15], but that was probably the only highlight of the last six months for me," Wolff said. "And to be able to make a score like that and not let it affect me, not only my swing and my game, but also mentally, and I was able to stay in the present and make sure to bounce back and know that there's plenty of holes left. There's a lot of golf left, and just got to make sure to keep grinding and keep fighting, and I feel like I made a lot of progress in the last six months, but more importantly, the last month."
The last week has been especially impressive. After making the cut at the Sanderson Farms Championship, Wolff was 11 under during the final two rounds. Combined with the first two rounds in Vegas that's 22 under over his last 72 holes. He also has yet shot in the 60s in all 10 career rounds at TPC Summerlin. Playing that kind of golf certainly doesn't hurt one's mood.
"So, like I said, really happy to be out here, enjoy being out here," said Wolff, who is three shots off the lead after 36 holes. "And even if golf doesn't go well, it's better than being behind a desk."
I can concur, Matthew. Anyway, here are three other takeaways from Day 2 at the Shriners Children's Open.
Sam Burns continues to cook
After narrowly missing out on being a part of this year's U.S. Ryder Cup squad, Burns has a chance to all but wrap up a spot in next year's Presidents Cup after just two events to start the 2021-22 PGA Tour season. The winner of last week's Sanderson Farms Championship once again finds himself near the top of the leader board after a second-round 63. At 13 under, Burns is one shot back of Sungjae Im (65) and Chad Ramey (65).
With another win, Burns would move into the top 10 of the Official World Golf Ranking for the first time. Not bad for someone who was ranked 163rd at one point earlier this year. Not that he's thinking about that—or even what he did a few days ago.
"So that's been the biggest thing is just trying to move on from last week," Burns said. "Obviously incredibly honored that I won last week and such a fun time, but just trying to kind of leave that there, come here, and just preparing the best that I can."
Burns recorded the second-worst strokes gained/putting stat by a winner on the PGA Tour since 2010 last week. But when you're hitting it this close, it doesn't really matter how you're rolling it on the greens:
The thing he's probably most worried about now is that he has another late tee time on Saturday? Missing most of his beloved LSU Tigers when they take on undefeated Kentucky.
Patrick Reed's rough week
Many questioned Steve Stricker's decision to leave Reed off the Ryder Cup team, but that move makes a lot more sense after his performance this week.
After a one-week hospital stint due to bilateral pneumonia in August that caused him to miss the first two FedEx Cup playoff events, Reed returned to finish 25th (out of 30) at the Tour Championship. And in his first event of the 2021-22 season, he appeared just as rusty.
With rounds of 71 and 75 at TPC Summerlin, Reed missed the cut by nine shots. In fact, he only finished ahead of two of the 141 players who completed two rounds.
The most troubling part is that Reed struggled with all aspects of his game. After finishing fourth on tour in strokes gained/putting last season, he was 85th in the field this week—and that was by far his best of the major stats. Reed finished 120th or worst in SG/off the tee, SG/approach and SG/around the green.
Reed is listed as being in the field for next week's CJ Cup, also being played in Las Vegas. So while he may have the weekend off, he's got a lot to work on.
The sleeper contender we should have seen coming
The average golf fan probably doesn't know much about Harry Hall, but take a quick gander at his social-media accounts and you'd realize he plays at TPC Summerlin all the time. And he plays there well. Very well.
In fact, Hall tweeted a photo of his scorecard from there less than two weeks ago after shooting a personal-best 60.
Not too shabby. So it shouldn't be too surprising to see Hall's name on the leader board at 11 under after two rounds even if he's playing on a sponsor's exemption this week.
The 24-year-old from England is also very familiar with the area, having played college golf at nearby UNLV. And he estimates he's played TPC Summerlin more than 100 times.
"I didn't play TPC Summerlin a lot when I was at UNLV, but since being a professional and having PGA Tour status, I've been out here quite regularly," Hall said. "Kind of treat it as my office and get most of my work done here and then play other courses in town."