DP World Tour
A happier Matt Fitzpatrick has toned down his 'golf geek' nature since winning the U.S. Open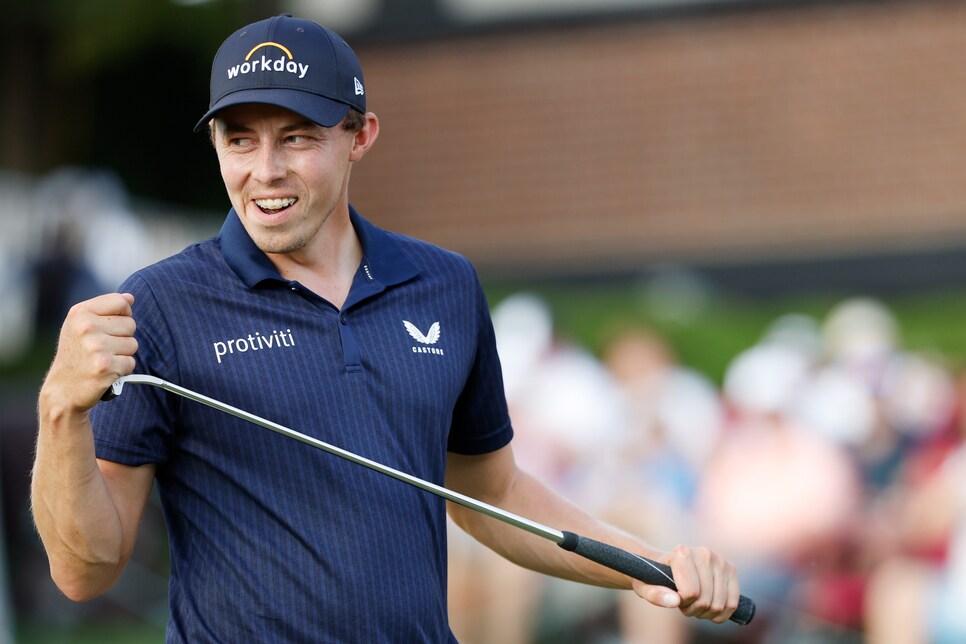 VIRGINIA WATER, England — Matt Fitzpatrick is home at last. Well, sort of. The U.S. Open champion's home city of Sheffield might be three hours and more than 300 miles north of Wentworth, site of this week's BMW PGA Championship, but the DP World Tour's flagship event represents the first time Fitzpatrick will tee it up competitively in England since his victory at The Country Club three months ago. And it's a prospect he is relishing.
"I'm looking forward to this week," says the 28-year-old who celebrated his birthday last week. "This event has always been one of my favorites. I have a lot of friends who come down and watch. So it's everything—the crowds, the course, the atmosphere."
And, on Thursday, surely the warmest of receptions when Fitzpatrick sets up to his drive off the Burma Road course's first tee. Which is the sort of thing he has been getting used to since he claimed his first major title. By his own admission, the world had been treating him a little differently over the last three months.
"My lifestyle hasn't changed much, although winning a major does bring certain things into play," says Fitzpatrick, who was the world's No. 1 amateur when he turned professional in 2014. "It's all positive though. I get more attention and it's just a case of getting used to that. The biggest thing is managing my time and knowing how much that matters to me. The U.S. Open was kind of a 'eureka' moment in that respect. It accelerated a process I was already aware of—that I had to manage my time better.
"I need to spend time with my friends, my girlfriend and my family," he continues. "So I need to make sure that I do what I want to do, not what others might like me to do. So I don't have to go and play wherever. If I don't want to, I don't go. If I want to get another sponsor, I get one. If I don't, I don't, which, of course, is a very fortunate position to be in. I'm lucky. But time management is the biggest change I've made to my life since the U.S. Open."
By way of example, in the wake of the PGA Tour season-ending Tour Championship, Fitzpatrick did not do what he would have done in years past and before he became a major champion. After a charity day on the Monday, he did not practice Tuesday, Wednesday, Thursday (his birthday), Friday, Saturday and Sunday, before flying back to England.
Indeed, that sort of fanatical devotion to the range has hurt him in the past. Take the 2020 U.S. Open at Winged Foot. Fitzpatrick arrived on the premises having spent the previous two weeks practicing intensely next door at Quaker Ridge. That, as things turned out, was a mistake.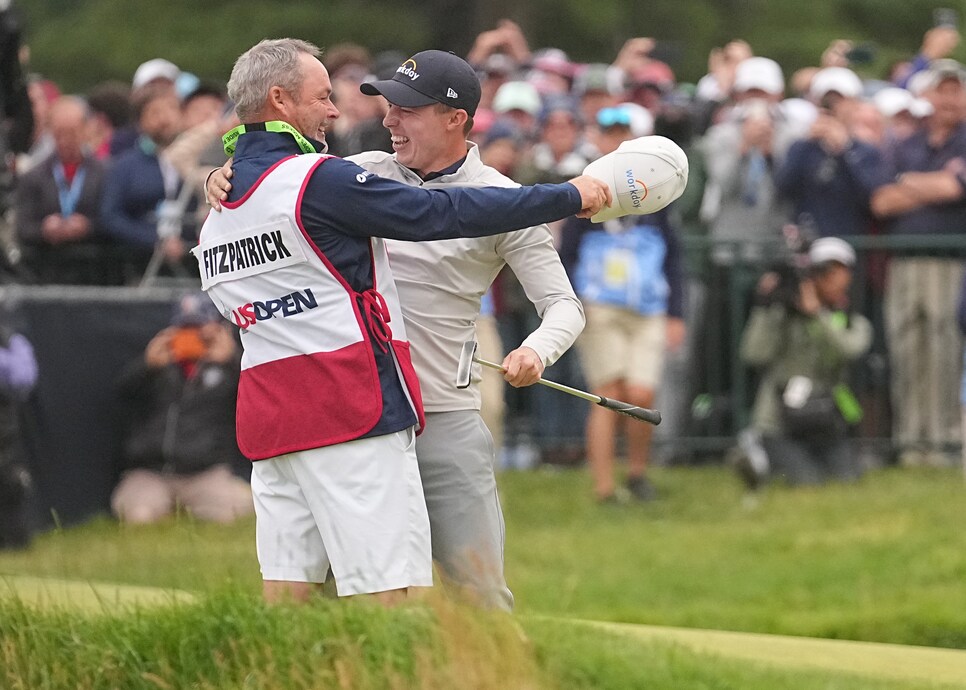 Matt Fitzpatrick celebrates with his caddie Billy Foster in the final round of the 2022 U.S. Open.
Erick W. Rasco
"It's really about knowing how much I need to practice in order to feel comfortable and play well," he says. "But you can overdo practice as well as neglect it. I was telling my coach, Mike Walker, that this was the best I had ever played before a major. I was so excited. And all of a sudden, my expectations went through the roof.
"Of course, I went there and missed the cut," he continues. "I played great, but was nowhere near the lead. So then, of course, I was obsessed with figuring out what went wrong. But now that mindset has gone. I know I can compete with anyone. I know I can win big events. I know that I can get my game in shape in a variety of ways. I can work for two days or seven days. But it's important not to do too much. Victory at The Country Club affirmed a lot of things for me. It's all about finding the right balance."
So, since winning at Brookline, Fitzpatrick has made sure to enjoy himself a bit more in an effort to create a better life/work balance, which is why last week saw him not at the end of a range, but in New York in the company of his girlfriend. The pair saw a Harry Styles concert and went to see the U.S. Open tennis.
"It was great fun," he says. "All of which I wouldn't have done before. It would have been 'I have to practice.' So I'm less of a golf geek, even if that is still in me."
All of which is not to say Fitzpatrick is paying anything less than 100 percent attention on his game. This is a man notorious for the meticulous way in which he studies every aspect of his play. That includes his attitude on the course. Yes, the cross-handed chipping method has made a positive difference to his short-game stats. Yes, his work with a speed stick has added, by his own estimate, "15-20 yards" to his drives. But perhaps the most important moment of Fitzpatrick's 2022 came in the wake of his missed cut in the RBC Heritage at Harbour Town, one week after he finished T-14 at the Masters.
Sitting with his parents at dinner, Fitzpatrick's phone rang. On the line was his caddie, fellow Yorkshireman Billy Foster.
"He wanted to have a word," Fitzpatrick says. "I had no idea what was coming. He basically told me my attitude was a disgrace in that event, which he has said before. But for whatever reason, this time really stung. And I listened. I pay Billy to tell me things like that when necessary. He's been around for so long I'd be stupid not to take heed. And I did. What he said really hit home.
"From then on, my attitude changed," he continues. "I started working again with Robbie Anderson, my sport psychologist. I didn't want to be like that anymore. I didn't want to come off the course feeling angry and frustrated. And since the U.S. Open my attitude has been completely transformed. I feel a lot happier. I don't want to be a results-driven person, which I've been in the past. And I'm not resting on any laurels. I'm just happier with everything, on and off the course. I'm more relaxed."