The Grind
Plenty of match-play testiness, Bryson DeChambeau's weird workout video, and the PGA Tour's most entertaining caddie
Welcome to another edition of The Grind, where we're relieved we weren't a part of one of Jim Nantz's final green jacket ceremonies. The legendary CBS announcer emceed my golf trip's silly tradition in August and now he'll be doing the real thing at the Masters for many more years after extending his contract with the network. So hello, "Hello, friends." And thank goodness, because I can't imagine anyone else doing that gig again. But we've still got nearly a couple weeks until Nantz is posted up in Butler Cabin again. In the meantime, here's what else has us talking.
Billy Horschel: The 2014 Tour Championship that came with a surprising FedEx Cup title remains his biggest victory of his career, but this was arguably his most impressive. Horschel navigated his way to a Final Four of guys seeded No. 30 or higher (and you thought the NCAA men's basketball bracket was crazy) before outlasting (more on that in a bit) Scottie Scheffler in the final at the WGC-Dell Technologies Match Play. Plus, his Sunday outfit looked particularly sharp:
Such a strong match-play run combined with a runner-up at the first World Golf Championship of the season makes it hard to picture Steve Stricker leaving him off the U.S. Ryder Cup squad. Then again we said the same thing about Kevin Kisner after he won this in 2019. But Billy Ho's certainly got the fire for the biennial event. And it's probably for the best that it's in the U.S. this year. Because if fans abroad started getting on Billy over his beloved Florida Gators, there might be an international incident.
Joel Dahmen: Long considered one of the best interviews on the PGA Tour, he is now clearly one of the tour's better players after picking up his maiden win at the Corales Puntacana Resort & Club Championship.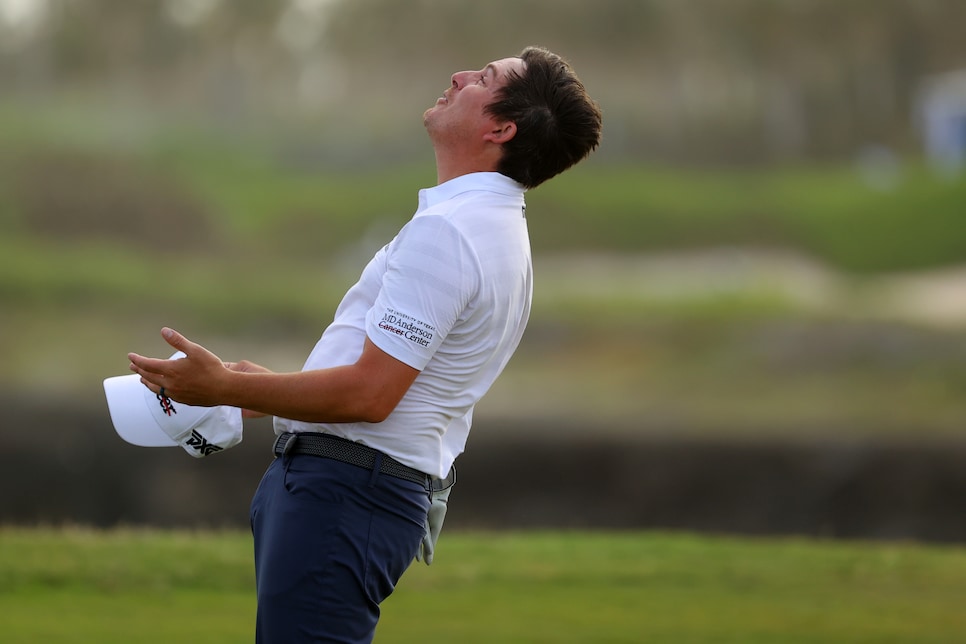 The opposite-field win moved him up to No. 61 in the Official World Golf Ranking and was extremely popular on Twitter due to his funny personality and the fact that he overcame testicular cancer. Then again, it doesn't hurt to have an extremely entertaining wingman on the bag. . .
Geno Bonnalie: From spoof movie trailers to hilarious hotel reviews, this guy always delivers. But Dahmen's looper and best bud saved his best for this week. First, check out him biting off a tee so Dahmen could peg his golf ball on a par 3:
LOL there's a "Genotracker"! And then Geno literally jumped off a cliff (sort of) to save his boss' prized bucket hat. All while holding a celebratory beverage!
What an effort. What a tandem. Long live Joel and Geno.
Inbee Park: A longtime Grind favorite, "WINBEE" moved closer to her goal of qualifying for the Olympics after winning the Kia Classic for her 21st career LPGA Tour title. "If there was no Olympics, I don't know," Park said after of whether she might still be competing. "I'm asking the same question."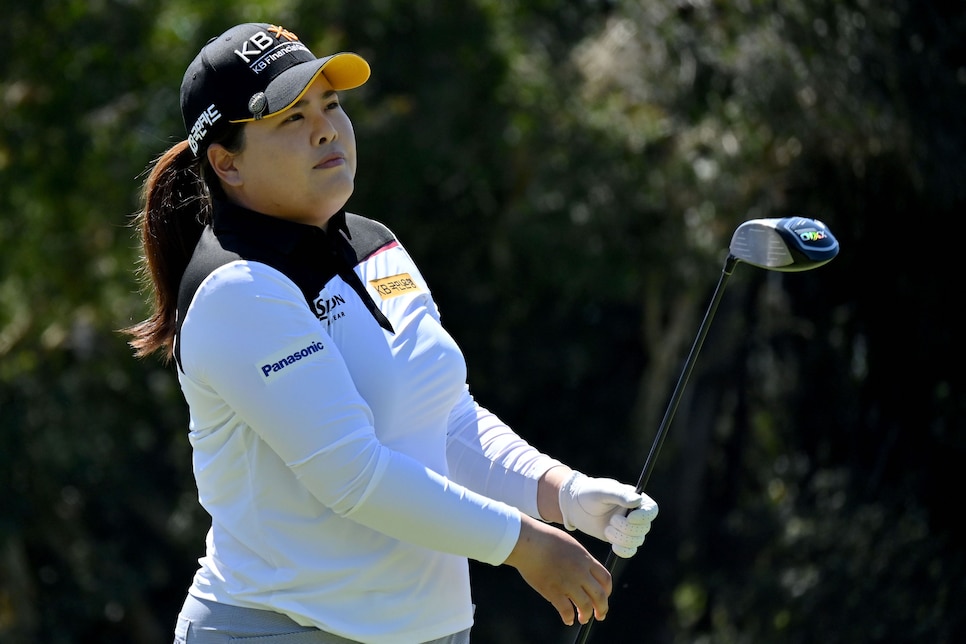 Well, we're glad Winbee and that smooth swing is still out there. And by the way, it's absurd that she even has to qualify as the reigning gold medal champ. Let Winbee play!
That final match: To be fair, both Billy and Scottie had played a LOT of golf by the time they teed it up for the title, but that was pretty ugly. Scheffler and Horschel only made two birdies through 17 holes. Combined. And Horschel's was a chip-in! Also, the pace of play was, well, let's let Colin Montgomerie weigh in:
Again, to be fair, they had played a lot of golf and they were playing for a lot of money and it was pretty windy. But that was like, well, watching that giant cargo ship stuck in the Suez Canal.
"Rakegate": Don't get me wrong, I love match-play controversies as much as the next guy. After all… CONTENT! But this was manufactured out of nowhere. And most of the blame goes to Kevin Na for scolding Dustin Johnson for quickly raking away a six-inch putt. Now at least he didn't push for DJ to get penalized (a la Matt Kuchar to Sergio Garcia a few years back), but this wasn't worth the hassle:
Again, though, we appreciate the content—especially with that sleepy Sunday finish.
Andy Murray's next gig: The former World No. 1 tennis player says when he's done with his playing career he's interested in getting into professional golf . . . as a caddie! Andy, you won three grand slams! And a gold medal! Even though you played in the Federer-Nadal-Djokovic Era! And now you're going to carry someone's bag around? Aren't you supposed to retire from your day job to play more golf? You do you, but that seems pretty out there. Then again, it would be good for CONTENT. And Andy would be able to afford to eat better than this on the road:
And now our boy Geno can as well.
It's a huge week in women's golf with both the Augusta National Women's Amateur and the first major of the year at the ANA Inspiration. Meanwhile, the PGA Tour completes a little Texas two-step with the Valero Texas Open, AKA that one where the winner gets a pair of boots. It is now also the final tuneup for a certain TOONAMENT next week in Augusta National and the final chance for players like Rickie Fowler(!) and Charley Hoffman to earn a Masters invite. Even if perennial early-round Masters leader Hoffman doesn't make it, though, Chris Vernon can still wonder, "WHERE THE HELL IS CHARLEY HOFFMAN?!" (50-second mark)
So we won't lose that, at least.
Random tournament fact: Kevin Na once made a 16 in this event. On one hole. Remember?
But to his credit, he putted everything out.
RANDOM PROP BETS OF THE WEEK
—Someone will make a 16 this week: 1 MILLION-to-1 odds
—Charley Hoffman will win this week: 30-to-1 odds (Actual odds)
—Rickie Fowler will win this week: 80-to-1 odds (Also actual odds. Yikes!)
PHOTO(S) OF THE WEEK (HAPPY DIVISION)
PHOTO OF THE WEEK (HEARTBREAKING DIVISION)
We loved seeing Joel and Geno win, but man, was that a brutal lipout for Rafael Campos on the 72nd hole. This is why you NEVER do a premature fist pump:
On the bright side, a career-best T-2 that came on the heels of a T-3 at the Puerto Rico Open have Campos inside the top 125 on the FedEx Cup points list. That puts the 32-year-old in decent position to earn his PGA Tour card for the first time. We can only imagine the great photos he'll produce if he achieves that dream.
Here's Bryson DeChambeau. . . well, just watch:
This is perfect for one of those "No one:, absolutely no one:" tweets. I'm not surprised in the least, though, to learn Bryson has his logo on his workout equipment. As the kids say, "Weird flex, but OK."
VIRAL VIDEO OF THE WEEK (OTHER THAN CADDIES GOING ABOVE AND BEYOND)
Paul Casey's caddie, Mark Fulcher, took on a rowdy fan:
I certainly wouldn't mess with him. That Peaky Blinders accent is quite intimidating. And Tommy Fleetwood's caddie, Ian Finnis, took down a sign. By breaking it.
Big week for caddies. I guess you could say, "These guys are good—too."
THIS WEEK IN PUBLIC DISPLAYS OF AFFECTION
How can it be anything other than Joel and Geno? Oh, and Joel's wife, Lona, who ran onto the 18th green to celebrate with her husband and Geno?
It's getting a little dusty in here! Speaking of Dahmen quotes. . .
"I'm hoping it's the first of many more, but I'm celebrating like this will be the last one." —Joel Dahmen. And to his peeps at Mesa Country Club, he offered a related (and important) message:
"Open up the tab, I'll be home next week."
The online Masters Patron Shop is back (to select people like me NBD) and there's a new offering this year that's sure to be a best seller:
Genius. . . . Dustin Johnson withdrew from this week's Valero Texas Open, but we're not worried about him defending his title at next week's Masters. Plus, he's going to be extra motivated to get to Augusta National to buy some of those sandwich shirts. . . . Congrats to Twitter personality (and former Nationwide Tour POY) West Texas Driving Range Pro AKA J.J. Killeen for Monday qualifying for the Valero. That should provide plenty of social media content for awhile. . . . And finally, after months of not being able to find Dr. Brown's diet black cherry in cans, my local grocery store finally got a shipment. So, I promptly bought everything they had:
RANDOM QUESTIONS TO PONDER
How much will Joel Dahmen's tab be for?
How long will Jim Nantz announce for?
How long will that soda last me?