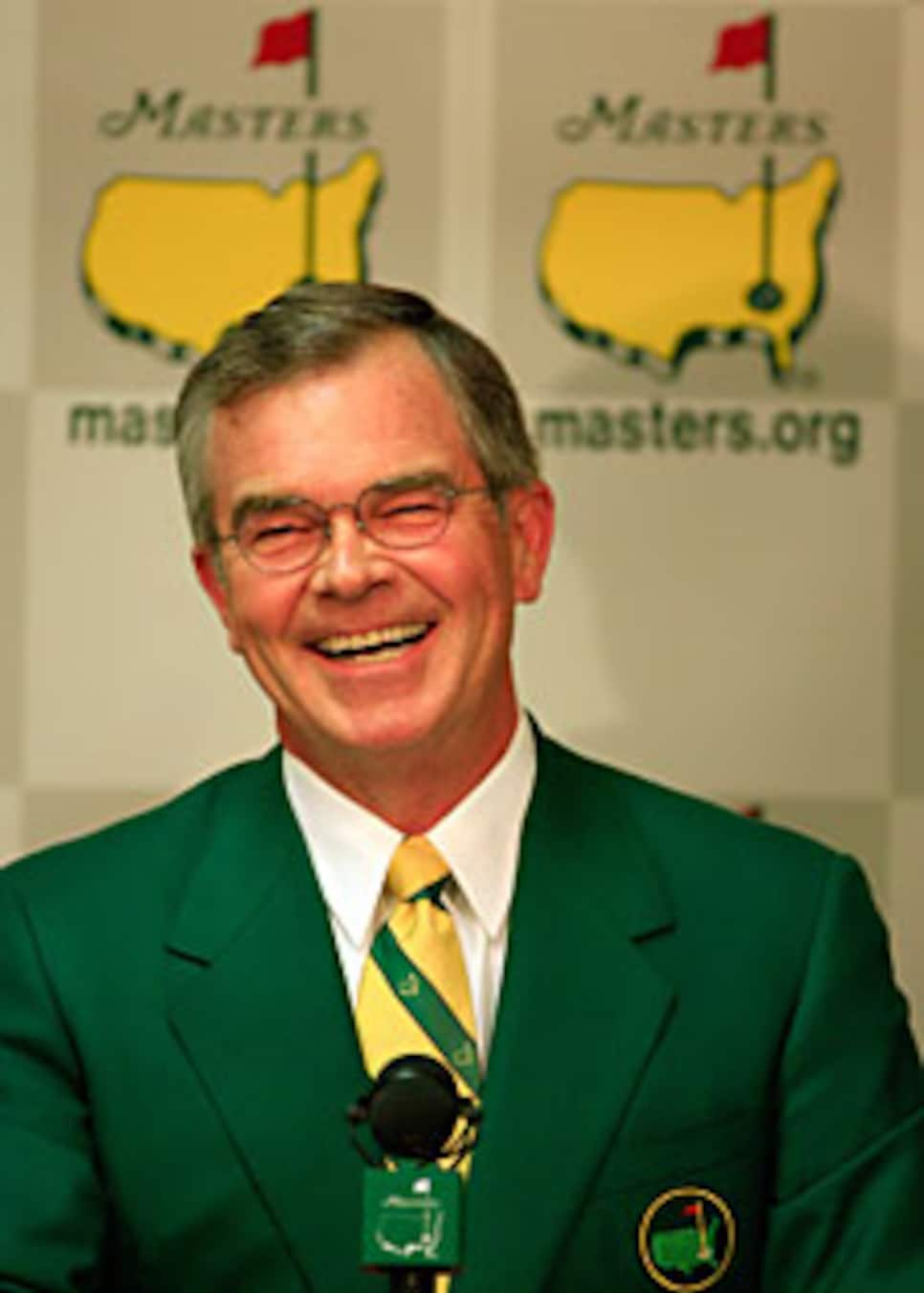 A flurry of feel-good news got Billy Payne's chairmanship off to a good start.
AUGUSTA, Ga. -- There is a building a few paces from the first fairway at Augusta National, out of sight behind a row of trees. Inside, a crowd is gathering. The press, those credentialed representatives of the Times, the Post, the News, the Chronicle, mostly abundantly-logoed veterans in khakis and golf hats, take their places in the Interview Room on green upholstered seats. It's springtime, the official start of the golf season, and all the familiar faces are here, like grizzly bears returning to their same patch of Alaskan riverbank to hunt for salmon. There's that old-timer, post-bypass, a little more stooped over this year--he should have retired years ago but can't give up the circus. That young firebrand who always asks the hardball question. That oddball who doesn't even play golf, who wandered in here on the way to some other career, years ago, and never managed to find a way out. Plenty of new faces too. There's even a small contingent from India this year as Jeev Milkha Singh becomes the first from his homeland to grace the Masters' extravagant fairways. Writers, editors, photographers, pundits, bloggers, golf media types--more than 1,000 people are sporting a media badge, from more than 40 countries. It's the eve of the 2007 Masters, and there's a full house for the Wednesday morning press conference with the chairman of Augusta National, Billy Payne.
Perhaps a tenth of Augusta's membership is lined up at the back of the room, silver-haired captains of industry, masters of the universe, accustomed to barking orders from behind a mahogany desk but today, in their matching green jackets, they resemble nothing so much as a team of employees from a discount car rental firm. This is Payne's debut. The press conferences of his five predecessors, including William (Hootie) Johnson, Jackson Stephens and Hord Hardin, used to be known as the annual throat-clearing ritual in which, with perfect manners, and in a lyrical Southern drawl, nothing at all would be said. But Payne, the man who brought the Olympics to Atlanta, who works out as much as Tiger, who has visited 110 countries, seems to be a different animal. He smiles, jokes, and offers intelligent comments. He recalls the first time he attended the Masters, in his sophomore year in college, driving to Augusta in a pink 1947 Chevrolet coupe. He is folksy. The chairman, who sits magisterially on a raised platform at the front of the room, doesn't mind if you call him Billy.
Payne's chairmanship has gotten off to a flying start, with a flurry of feel-good news. The day before, it was announced that Arnold Palmer would be the tournament's honorary starter, after years of saying he didn't want to do it. The popular old qualifying system of giving automatic Masters berths for PGA Tour winners is to be reinstated. There would be bonus Internet footage of tournament action this year, the first step toward online video coverage. The more Payne gives credit to other people for these initiatives, the more everyone thinks they are down to him.
There are the usual questions. The changes to the course. The possibility of Augusta introducing a tournament ball for the Masters. The city of Augusta (following some unflattering press stories). A new practice ground (ready for 2010). Golf in the Olympics. The cost of on-site pimento cheese sandwiches. There is the obligatory annual question about when Augusta will finally accept its first female member, and the obligatory non-answer answer--such things, says Payne, "are subject to the private deliberations of the members and other than that, sir, I'm simply not going to talk about it."
Afterward, there is another Payne innovation: the inaugural Masters Major Achievement Awards, to be given to members of the press who have covered at least 40 Masters Tournaments. Each of the 14 honorees is presented with a plaque carved from a hardwood tree that was removed from beside the second tee the previous summer. The most venerable member of this august body of men is John Derr, who missed the inaugural Masters in 1934, but began his long Masters career the following year, attending on behalf of the Gastonia Gazette--he wouldn't have been there, he jokes, if North Carolina had any child labor laws at the time. He was on the clubhouse balcony that year when a caddie came running up to report that Gene Sarazen had made a 2 on 15. "It took us 15 minutes until we realized it was actually true." Edwin Pope, the man from the Miami Herald, recalled hitchhiking to his first Masters in 1946, when he was 18. The press tent was "about the size of a big Boy Scout tent, and it had about 16 seats, 16 typewriters and 16 bottles of whisky, each in various stages of fullness or lack of fullness. I was so dazzled that day. I've never gotten over that day. That was the most thrilling day I've ever had in my life."
There was no Interview Room in those days. The press would hang out with the players in the locker room instead. "The locker room was upstairs in the clubhouse," recalls Golf Digest's Dan Jenkins, who this year will be covering his 58th Masters. "So everyone was upstairs. That's where the work was done. There'd be Hogan here, Snead over there, writers standing on chairs and sofas and laying down on the floor to do their interviews." A lot of people have a time and a place that they come to regard, in hindsight, as the pinnacle of their existence, when they were in their prime, and at their happiest. For Jenkins, you get the feeling that it was at the Masters in the 1950s. The press and the players went out to dinner together in those days. He was pals with Hogan. He was young. Life was simple.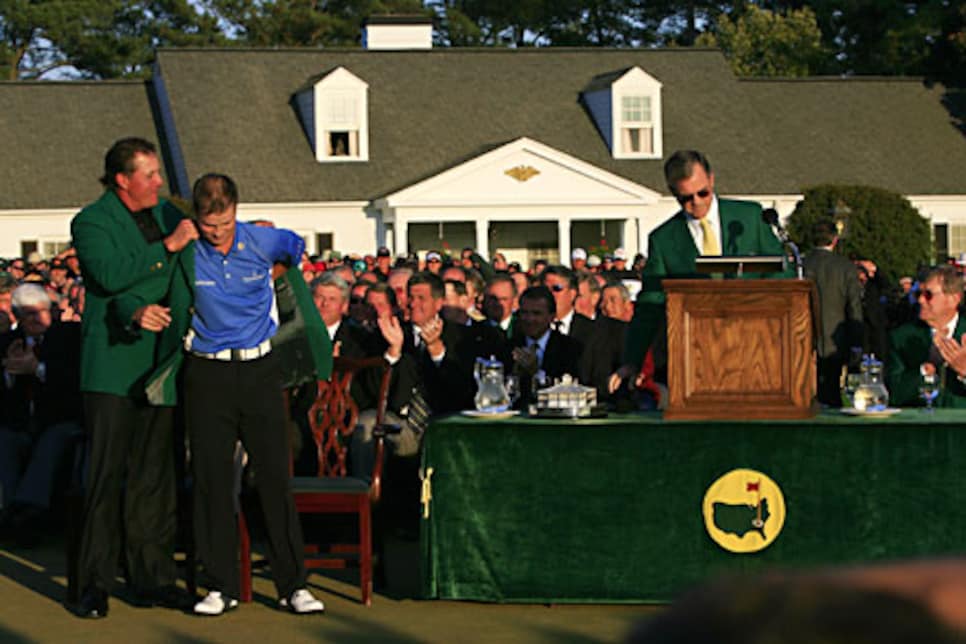 "Everyone would be there, on the verandah at the Masters," says Jenkins. "I remember meeting the King of Spain, Bing Crosby, the Duke of Windsor. Everyone was there. Now it's just a bunch of gurus and hangers-on."
The press outgrew the old press tent, which was literally a tent, and from 1953 an old Quonset hut was used instead. There are photos of it on the wall of the Interview Room today, with well-dressed correspondents tapping away on typewriters, looking for all the world like code breakers at a secret underground air-raid shelter during World War II. Says Golf Digest's Dave Kindred, another Masters Major Achievement Award winner: "I always figured if you could write in the Quonset hut, during a rainstorm, on a typewriter, with Art Spander [notorious chatterbox and longtime Bay Area correspondent] sitting next to you, you could write in anything."
Today, the media center is a modern, airy, white edifice. In the center is a giant stair-stepped room, like a student lecture hall, where journalists sit and glance at TV screens and an enormous scoreboard at the front of the room and craft their prose and dispatch it to far corners of the earth with the press of a laptop key. Higher up and farther back is another area, what looks like a rec room in a community center for middle-aged golf guys, a place with tables and chairs where you can get free sandwiches and drinks and watch TV and talk and smoke.
On the other side of the main lobby is the Interview Room, where the leading players are brought in to face the press and describe their deeds on the course. A green-blazered Augusta member will sit with each player and act as MC. At the front of the room, there is a woman who appears to be caressing a strange-looking machine, a kind of mutant, Daliesque typewriter, with unbelievably fast fingers. She is Renee Harris, one of the official stenographers who works at lots of tour events, NBA events, and various other sporting occasions. Each, she says, comes with its own language, its own pros and cons. Golfers, on the whole, speak fairly clearly, she says, and not too fast.
"Roughly 180 to 200 words per minute is the PGA Tour average," says Harris. "Nicklaus, he gets up to about 270. But the all-time tour leader is Rocco Mediate. He's in a class all by himself. He knocks on the door of 300 words per minute."
Not that this is too challenging for Harris. In fact, sometimes it's the slow talkers--the likes of Adam Scott, Justin Leonard--that can be difficult. "Staying focused is sometimes a problem," she says.
A press officer will snag other players as they come off the 18th green, in a roped-off area known as the bullpen, to see if they too can't be persuaded to part with a few valuable insights into their round, known as "quick quotes." The transcripts of all the interviews are photocopied and placed in racks along a hallway in the media center, along with weather reports, hole locations, player biographies, assorted factoids--eg. "Every major championship has had an Australian champion except for the Masters"--and various announcements, such as this: "Our fairways are now being mowed at 3/8 inch, the second cut at 1 3/8 inch, the tees at 5/16 inch, the collars at 1/4 inch, and the greens at 1/8 inch."
Good quotes are the building blocks of many a sports story, as sought after as Jack Lemmon's "good leads" in the movie Glengarry Glen Ross. The interview transcripts thus play a vital role, and allow the fiction to be maintained that the writer actually witnessed the shots firsthand and later spoke to the player personally, perhaps over a glass of chardonnay in the clubhouse, just like the old days. The best golf writers do get out onto the course when they can, and try to get to know the players a bit, too, so they don't have to rely on scripted interviews. They will hang around locker rooms and attempt the one-on-one with a player, to have a conversation, get some original quotes, maybe even a newsworthy revelation, an exclusive. But it's not easy, especially at a major. Every golf writer in need of a quote has had the experience of asking a big-name player, or even a little-name player, if they could spare a minute or two, feeling like some homeless person asking for loose change, and had their request met with a sag of the shoulders, an excuse, a brush-off, an icy stare. One Australian journalist approached the sometimes prickly Steve Elkington thusly: "Do you have a minute or should I go ---- myself?" Elkington, charmed by the inventive approach, gave him all the time he needed.
The first man in the Interview Room on Thursday, tournament day, is Arnold Palmer. The old warrior, a four-time champion of this event back in the 1950s and 1960s, was now briefly in the throne again. A few minutes earlier--after a moment's silence for fallen former champion Byron Nelson--Arnie had hit the ceremonial curtain-raiser to the 71st Masters, a draw down the left side of the first fairway, a shot that was met with riotous applause.
"Well, I really don't have a comment except that it's a great thrill for me, and of course, a great honor," says the King. It's not yet 8 a.m., and the Interview Room is half empty. "I waited to do this and thought about it for a couple of years. And I felt like this was an appropriate time. I didn't want to get up and die before I did it. Getting to my age, at some point, you've got to think about that."
Arnie reminisces about his first Masters, in 1955, when he was paired with Gene Sarazen, what the event has meant to him, the friendships it has generated. He seems tired, resigned, regretful, not altogether happy about now officially being a ceremonial figure, no longer a contender. "The young people," says Palmer. "If they could see what has happened in my life . . . " His wrinkled face is suddenly sorrowful. He cuts through the air with his hands but cannot finish the thought. He is overcome. The press conference ends.
For the next four days, looking for good quotes is a bit like panning for gold. The transcripts are packed with endless unedifying exchanges about nothing at all. Humor is in short supply, and usually of the you-had-to-be-there variety--for this reason the word (Laughter) is added to the transcripts. The players' utterances are controlled and bland, though unfailingly courteous. Perhaps they get bored with the same old questions week after week: What do you think of the course? What did you hit? What would it mean to win? Those endless questions about Tiger Woods, the unstated subtext of which is, shouldn't you just give up and go home since this guy is clearly so much better than you? (During the 1998 World Cup, the England soccer team relieved the tedium of interviews by slipping in as many famous song lyrics into their comments as possible--it was weeks before the hacks cottoned onto the ruse.) The players are wary, and perhaps with good reason. When Vijay Singh said in 2003 that Annika Sorenstam had no business playing in a men's PGA Tour event, you felt he was entitled to his opinion. When Englishman Paul Casey said in 2004 that he learned to "properly hate" the Americans in the Ryder Cup, you knew exactly what he meant. When Sergio Garcia bitched about his bad luck at the 2007 British Open, he sounded just like every golfer who ever lost a $2 nassau. Yet Singh, Casey and Garcia were each made to suffer at the hands of the press for such candor. When players do speak out, they usually come to regret it.
A lot of the veteran writers like Jenkins yearn for the old days, when the press conferences of players like Lee Trevino or Jack Nicklaus were must-see events; writers would walk out of them chuckling or shaking their head. These days, the members of the press file out of the Interview Room as if they've just sat through a seminar on thermoplastics.
"Jack was always the greatest," says Jenkins. "The greatest interview in sports, never mind golf. Not always for wit necessarily, but for interest. You couldn't get him out of there." Who are the best interviews today? "It used to Ernie [Els]," says Doug Ferguson, the man from the Associated Press, who spends about half the year on the road covering golf. "He was always so honest. But he's gotten angrier over the last few years."
Q [from the "quick quotes" transcript]: You came in feeling so good and confident, how disappointing is this for you? Els [after an opening 78]: You can figure that one out, can't you?
Q: But we need to hear it from you. Els: Well, there you go.
Continues Ferguson: "Monty [Colin Montgomerie] is terrific when he's had a good day. And if he's in the interview room, it's usually because he's had a good day. Vijay is as insightful and honest as anybody--if you can ever get him to speak. The trouble is getting him into the Interview Room. He's always been really wary of the media, which is his loss. Nick Price was always so friendly and accommodating. [Mark] Calcavecchia is terrific--always self-deprecating. Tiger deep down is a golf geek, he loves talking about golf, but he doesn't get asked good questions. He never gets asked anything he hasn't been asked a thousand times before." For the most part, Woods has mastered the art of speaking politely while giving very little away, as in his Friday press conference after he had shot 74:
Q: What will you work on? Is there anything in particular you need to work on when you go to the range? Tiger Woods (smiling): Yeah, hit it better.
The week's comments are not completely without interest, however. There are some insights into what it's like to play Augusta, like Vaughn Taylor describing the landing areas on the greens as being the size of a small bucket, or Tiger saying that you have to allow for a little bit of wind even on two and three-foot putts. Henrik Stenson: "Even if you're hitting some great shots, you get knocked down. You just have to keep getting back up." And there are moments of honesty when a player speaks right from the heart, like this:
Q: Do you like this place? Lee Westwood [after making the cut by a stroke]: Not really. Not any more.
Q: Has it dealt you too many unfair hands? Westwood: No it just asks too many questions that there is no answer to.
Occasionally, there are even flashes of philosophy, such as this from Fuzzy Zoeller (Friday): "All I care about is the sun rising in the morning. The rest can take care of itself."
But the pickings are slim. The course is unimaginably tough this year, the weather is cold, and there are few birdies to be had. There is nothing much to cheer about. The leader board is largely populated by a bunch of lesser lights. By the weekend, some of the writers are calling it the worst Masters ever (the purest fans often make for the harshest critics). None of the players are much in the mood for (Laughter). On Saturday, at the bullpen beside the 18th green, there is a scrummage for Retief Goosen. Goosen has just shot 70, the best score on a brutal day (scoring average 77.35), and he has the demeanor of a man whose dog has just been run over. A sea of microphones and tape recorders are thrust into his face. He skillfully avoids saying anything interesting. "Well I think I have moved up a few spots, but I don't know." ("He's a lovely man," says Ferguson, "he's fabulous company away from the course. But for whatever reason in the Interview Room he hasn't got much to say. He's just not always very impressed with himself.") Stuart Appleby, drawn and haggard after managing a 73, is asked in the Interview Room how he feels about playing in the last group on Masters Sunday with Tiger Woods:
Q: If you are paired with Woods, can you talk about playing with him the final day? Appleby: Well, he won't even know I'm there. (Laughter) I'm sure I'll know he's there. (Laughter).
For the previous 16 years, the Masters winner came from the last group on Sunday. But not this time. Woods and Appleby falter. Unheralded Zach Johnson, 31, makes birdies at the 13th, 14th and 16th for a 69, which ties the best score of the day. He is the new champion, matching the highest winning score in Masters history, 289, one over par, two shots ahead of Woods, Goosen and Rory Sabbatini. It's rare for Augusta to throw up such a surprise winner.
The Interview Room is always packed for the winner's press conference. Maybe 150 men and a few women anxiously wait. Johnson arrives just before 7:30 Sunday evening, sporting a new 40-regular Masters green jacket over a powder blue golf shirt and blinking in disbelief at the sea of faces before him, and at what he has just done.
"I don't even know what I shot," says the dazed new champion in his opening remarks, sitting before a wall of checkerboard yellow Masters logos, just in case any of the journalists momentarily forget where they are. "But I know that I had a lot of people giving me some good words of wisdom over the last week. My coaches, clearly, our tour chaplain, and being Easter Sunday, I felt like there was certainly another power that was walking with me and guiding me."
Then it's question time. No one asks why the aforementioned power was not walking with the other 59 competitors that day, or whether he/she/it didn't have anything better to do on that particular Sunday afternoon. The questions flow. At each fleeting pause, countless hands go up like a classroom of over-eager schoolboys. Someone asks Johnson if he was glad that he didn't chip in to win the Par 3 Tournament on Wednesday, the silly superstition being that no one ever wins the Par 3 and the Masters in the same year. Johnson: "Oh, yeah. (Laughing) Ha-Ha. That's good. (Laughter)." He talks about his 14-week-old son, his friendship with Augusta native Vaughn Taylor, who led briefly on the first day. Occasionally he sips water from a Masters-logoed, Masters-green paper cup. "I'm very normal," says Johnson, who didn't go for any of the par 5s in two all week. "I'm as normal as they come."
At a quarter to eight, with deadlines looming, a few writers start to peel away. But then, following an innocuous question about his hometown of Cedar Rapids, Iowa, and how his high school has now produced a Super Bowl MVP (Kurt Warner) and a Masters champion, he loses it. A loud exhalation of breath. "I don't know, it's home," he says with a sigh and a choke, wiping away the tears. "You know, that's where I started and, whew--I told myself not to get emotional. You know, my mom is there now, so I just . . . I thank everybody back in Cedar Rapids."
It's the first display of any real, lifelike emotion since Arnie on Thursday morning. The moment passes. The champion is then required to go through his card, hole by hole, with clubs, yardages, lengths of putts. There's a rush for the exits--even when it's the Masters champion, listening to the details of somebody else's round of golf can be indescribably boring. The diehards stay to the bitter end, reliving each shot. Then, after a half-hour in the spotlight, the interview is over. A cursory round of applause is followed by the huddle, or the scrum, when the more earnest reporters, or those with slightly less pressing deadlines, or those from the Cedar Rapids press contingent, surround the champion in the hope of extracting a few more quotes.
"The bar is now open," someone says. At 8, the Interview Room falls silent again, left to lie in wait for another spring, for more accounts of birdies and bogeys, and perhaps even for a few moments of (Laughter).