Take a Taser to get into the Masters?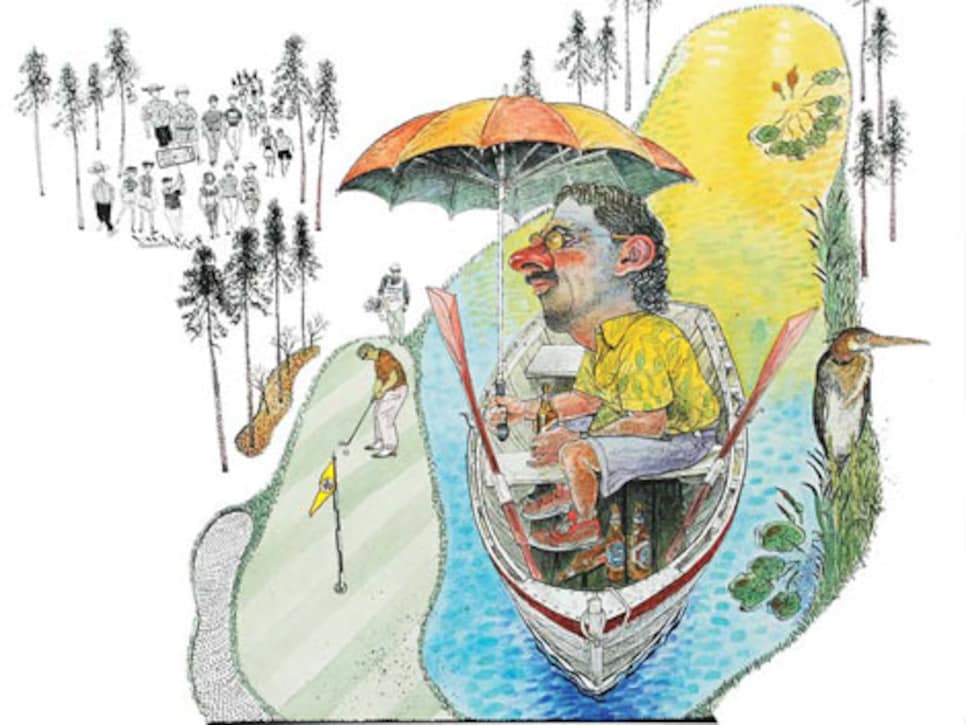 1. Which player would you most like to see win the Masters this year?
2. You can get in the Masters for free if you agree to be Tasered at the gate before entering each day. How many rounds do you attend?
[Ljava.lang.String;@2be96c9f
"Don't Tase me, bro!"—28.6%
3. The Par-3 Contest, an exhibition played the day before the tournament, will be televised for the first time (ESPN, 3-5 p.m. April 9). Will you watch it?
4. The Masters reinstituted the "win-and-you're-in" policy for champions of all but a few PGA Tour events. So far, Nick Watney, Brian Bateman, Jonathan Byrd, Daniel Chopra, D.J. Trahan, J.B. Holmes and Steve Lowery have qualified this way. How do you feel about this qualifying method?
5. If given a choice, which would you like to do?
Accept employment as Vijay Singh's caddie for the entire week—40.0%
Attend the Champions Dinner with the former winners—31.6%
Watch the tournament from a dinghy on the pond at the par-3 16th—15.7%
Watch the Masters telecast with John Daly in his RV parked at the Augusta Hooters—12.7%
6. Tiger Woods has won four of the 11 Masters he has played as a professional. How many will he win in his career?
Six (Nicklaus' record)—11.0%
7. If you could legally gamble on the 2008 Masters, how much would you wager?
Nothing -- I don't gamble—45.2%
Gambling is illegal?—13.6%
8. How do you feel about Zach Johnson's winning score of one over par at the 2007 Masters?
Great. I love to see the players suffer—52.6%
Hated it. I watch the Masters for birdies and eagles—39.2%
Zach Johnson won the Masters?—8.2%
[Ljava.lang.String;@166894bc
9. If you had to hit one of the following shots for the leader in the final round of the Masters, which would you choose?
Five-footer on 18 for the green jacket—44.1%
Tee shot at par-3 12th—25.8%
10. Which would you rather have?
A free foursome at Pebble Beach—30.6%
A drink with Tiger Woods, and his autograph—27.0%
20 free rounds at your local muny—4.1%
A year's supply of your favorite golf ball—1.7%