The best player nobody knows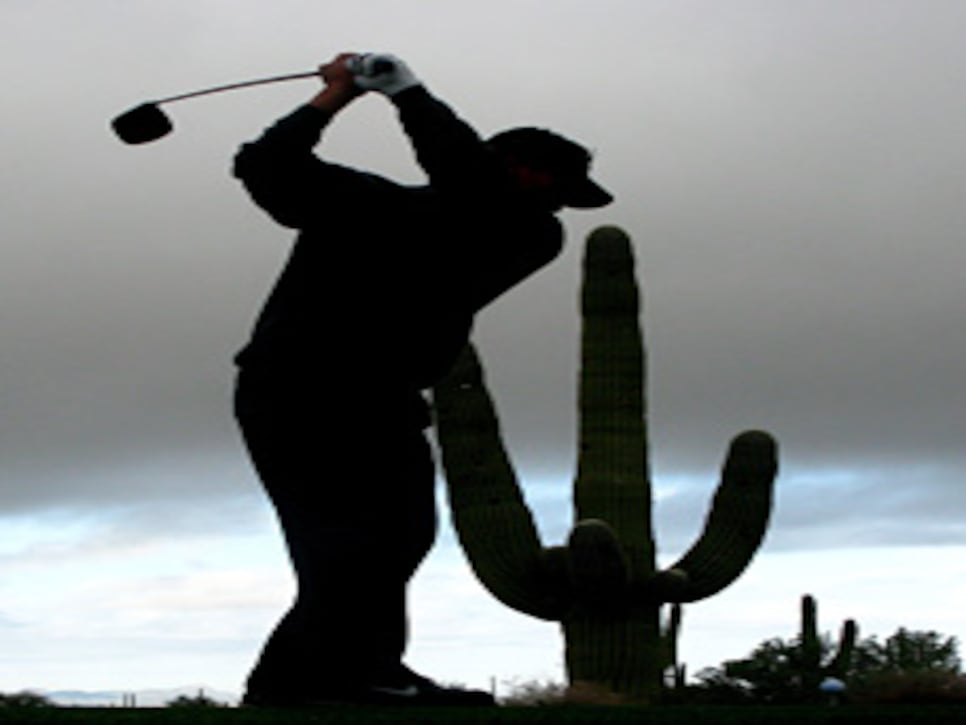 K.J. Choi hits his tee shot on the fifth hole during the WGC-Accenture Match Play Championship on Feb. 23, 2008.
K.J. Choi is sometimes called "Tank" because he's short, wide, strong and can flat crush your bones. He's also "Hawk" in recognition of his iron focus. A Korean sportswriter, perhaps lost in English, tried "Tyson on Field," a boxing/golf mash-up "describing the sharp eyes on his dark face" as he tries to "subjugate the golf world." On June 3, 2007, while explaining his victory in the Memorial, the tournament created and overseen by his idol, Jack Nicklaus, Choi spoke of himself as "Mr. One Foot."
For two or three weeks, he had left shots short. "There's a lot of occasions," he told reporters, "where I have fallen one foot short of the green." One foot short, the ball spins into a bunker. One foot short, it backs into water. Thus, Mr. One Foot.
Someone asked who gave him the nickname.
"It's me," Choi said, laughing.
He's also about one foot short of greatness, so near that the temptation is to type a silly sentence like, "He just needs to win a major." The temptation is irresistible because Kyoung-Ju Choi's story is already so fabulous that there is every reason to think the fable-coming-true will get even better.
"In America," he says,"if you work hard, it provides you the footsteps to pursue your dream."
Hot pursuit: Choi has earned $17 million on the PGA Tour. Lives in high-dollar Texas, just outside Houston. Married to his longtime sweetheart, Kim. Three children: David, 10; Amanda, 6; and Daniel, 4.
In his second tournament this season, the Sony in Hawaii, Choi won for the seventh time on tour. Then, as is his habit, he gave away a chunk of the prize money -- $320,000 to families of 40 victims of a warehouse fire near Seoul. His charitable donations, which include $90,000 from his first tour victory six years ago, began in 1996 a few years after he joined a Christian church.
He just needs to win a major.
He has been third in a Masters, sixth and seventh in the PGA, eighth in a British Open, 15th in the U.S. Open -- all in the last four years. As of mid-February he was ninth in the World Golf Ranking.
"Winning a major," says Choi, who would be the first Korean to do it, "can take you to a whole new world. I want to experience what that feeling is like, to win the biggest tournament in the world."
An amazing ambition, that. This from a man born on an island where there is no golf course. His father was a fisherman and farmer on Wando, south of the peninsula, in the Korea Strait. The nearest golf course was on the mainland, a three-hour drive. The boy Choi first touched a golf club at age 16.
He had been a weight-lifter, so strong that at age 13 and 95 pounds he could squat 330 pounds. But a physical-education teacher thought Choi was too small to be a lifter. He saw a golfer's body and gave the boy a book. "If you become a professional golfer," the teacher said, "there's a good future ahead of you." The book was a primer on golf's fundamentals, shown in drawings of Jack Nicklaus at work.
"When I tried it the way he told me to do it," Choi said of his pictorial mentor, "it felt really good."
By way of a bridge to the mainland, Choi drove to the metropolis Gwangju to work on his game there in addition to coaching from pro Nam Jong Yu at a driving range near his home. In time, Choi left the island for school in Seoul, a move that improved his game and saddened his mother.
"How bleak life was then," she told Nam Hwa Young, a senior editor for Golf Digest Korea. "I feel pain if I recall those moments when my son used to sleep curled up in the dark and cold corner of the dormitory."
In 1994, five years out of high school and finished with his obligatory duty in the Korean Army, Choi became a professional golfer. In 1996 he won the Korean Open. In 1999 and 2000 he qualified for the PGA Tour. In 2002 he won for the first time on tour. Even before his seventh tour victory this January, he had joined an exclusive circle of players who won in each of the three previous seasons: Tiger Woods, Phil Mickelson, Vijay Singh, Adam Scott and K.J. Choi.
Now, 37 years old, with all that as foundation . . .
He just needs to win a major.
Veteran caddie Cayce Kerr was on Choi's bag for Q school at Doral in 1999. In the last round, at the Silver Course, Kerr saw the future. "We were on the 18th, his ninth that day," Kerr says. "He was in the right rough with the water back-right in play. Like the great players I've worked with -- Hubert Green, Fuzzy Zoeller -- K.J. took his medicine. Laid up. Made bogey, not double or triple. Then had a fantastic back nine and got his card on the number."
For Andy Prodger, the future is now. Nick Faldo's caddie for two major championships, at another time Colin Montgomerie's man, the Englishman has worked for Choi the last five years. "He might already have won a major, except he became nervous and embarrassed to see he was three shots in front after 27 at the Masters," Prodger says. At Augusta in 2004, Choi shot a six-under-par 30 on Friday's front nine. "To suddenly see that he, K.J. Choi, was leading the Masters by three shots -- yes, nervous and embarrassed."
The Wando fisherman's son bogeyed the next three holes before regaining the poise that allowed him to shoot a Sunday 69 and finish in third place, beaten by the margin of those bogeys, three shots behind Mickelson.
By now, Choi's composure is so much a part of his personality that Prodger says, "If I could build a golfer from all the men I've worked with in 28 years, I'd take Faldo's tunnel vision, Monty's ball-striking and Choi's calmness. He'd be a world-beater."
Choi believes he is a better player than ever because he has made swing changes that give him greater command of every shot. And even to his surprise, he continues to use a putter with an extra-thick grip; he calls it "big and ugly," but that's OK because, as Prodger said after the Sony victory, "He putted like God."
His serenity, patience and determination are no surprises to anyone familiar with Choi's military duty along Korea's coastline. A young man in a hurry, stationed on rocky shores far from any golf course, Choi found a way to stay in touch with his dream.
He set pine cones on a stone. And hit them with the butt end of his M-16 rifle. "Sounded like explosions," he said, delighted, "and everyone became alarmed."
It's doubtful that J.W. Nicklaus ever suggested such an exercise, but maybe the first K.J. Choi book will.
He just needs to win a major.