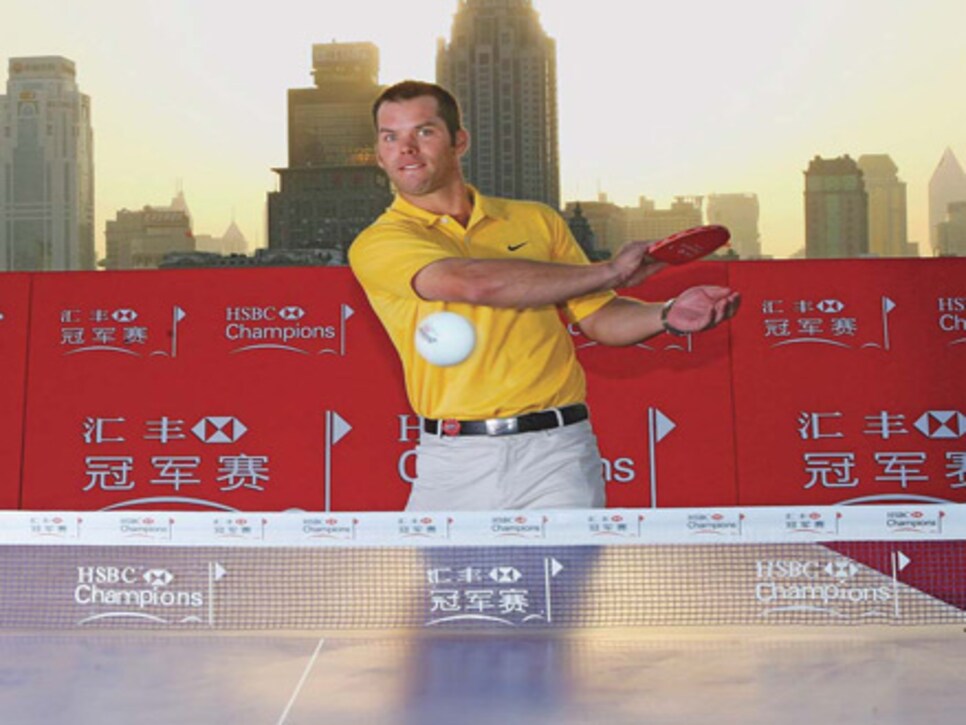 Casey could have used a little Ping-Pong diplomacy after a spat with the tabs.
Watching every minute of last year's Masters telecast, listening to Bobby Clampett go on about horticulture and the patrons, was a particular torture for Englishman Paul Casey. His teacher, CBS pro Peter Kostis, kept telephoning to ask, "Are you still watching?" Kostis wanted his pupil to hurt. "It was a lesson in motivation," Casey says, as fundamental as a grip or a stance. "I absolutely hated not being there. Peter wanted me to really ache. I sure as hell did."
In 2004, Casey debuted at Augusta, brightly. Just two strokes back on Saturday, he finished with a piece of sixth. Though he missed the cut badly in a second try, his affection for the place was unchanged. "It's everyone's home course, isn't it?" he says. "That's the golf course we all grew up on in our heads." And his hopes remained high.
Cleverly those first two springs, Casey sought out past champions for practice, including old Fuzzy Zoeller, who, whistling as he went, won the first green jacket he ever tried on. Paul also made smart use of Kostis' CBS connections. "Gary McCord and David Feherty are complete fruit loops," he says with a laugh, "but they know golf. I picked up a lot of stuff, like how the course is usually set up. Tough for Thursday. Eased off a bit Friday. Stepped up again Saturday. Oddly enough, Sunday is usually the most playable day of all, except for the pressure." "Patience" is the word for every day, and Casey admits, "That's always been the hardest part of the game for me."
In the dark valley that followed his good Masters, Casey's patience was fractured in several places. At his lowest point, both Thomas Bjorn and Ernie Els ran to him with tourniquets. "Isn't that a funny part of our game?" Casey says. "Everybody knows that you have to be greedy in golf to be great. But then you see somebody really struggling, and what do you do?" You run to him.
"Thomas and Ernie just told me a few little basic things that I had to hear someone else say. It's the old Catch-22. How do you get confidence? Play well. How do you play well? By playing confidently."
To Casey, returning to basics didn't just mean grips and stances. "It's the way you walk, the way you hold yourself. It's your willingness to smile. I took a lesson from McCord in smiling, too. I told myself, 'You always enjoyed playing. You loved it. What happened?' "
"Oh, we properly hate them," he notoriously said of his American counterparts in Ryder Cup wars. That's what happened.
Casey went on to say: "Americans can be bloody annoying. Sometimes they infuriate me. In Scottsdale [where he lives with his American girlfriend] it's not so bad because the people there have traveled and you can have civilized conversations with them. But the vast majority of Americans simply don't know what is going on. They have no concept of the United Kingdom for instance."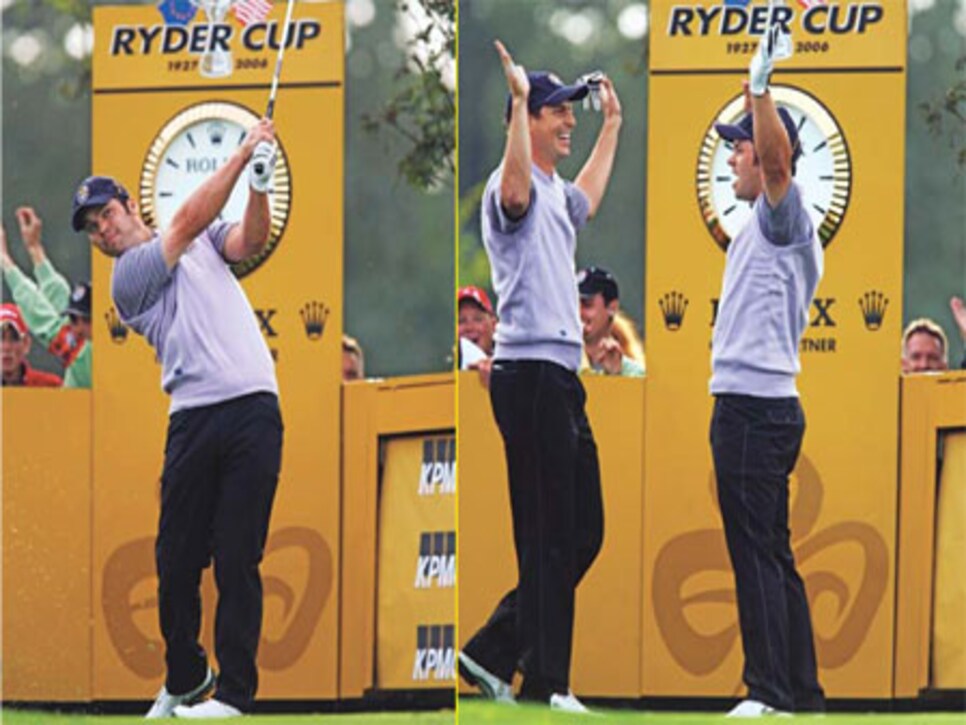 A tabloid picked it up and made it better -- and worse. "That 'hating' deal was just a headline," Casey says. "That was just tabloid crap. I've lived in America for 10 years. If I didn't love it, I wouldn't be here. I do love it. Someone just made up a headline and ran with it. But, do you know what? Only one spectator in the U.S. has ever said anything to me about it. And he was drunk. Every other American fan that I've encountered believed me and understood. Isn't that impressive?"
He could have had a comeuppance at last year's Ryder Cup. Instead he had a hole-in-one. With one slash of a 4-iron, he ended a match, 5 and 4. The Brit famous for "hating" Americans conceded Stewart Cink and Zach Johnson their own ace. For the only time in Ryder Cup history, a hole was halved in 1. That's how Casey was introduced on the first tee at Tiger's invitational last December. "Wasn't that brilliant?" Paul exclaims appreciatively. He could have been introduced as the guy who made a million pounds by winning the HSBC World Match Play to climb to second on the European money list and 15th in the world. He could have been introduced as one of the longest hitters in professional golf, who can move the ball both right and left, and has as high a flight as anyone. He could have been introduced as a serious contender in the coming Masters.
A European hasn't won a major championship since Paul Lawrie in the 1999 British Open at Carnoustie, and the last European to win the Masters was Jose Maria Olazabal earlier in '99. The top European players in this year's Masters, with their best finishes at Augusta:
Thomas Bjorn .............................. T-18 / 2002
Paul Casey .................................. T-6 / 2004
Darren Clarke .............................. T-8 / 1998
Luke Donald ................................ T-3 / 2005
Niclas Fasth ................................. MC / 2002,'03
Sergio Garcia ............................... T-4 / 2004
Padraig Harrington ...................... T-5 / 2002
David Howell ............................... T-11 / 2005
Miguel Angel Jimenez .................. T-9 / 2002
Bernhard Langer ......................... 1 / 1985, '93
Colin Montgomerie ...................... T-8 / 1998
Jose Maria Olazabal .................... 1 / 1994, '99
Carl Pettersson ........................... T-26 / 2006
Ian Poulter .................................. T-31 / 2004
Lee Westwood ............................ T-6 / 1999
Europeans to play in their first Masters:
OTHER EUROPEAN WINNERS Seve Ballesteros: 1980, '83
Nick Faldo: 1989, '90, '96