Masters 2021
Masters 2021: Justin Thomas talks Tiger Woods, friendship and fast-food cravings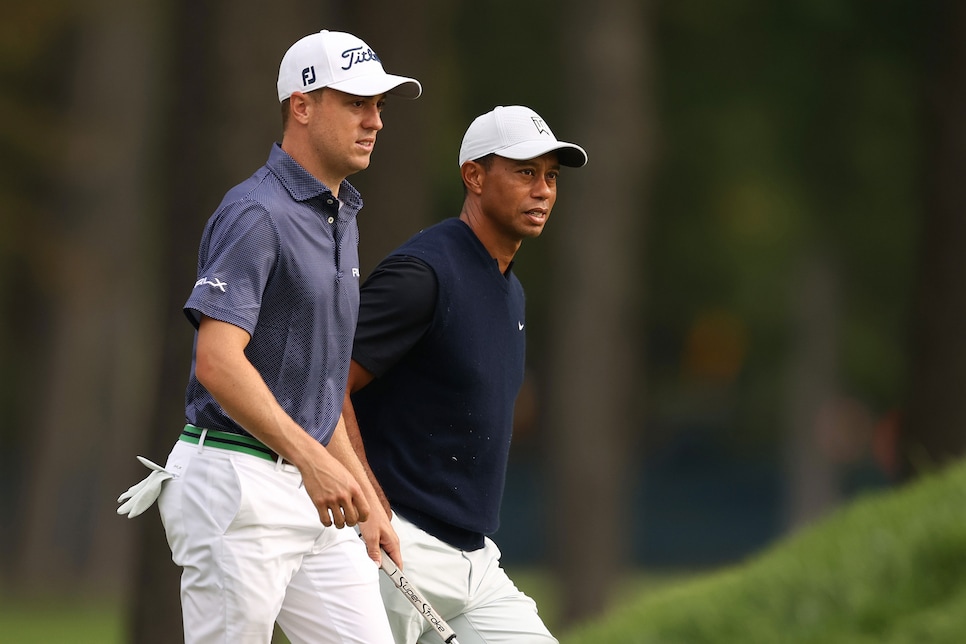 Five-time Masters winner Tiger Woods is absent this week from the year's first major after being seriously injured in an automobile accident in February, and few people are feeling the void more than Justin Thomas.
Fellow residents of Jupiter, Fla., Woods and Thomas have grown close in the last few years to the point where Woods tapped Thomas to be his partner in a pair of team matches in the 2019 Presidents Cup in Australia, where Woods served as playing captain for the winning U.S. squad. They keep in touch on a regular basis.
So, it came as no surprise that Thomas, who recently won the Players Championship, would spend a fair portion of his pre-tournament interview Tuesday at Augusta National Golf Club talking about Woods, though he was careful to not divulge his health status or his rehab. Mostly, he just talked about trying to be a good friend.
"I went over and saw him a couple times last week and tried to go over a couple times during the week whenever I'm home," said Thomas, 27, who seeks his second major title to go with his 2017 victory in the PGA Championship. "We texted Friday morning, and he said it's kind of starting to set in. He's bummed he's not here playing practice rounds with us, and we hate it, too."
Thomas said he remembers how down he was during the six weeks he missed in 2019 with a wrist injury and how much it meant to him to hear from other players.
And it isn't just Woods to whom he has reached out, noting that he also has checked on Brooks Koepka as the four-time major winner has dealt with a series of knee problems, including in the days leading up to this week's 85th Masters.
"Any time any of my friends go through something … I mean, I did the same with Brooks, you know, recently. It's just like you want to check on them and see how they are doing," Thomas said. "I remember the people that reached out to me and checked on me, see how I was doing. I didn't need a call every single day, but 'Hey, how is it going? Want to see how you're feeling.'
"That's just what I want to do for [Tiger], is just be like, 'Dude, I'll do anything you want. If you need me to help out with your kids, I can do that. If you want me to bring you … if you're craving McDonald's and you want me to bring it over, dude, I don't care, I'm here for you and I'll help out however I can.'"
There's no word on what Tiger might have wanted from the restaurant with the Golden Arches, but Thomas assured that Woods is OK.
"He's been good. It's been good just to go hang out with him," Thomas said. "We are fortunate with the basketball to just hang out and watch sports like we would any normal time. Yeah, it's been good to see him and hang out with him."
MORE MASTERS 2021 STORIES FROM GOLF DIGEST: