News
An Hour at Augusta's Third Hole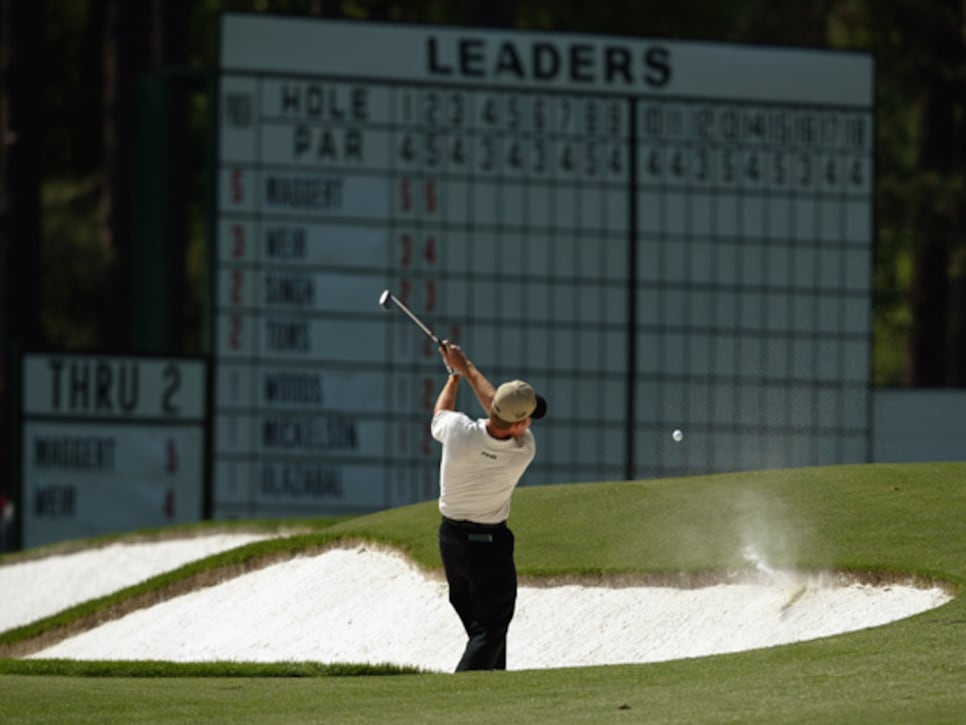 Jeff Maggert's fateful shot on the third hole in the final round in 2003 hit the lip of the fairway bunker, then hit Maggert, as his chances of winning tumbled away (Getty Images).
AUGUSTA, Ga. -- In an hour of loitering at the exquisite third hole at Augusta National GC early Thursday afternoon, the golf wasn't as spectacular as the weather, which, cloudless and warm after a windbreaker morning, was a 10. Nobody holed out for eagle, as has happened 13 times, including Louis Oosthuizen in 2011. Nor was anyone as sad as Jeff Maggert on Sunday in 2003, when, in the lead, his fairway-bunker shot ricocheted off the steep face and hit him in the chest en route to a two-stroke penalty, triple bogey and a major championship title that might have been.
Short par 4s have been a trendy accessory in golf the last couple of decades, but some of the best ones, like Augusta National's 350-yard third, have been proving themselves for a long time. They tempt and they tease. They provide and they punish. They are the little big men of architecture, the Gary Player of golf holes, to be underestimated at your peril.
The long-standing genius of No. 3 can be measured by how few alterations have been made to it, in sharp contrast to many of its cousins at Augusta National that have been nipped and tucked more than a vain actor with a large plastic-surgery allowance. There have been only two significant changes: The tee was shifted to the right in 1953, and a new fairway-bunker complex was built in 1982. Only the par-3 fourth has been tinkered with as seldom.
From the tee, the sand on the left that cost Maggert so much a decade ago looks like cresting waves angled toward shore. (There are four hazards, but they appear as two.) The fairway, sloping gently uphill, is plenty wide enough. As short as it is -- for the first round, the tee markers were 14 yards in front of the 350 plate -- the flagstick is very visible, straight ahead. Pine trees loom for the frisky golfers who miss a driver on the right side.
As Thursday's 12:53 grouping (Bernhard Langer, Francesco Molinari, Chris Kirk) walked to the third tee, a slight breeze blew from left to right, cooling the single row of patrons in folding chairs along the gallery rope. "I don't know why more people don't camp out here," said Christian Garner, who staked his seat hours earlier. "You can see three, seven and two. It's a great spot." (If there is a big gallery around the second green, it's mostly a hear-what-happened situation.) At regular intervals, in the No. 3 fairway crosswalk, subtly defined by green lines only slightly darker than the grass, throngs move with dispatch.
Langer and his caddie, Terry Holt, study their respective yardage books like they were cramming for an exam. After deliberation, a hybrid it is, and a fairway hit.  His fellow competitors also play conservatively. For the three, as with 12 of the 15 players who came through in 60 minutes or so, pars ruled.
Jason Day, the first to hit in the 1:04 group, gets a gentle command from caddie Colin Swatton. "Right at the tower, buddy," Swatton advises, and it's clear from his accent that he is Australian. The rope is close enough to the tee, about 15 feet, that snippets of conversation can be heard when there is a delay, as there is for Dustin Johnson, who follows Day and hits a driver after a six-minute wait for the green to clear. But his drive doesn't come close, hitting timber on the right and finishing in the right rough.
Whether from 100 yards or so after laying up, or for a 20-to-40-yard pitch after the bolder play off the tee, the third green is not a benign target. It's shaped like a overweight, upper-case "L" with a steep slope in front. The green tilts a lot from right to left, feeding (in theory, anyway) shots toward the flagstick if it's cut on the left, as it was Thursday, 12 yards from the left edge and 11 yards into the green (29 yards at its deepest point). Day had what looked like a 14-footer for birdie. After it missed on the left edge, he still had a 12-footer for par coming back. He made it.
Over an hour, Bubba Watson and Luke Donald got the only birdies. Watson drove it within 25 yards or so or the green and hit a pretty, checking pitch four feet from the flagstick. He was wearing a shirt not quite the color of pollen. Donald layed back off the tee. His approach wasn't sharp, but he sank a 35-footer from the back part of the green, which pleased his wife, who was observing among a fairly large gallery short and right of the putting surface, a crowd that included three women in matching purple vests.
Sergio Garcia landed his 75-yard wedge from the right rough approximately pin-high, but his ball released into the fringe. He chipped strong, missing a 15-footer for par.
No. 3, which punches above its weight, had landed another blow.