The Loop
Masters ceremonial tee shots never get old
AUGUSTA, Ga. - It's an occasion that never gets old and never disappoints.
Three luminary figures cut a bright swath through a foggy and overcast morning at Augusta National Golf Club and got the 77th Masters underway at 7:50 a.m. EDT.
Arnold Palmer, Gary Player and Jack Nicklaus, who have combined to win this major championship 13 times, did their best to limber up their aging bodies and give the throng surrounding the first tee something to cheer about. But just their mere presence was enough.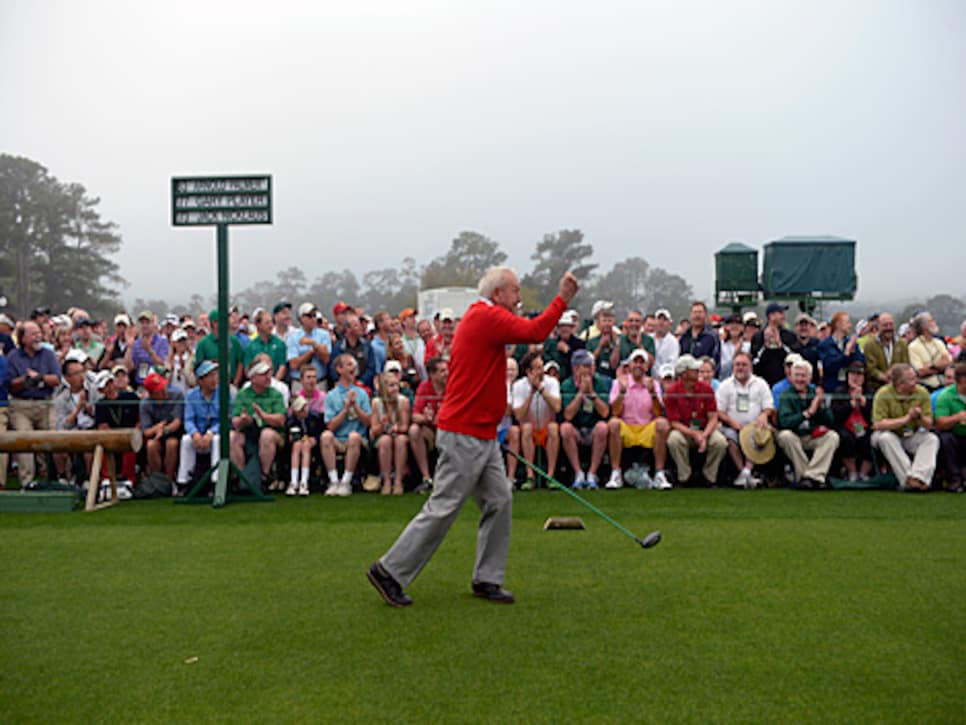 Notable observers who turned out to watch the legendary trio included former Masters champion Fuzzy Zoeller and CBS Sports anchor Jim Nantz. "After all that these three gentlemen have done for me and for golf, you bet I'm going to come out here and see them," Zoeller, the 1979 winner, said.
Palmer, 83, wearing a bright red sweater over a white shirt, was the first to hit, followed by Player, 77, dressed head-to-toe in black, and then the six-time winner Nicklaus, 73, donning a brown sweater. All three men kept it in the fairway. Palmer punched the air (above) after his ball sailed down the middle.
Jock Hutchinson and Fred McLeod started in 1963 what has become one of the most special traditions in all of golf.
"That's nice. I like the thought of that," said Palmer, who played in his 50th and final Masters in 2004 and accepted his honorary starter assignment in '07. "You know, it's something we've been doing all our lives," the King added about sharing the tee with Nicklaus and Player. "It's always special."
Asked if there is pressure on the tee shot, Nicklaus said the only pressure was trying to loosen up again after a lengthy pause between the few warm-up shots on the practice range and then striking the tee ball.
"We asked how long we had, and they said nine minutes. So we stood around for nine minutes and got stiff. We can't wait nine minutes to hit a ball. That's a long time," Nicklaus joked. "The only nerves you have is to make solid contact. It doesn't matter diddly-darn where it goes."
Winner of a record 18 professional major titles, including six in the Masters, Nicklaus said he never much cared for early morning tee times - a reference to his desire to be in contention in tournaments and earn a late start. Of course, this was a little different.
"I much prefer playing, obviously," Nicklaus said. "But when you can't play anymore, you do this, and it's a nice thing to be an honorary starter. Hitting the opening tee shot at one of the biggest tournaments in the world and the first major of the year is a very nice honor."