News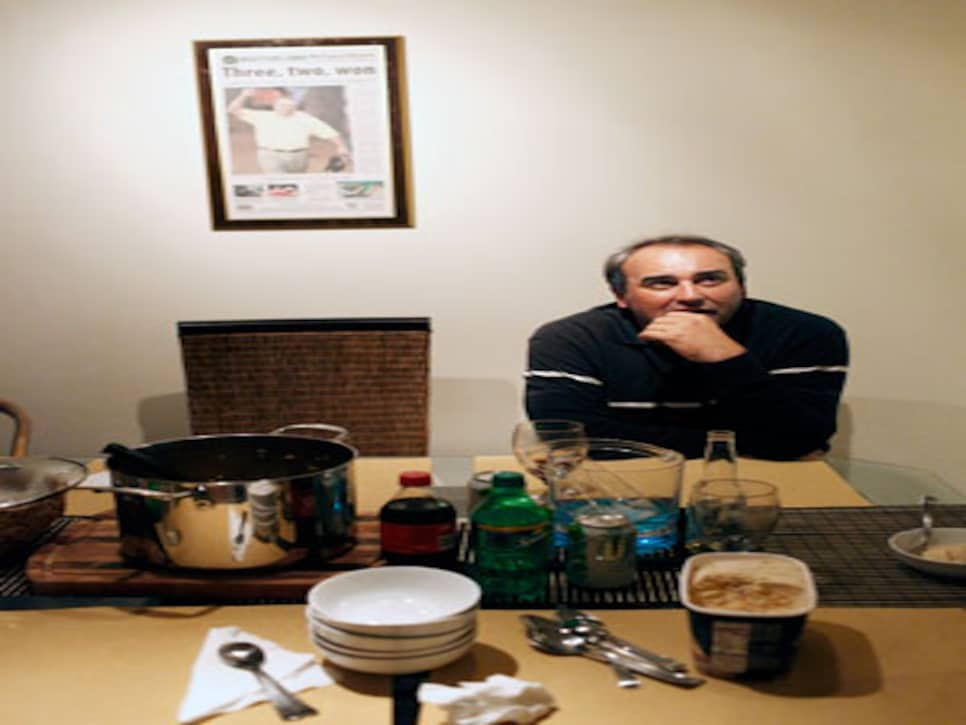 After cooking dinner during the Honda Classic ­Cabrera contemplates defending his Masters crown.
Angel Cabrera stalks the aisles of a Publix grocery store near Juno Beach, Fla., with the same determined gait in which he roamed the fairways at Oakmont CC and Augusta National GC. His mission is to buy the ingredients for a dinner of chicken and rice stew that the 2009 Masters champion will cook from scratch in the kitchen of his manager's nearby condo. Cabrera is known as "El Pato" -- Spanish for "duck" -- but he looks more like a bull, his broad shoulders moving up and down like pistons. Speaking in baritone Spanish to his son, ­Angelito, he reaches the deli and smiles as he spies packages of salami and cheese that will serve as the night's appetizer.
"He told me on the way over, 'You have to understand, it's going to take a while to shop because I have to buy it all,' " says swing coach Charlie Epps. "We did this on Saturday night at the Masters. He was tied for the lead, and people in Kroger were asking, 'What's he doing in here?' I asked him that night, 'How much beer do you want me to buy?' He said, 'Buy all you can because we're going to celebrate no matter what.' So I bought a couple cases of Corona."
On this evening, in the middle of the Honda Classic, two six packs of Corona and three bottles of Argentine wine are on the $168 bill, along with the ingredients for the feast. Unrecognized at the supermarket, now back at agent Manuel Tagle's home just off the ocean, Cabrera unpacks the groceries, grabs a knife and a chopping board and goes to work. His common-law wife of 22 years, Silvia, is back at PGA National. This is a boys' night out, but despite his manliness, Cabrera is quite domesticated.
"Angel's the one cooking at home, too," says Tagle, laying down the only law of the kitchen: No matter how good it smells, no one is to touch the lid on top of the pot. "You might lose your fingers," he explains. The first bottle of malbec is opened, the capocollo and sopressata is laid out on the counter with a loaf of crusty bread. Angel chops the onions, parsley and the garlic, skins the chicken and shows the type of surgical dexterity that he displayed when he putted so well last April on Augusta's greens.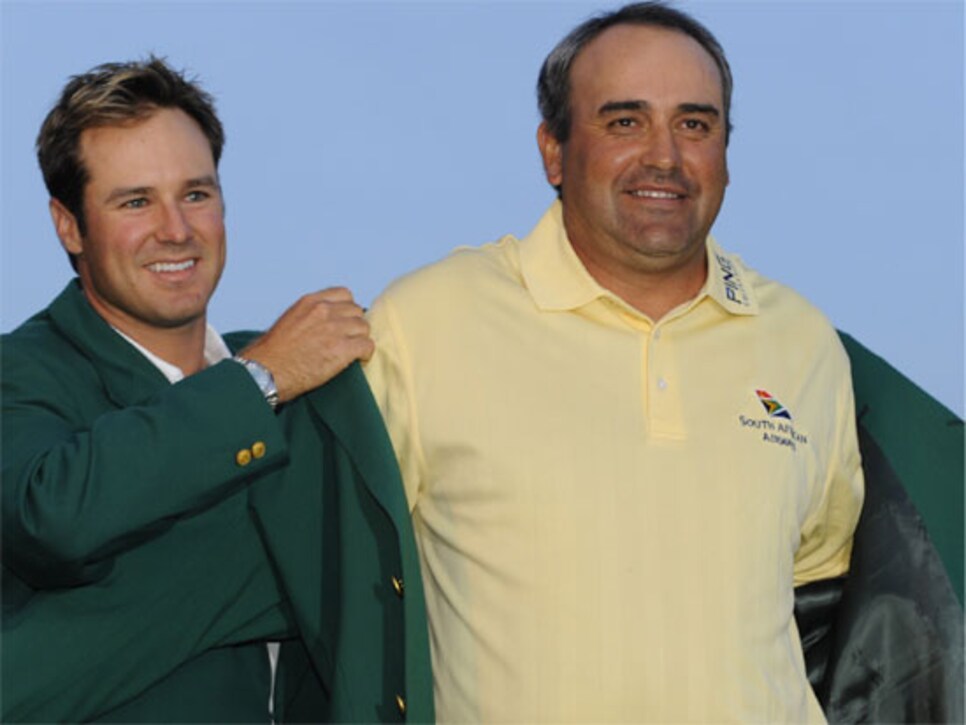 The aroma wafts through the apartment as the second and third bottles are opened. Cabrera is comfortable enough to be interviewed for this story while cooking. He is wearing jeans, a long-sleeve polo shirt and sneakers. His hair is gray and thinning, but he still looks young for 40, especially when he winks, smiles and says "amigo," which is often.
We talk while dinner simmers. He understands every question and responds in rapid-fire Spanish, Tagle providing a sense of the real Angel with his interpretation. We discuss his major wins and his grand-slam goal; the respect he gets from players (and the lack of it from promoters); his idol, Seve Ballesteros; his hometown; and the life he led as an orphan and caddie, in the foothills of the Andes. "I grew up fighting against the world," he says.
Abandoned by his parents, Cabrera fended for himself in a barrio in Mendiolaza, Argentina, a town north of the big city of Cordoba. The meal he's cooking is spiced with irony and symbolism. "He told me when you get hungry enough, you go steal the chickens," says Epps. "You're not afraid of anything, not even the snakes or the dogs that were barking. He said one night they even stole the dog." There's a big laugh, as Cabrera tells a story about taking a loaf of brick-oven-baked bread off a neighbor's windowsill, burning his chest as he ran with the bread under his shirt. "Everybody in the barrio would share the food," says Epps. Describing the smell of the bread, Cabrera jumps in to add, "The whole neighborhood would eat."
Today, he tries to shake the homesickness of being away from his current home in Villa Allende by flying there every two weeks, usually out of Houston, where Epps is based, to hang out with the amigos he grew up with at Cordoba GC. The trip takes a minimum of 14 hours one way, including a long layover in Buenos Aires, but Cabrera insists every minute of the journey is worth it. "I need my asado [barbecue]," Cabrera says. "I need to sleep in my bed. I need to be with my friends. It brings me back to earth, charges my batteries."
A pro since 1989, Cabrera had full exempt status on the PGA Tour in 2003 but couldn't adapt to life on the road in America and didn't play the minimum number of events needed to keep his card. The following year he only entered eight events. When he played the European Tour, Cabrera was famous for taking the 7,247-mile Paris-to-Santiago flight, the longest non-stop flown by Air France. He would board the plane and be asleep before takeoff. This inspires Tagle to tell a story about Cabrera falling asleep on a tiny bench in the Riviera clubhouse during a rain delay at this year's Northern Trust Open, his legs dangling off the edge.
Epps was hand-picked to coach Cabrera by the 35-year-old Tagle, whose father and grandfather were club presidents at Cordoba, not only to straighten out Cabrera's ­putting, but also to serve as a traveling companion who could help bridge the cultural gap. It's easy for Epps to relate. He grew up in Cordoba, where his father worked at a plant that manufactured Kaiser cars, and is fluent in Spanish. He joined Cabrera at the 2007 Players and has become a valuable link not only through instruction and interpretation, but also as a psychologist and dishwasher. He's referred to as "the butler" and has been given the nickname "Gordito," or "fat one," in reference to his physique. Together Epps and Tagle are Team Cabrera, their sole mission to make Angel's life more comfortable in America. This dinner is one of those nights.
The party sits down in a dining room with a framed front page from the Augusta Chronicle hanging on the wall. Cabrera didn't understand the headline "Three, two, won," when Epps brought the paper in from the driveway last April 13. "There were three in the playoff, then there were two and then you won!" Epps told him that morning when Cabrera awoke with a Masters green jacket to accompany the U.S. Open trophy he won at Oakmont in 2007.
"I was walking the course today with my son saying how lucky I was to have found Charlie," Cabrera says. "He was the person that I [needed] to feel comfortable in America, to stay more in America, to play more in America. It's like vodka with the tonic."
Cabrera smiles after delivering the line. When the Argentine returned home to a hero's welcome last spring, he stood on the steps of city hall in Villa Allende, held up his country's flag and announced his goal of winning five major championships -- the same number as Ballesteros.
Most people don't realize Ballesteros, not Roberto De Vicenzo, had the biggest impact on Cabrera's career. Because De Vicenzo is 46 years older, he never had a direct influence on his fellow Argentine. Ballesteros, who grew up as a caddie in Santander, Spain -- and who also never adjusted to tour life in America -- had a greater effect on Cabrera. When Cabrera first played the European Tour, he would play practice rounds with Ballesteros and another Argentine, Eduardo Romero. "Seve was not a guy who would teach you a lot, but I was watching him, and every single time I had a chance to play with him, I did," Cabrera says. "I had his phone number, and I called him often."
With all the travel to and from Argentina, it's easy to understand why inconsistency is a trademark of Cabrera's game. Unsure about bringing his game to America, he won three times on the European Tour -- his biggest triumph being the 2005 BMW Championship at Wentworth -- and stockpiled victories in South America. As far back as the 1999 British Open at Carnoustie (T-4), Cabrera began appearing on major leader boards. His effortless power (exemplified by his fabled 346-yard drive on the 72nd hole of the U.S. Open at Oakmont) and natural ball-striking skills carried him into contention, but it couldn't overcome his one glaring weakness: putting. Epps stepped in, helping him understand the nuances of putting fast greens and how to calm his nerves -- especially after Cabrera gave up cigarettes.
The greens at Cordoba were slow, but as much as his stroke was flawed, Cabrera didn't have the patience to win majors. That's why, after six top-10s in grand-slam events, his major wins were so improbable. "Two different situations," Cabrera says. "At Oakmont, I didn't have a great week putting, but the greens were so hard that nobody was making putts. At Augusta, I spent so many hours on the greens, always one hour on the putting green before going to the range, and a lot of putting on practice days."
It wasn't so much the stroke that carried him at Augusta, but his confidence, which blossomed when Epps broke out tapes of Cabrera's U.S. Open win, along with a message that with a Masters victory, he would join Gene Sarazen, Ben Hogan and Jack Nicklaus in an elite foursome of players to win majors at Oakmont and Augusta National. "Charlie was saying, these big names won at Augusta," Cabrera says. "Why not you?"
On the 72nd hole, Cabrera made a downhill four-footer to save par and join Kenny Perry and Chad Campbell in a three-man playoff. "At that point I wasn't thinking much. It was like I was in the air," Cabrera says after a few glasses of wine. "It was like my feet were off the ground." His second shot on the first playoff hole (No. 18) caromed off a tree and back into the fairway, setting up a par to extend the playoff, which he won on the second hole with a par to Perry's bogey (Campbell had dropped out with a bogey on the first hole). Like the finish at Oakmont, Cabrera never flinched. "I try to show that I have no fear," he said. "When you grow up hungry, you're not afraid of anything."
After dinner Cabrera serves dessert, dulce de leche ice cream in big scoops. Angelito digs in. At 19, he is built like his father. So is 20-year-old son Frederico, who has turned pro. Angelito will be on the bag through the Masters. "He's going to learn more watching than practicing," says Angel, sipping coffee. Epps adds later, "His two sons are his life."
Cabrera is fourth in driving distance but finishes T-40 at the Honda Classic and is on the putting green at Doral two days later. Wearing loafers, he stands in the same spot for 2½ hours stroking putts and laughing with a group of players and caddies, including Argentine Andres Romero and Spaniard Alvaro Quiros. At the WGC-CA Championship, Cabrera continues to make nothing and finishes T-50. He shops one night with Silvia at Bed, Bath and Beyond for linens, and later sits outside their lodge, calling home, where he is headed after the tournament.
At Augusta they will stay in the same house, shop at the same Kroger and cook the same meals as a year ago. It always comes back to food with Cabrera. Walking the front nine Thursday at Doral, he spies Epps ducking into a concession stand and emerging with a peanut butter sandwich. They exchange a few words in Spanish. "He wanted to know what I was eating," Epps says. "Then he asked, 'Where's mine?' ''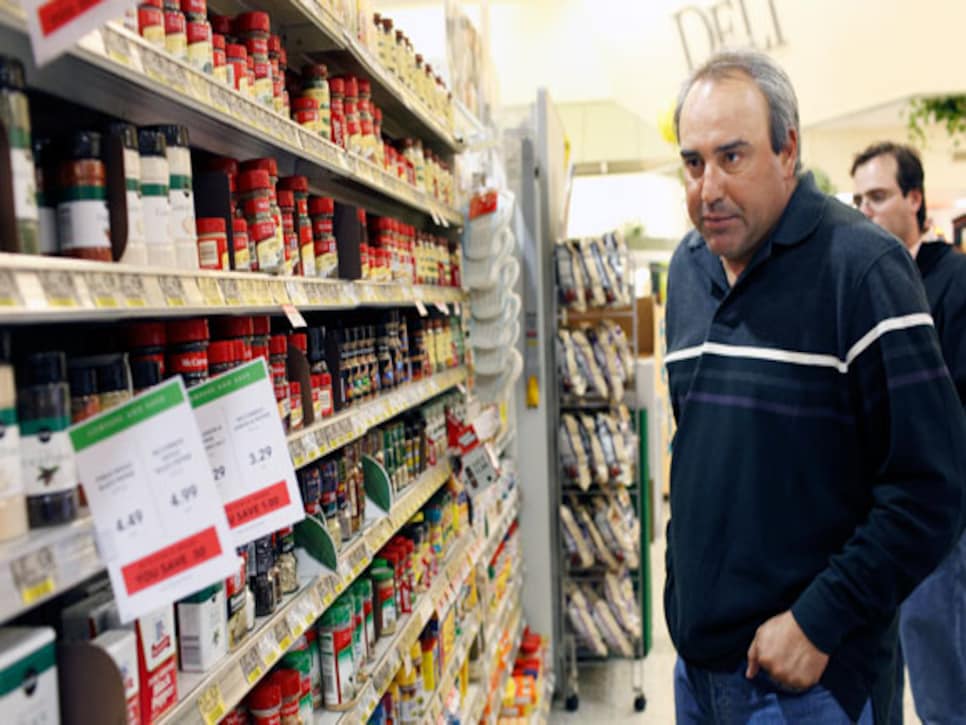 Shopping Spree: Cabrera is all business as he selects groceries in a Florida supermarket.