The Loop
Masters by the numbers: What you'll see in a random hour walking around Augusta National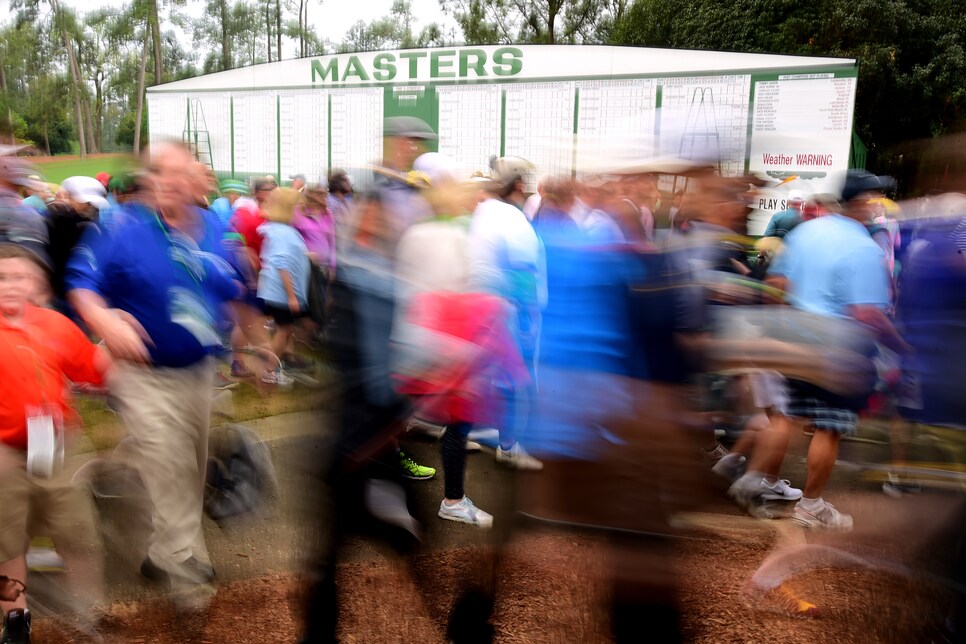 AUGUSTA, Ga. -- At 10:12 a.m. on Wednesday morning, play was suspended at the Masters. Fans and players were instructed to get off the course and they obliged. Well, Vijay Singh took awhile to leave the practice area, but he did. Eventually.
Anyway, before the siren sounded, I walked around and observed the patrons who were lucky enough to be at the Masters -- but unlucky to have picked a dicey weather day to come to the tournament. Here's a look at what I saw -- by the numbers -- in a random hour walking around Augusta National.
34: Pastel-colored golf shorts. Actually, I was surprised more patrons weren't wearing these. It's spring, people! But sadly, plain-old khaki outnumbered these by about a 100-to-1 ratio.
3: White belts. On the bright side fashion-wise, there weren't as many of these as I expected. Golf fans are learning.
50(+): Croakies. You know, those bands that attach to your sunglasses so they don't fall off? I've never been a fan. Although, I probably should by a pair considering my track record with losing sunglasses.
17: University of Georgia hats. As always, UGA is the most well-represented university during the Masters.
16: Patrons wearing UGA hats AND croakies. This is basically the uniform of a Bulldog golf fan.
8: University of South Carolina hats. Fans of the Gamecocks are out in full force after their men's basketball team's Final Four run. If the so-called football school ever came that close to winning a national title in football, UGA apparel sightings at the Masters might be topped.
12: Green jackets. Augusta National members love their golf.
4: Non-green jackets. Linen sport coats are classy, but wearing one when it might rain is a bold play.
1: Suit in the design of the Australian flag. It didn't look like it was made out of linen, at least.
7: Hogan caps. And they were all spectacular -- especially the plaid one I saw. Although, I highly doubt Hogan would have worn that.
4: Bucket hats. In their defense, rain was in the forecast.
1: Cleveland Browns hat. Poor guy.
300(+): Number of people in line to buy Masters merchandise -- even as the siren signaled for people to evacuate the grounds. "I guess a Masters T-shirt isn't worth a life," one patron reasoned. Eh, I guess. They've got some good ones this year.