The Loop
Masters Amateurs: Breaking down their chances
AUGUSTA, GA.--Recent history offers differing perspectives on how this year's band of six amateur golfers might fare when the 76th Masters begins Thursday. If you're the kind who sees the pimento cheese sandwich as being half eaten, you're likely to remind people that only twice in the last six years has an amateur made the cut at Augusta National. If you see it as being half uneaten, you'll likely counter that those two times occurred in the last two years and one of them involved a player competing again this week.
Whatever your own personal appetite, here is a look at the contenders and their odds of joining the eventual tournament champion at Sunday's green jacket ceremony.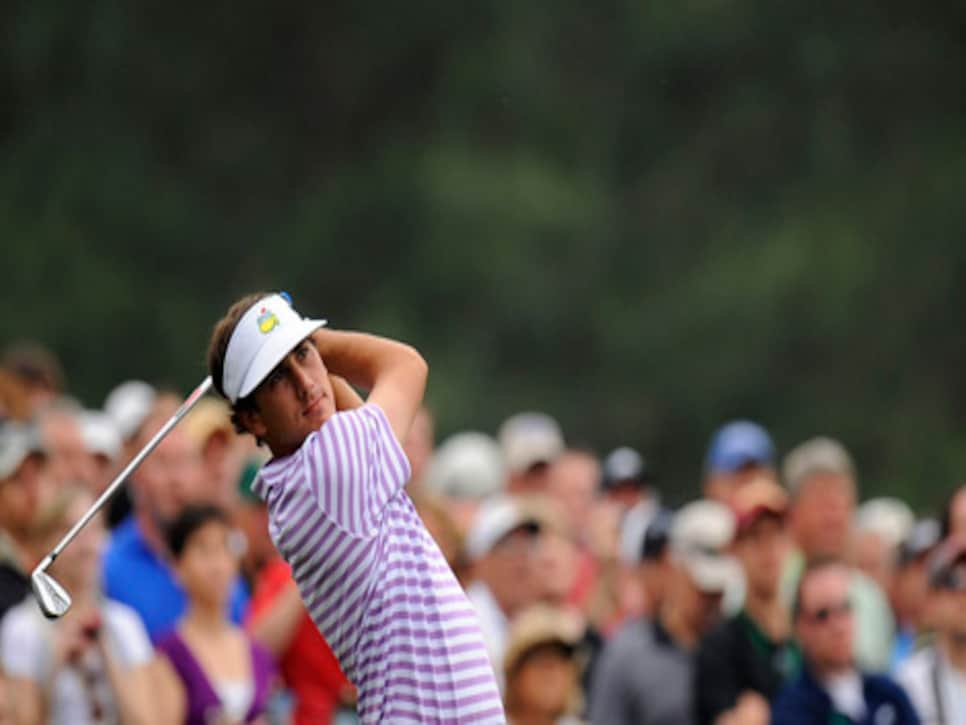 ](http://blog.golfdigest.com/golf-tours-news/blogs/local-knowledge/Kraft_470.jpg)The Masters will be U.S. Amateur champ Kelly Kraft's last event before turning professional. Photo by J.D. Cuban
Hideki Matsuyama, 20, Japan__
How he qualified: Asian Amateur champion
__Odds of making the cut:__20-1
__Skinny:__He is the only amateur in the field who can boast of having made a cut at Augusta National, a T-27 finish in the 2011 Masters earning him low-amateur honors and helping give legitimacy to the nascent Asian Amateur Championship. Matsuyama's experience a year ago drove him to want to return in 2012, a dream fulfilled when he won the AAC for a second straight year in October. Questions about Matsuyama's on-course skills seemed to have been answered (he also won a pro event on the Japan Golf Tour in 2011 and made five cuts in seven overall starts), but what's unclear is whether there is added pressure on him given his 2011 success. Even so, given the distractions he overcame last April, playing shortly after his country experienced a deadly earthquake and tsunami, Matsuyama would appear quite capable of becoming the first to win low amateur honors in consecutive Masters since Sam Randolph in 1985-86.
__Patrick Cantlay, 20, Los Alamitos, Calif.__
How he qualified: U.S. Amateur runner-up
Odds of making the cut: 25-1
Skinny: Success in professional golf tournaments, including major championships, is something the UCLA sophomore is familiar with after an impressive run last summer in which he posted top-25 finishes at the U.S. Open, Travelers Championship, AT&T National and RBC Canadian Open. While his college golf results this semester have tailed off from his freshman season--T-48 at the Big Island Invitational and T-33 at Southern Highlands--Cantlay insists his game is as sharp as a year ago. "I'm hitting it really well and stroking it really well, too," he said. "My game feels really good right now." If this is the case, Cantlay's ability to handle potential off-course distractions and focus his game should allow him to earn a weekend tee time. __
Corbin Mills, 21, Easley, S.C.__
__How he qualified: U.S. Amateur Public Links champion
Odds of making the cut: 35-1
Skinny:__ The junior at Clemson enters the week with a heavy heart; less than two weeks ago his grandfather, Boyd Mills, who helped teach him the game, died unexpectedly. The duo had long been anticipating attending the tournament together. If Corbin can put his loss aside, there's reason to believe he will have success this week. He shot a 65 in his last college round prior to the tournament. He also has spent the last few months honing his short game in preparation for Augusta National. Mills' Clemson connections have allowed him to play practice rounds with Lucas Glover and Jonathan Byrd, picking their brains for some local knowledge. He'll also have his assistant coach in school, Jordan Byrd (Jonathan's brother) on the bag this week to help with his swing and his focus.
Kelly Kraft, 23, Denton, Texas
How he qualified: U.S. Amateur champion
__Odds of making the cut: 40-1
Skinny:__The former SMU golfer has had to bide his time since winning the Havermeyer Trophy at Erin Hills last August, forgoing the jump to professional golf until after this week's visit to Augusta National (he'll turn pro on Monday, forgoing exemptions into the U.S. and British Opens). Kraft has done his best to stay sharp, playing in a handful of amateur events, but none with any of this week's commotion. How sharp his game is will have a lot to do with his ultimate outcome, but so will how he handles the emotions of finally playing in the event.
Bryden Macpherson, 21, Australia
How he qualified: British Amateur champion
Odds of making the cut: 45-1
Skinny: Being an undergrad at the University of Georgia seemed rather convenient for Macpherson upon claiming the British Amateur title last June, the better to sneak in quality practice time at Augusta National in the run-up to the major. But two months ago, Macpherson decided he needed to focus exclusively on his golf, leaving school and returning to his homeland to train for what will be his last event as the amateur. For as much as he has looked forward to playing in the Masters, the question remains whether he has been too distracted by the off-course moves he's made of late.
Randal Lewis, 54, Alma, Mich.
How he qualified: U.S. Mid-Amateur champion
Odds of making the cut: 80-1
Skinny: As the oldest-ever winner of the Mid-Am title, allowing him to become the oldest Masters rookie in recent memory, Lewis is a nice story entering the tournament. But for the financial planner's tale to last past Friday, he'll have to figure out a way to maneuver around two numbers: 7,435 and 0. The first is the yardage of the course; Lewis acknowledges he'll be hitting hybrids into most of the par 4s and admits will not likely reach the green in 2 at the 505-yard par-4 11th. The second is the number of Mid-Amateur champions who have made the cut in the Masters since first invited to compete in 1989, a jinx that doesn't necessarily look to be lifted this year.
(Photo: David Cannon/Getty Images)