Masters sendoff
Masters 2023: Larry Mize, Sandy Lyle leave Augusta National together in 'pretty cool' fashion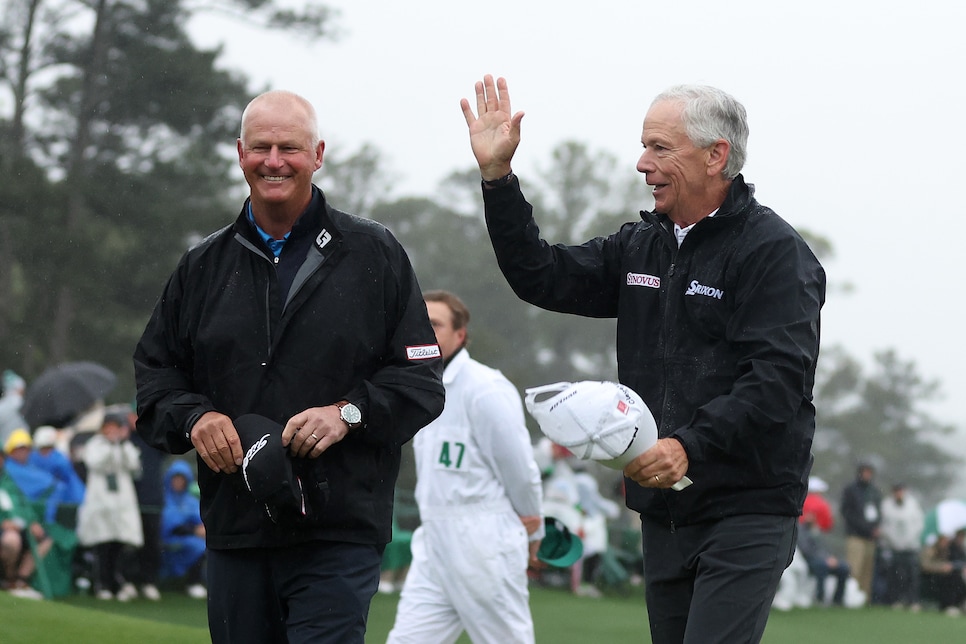 AUGUSTA, Ga. — Larry Mize, the Augusta native who stunned Greg Norman—and the golf world—in winning the 1987 Masters, was greeted warmly on a chilly Saturday morning by a hearty gallery eager to show its appreciation for only the third native son to wear a green jacket.
Mize played the final 11 shots of his Masters career Saturday as light rain fell on Augusta National Golf Club. Like Sandy Lyle three groups ahead of him, Mize was robbed of a walk up 18 on Friday when inclement weather forced a suspension of the second round at 4:22 p.m. EDT. In a gesture of respect, Lyle stood behind the 18th green to watch Mize finish and their two families walked together with them to the clubhouse and scoring area.
Unlike Lyle, Mize, 64, was more overcome with emotion after finishing his 40th Masters. "To get a reception like that and weather like this, I didn't expect that. I didn't expect that at all," Mize, his eyes slightly red, said under an umbrella held by his wife Bonnie.
Of course, he was particularly touched by Lyle, the 1988 winner, coming back out in the gloaming to watch him finish. Russell Henley, who like Mize lives in Columbus, Ga., also waited to see Mize complete his 120th and final Masters round, an eight-over 80 that included a disappointing three-putt at the last when he lipped out a three-footer for bogey.
"Yeah, that was very special for Sandy to come out and greet me there," he said. "Sandy's a good friend, a great champion, and to finish off with him is pretty cool."
"I obviously know what's going through his mind and it was just a part of a, just a welcome and also to a new era, I suppose, for the both of us," Lyle, 65, said after he completed his 42nd Masters with an 83. "I just think it was the right thing to do. The wives suggested it, and I thought about it and said, 'yeah, I'm going to go back out there and welcome him to a new era.'"
Mize won't soon forget his last walk around Augusta National. He reminisced a little Friday when he walked past the scoreboard at the third hole, where he served as a volunteer for two years, and he desperately wanted to make a par at the 11th where he chipped in for birdie to stun Norman in a sudden-death playoff in '87. He made a bogey.
"I've never seen anything like that on the golf course," he said. "I've seen branches fall, big branches. I remember being at Spyglass one time out in California when a big branch fell, which was scary, but nothing like this. This is just … thank God that nobody got hurt. It's just a miracle that nobody got hurt.
"You hear a branch," he continued, noting he saw the trees fall and people scatter, "but all of a sudden, I heard that, and I was like, 'Oh, my gosh, what was that?' Patrick Reed, I was talking to him in the locker room last night while we were waiting to see if we'd play, and he was on 15. He said, 'I can't imagine what it was like for you because you could hear it all the way on 15 it was so loud.'"
The applause on 18 Saturday was nowhere near as loud as it could have been Friday afternoon with a full gallery present, but that didn't matter. "It's just unbelievable, surreal. Words don't do it justice to have won here and played here for 40 years," he said. "Pretty incredible.
"I don't think it changed me as a person, but other than that, it changed a lot," Mize added. "It gave me opportunities. It gave me and my family opportunities to do things we wouldn't have otherwise done. The recognition I've gotten. I mean, it's amazing to win the Masters and then to do it in that fashion kind of just enhanced it. It's hard to put into words. It's been a tremendous blessing to have won here. It has changed my life for the better, no doubt."
MORE GOLF DIGEST MASTERS PREVIEW STORIES: