AUGUSTA, Ga. — Jordan Spieth has made it no secret that he will have an appetite for seconds at this year's Masters. The difference this time is that he wasn't referring to his hunger for adding a second green jacket to the one he claimed in 2015.
"I'm very excited," the talented Texan explained Tuesday.
About being back at Augusta National Golf Club? Yes. About his form? Sure.
But in this instance, he was referring to the menu for the Champions Dinner selected by Hideki Matsuyama, the 2021 winner.
"I'm going to have seconds of all of it," he said of the lineup that includes sushi, sashimi, miso glazed black cod and Miyazaki wagyu beef. "I played the Dunlop Phoenix in Miyazaki back in 2014, and I might make a lot of people mad in the state of Texas, but it's the best beef I've ever had. I had no idea what route he was going to go, and I'm excited to shake his hand and say thank you at the end of the night.
"I might have to get carted off."
It's not a stretch to think Spieth could have three or four Masters victories by now. He seems inspired by his annual arrival to these storied grounds, and he already has 32 competitive rounds under his belt, so he has seen the course in various conditions. "I've had so many close finishes and top finishes that I'm honestly a little frustrated at not having more than one," he said.
"I'd be disappointed if I didn't give myself a chance this weekend," Spieth, 28, added. "Yeah, it would be a disappointing week this week. I love this place. I feel good right now about my game."
Experience certainly helps. Confidence and being comfortable in the setting can't be overlooked. Preparation is another big key. Huge, in fact. He and his caddie Michael Greller each have their duties to attend to before the first shot on Thursday, which in Spieth's case comes at 1:52 p.m. EDT in the penultimate group with Viktor Hovland and Xander Schauffele.
Because of the changes to Augusta National, particularly on holes 11 and 15, players were issued new yardage books. Together Spieth and Greller have compiled detailed notes on the course, and Spieth wanted to make sure the important stuff was retained. Then he got a good look at just how much effort his enthusiastic caddie has put into the process.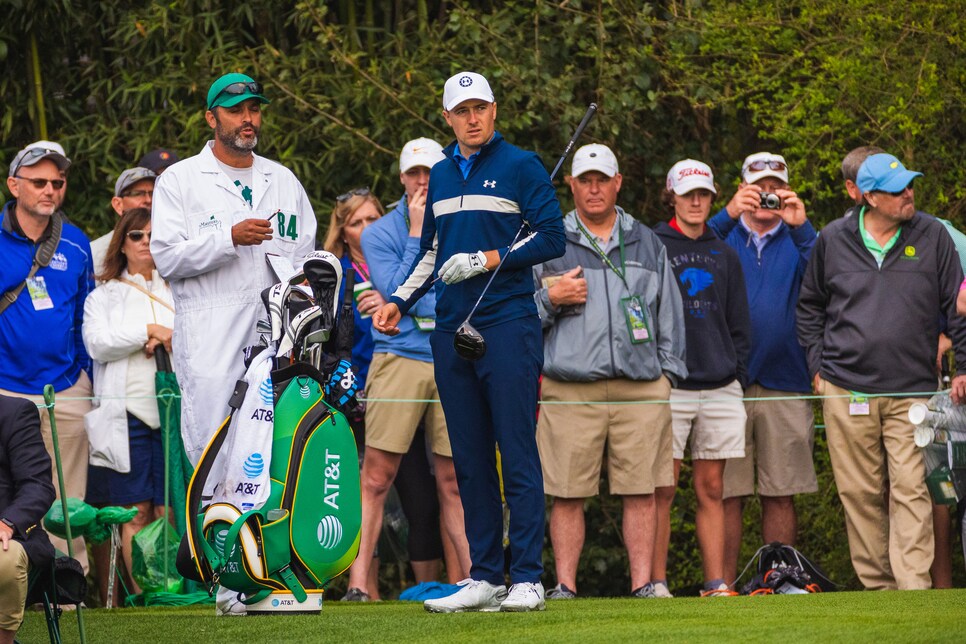 Spieth confers with caddie Michael Greller during Tuesday's practice round.
Adam Glanzman
"I just told him today, since we got new yardage books this year with the changes to the holes, I want to transfer a lot of his straights. The past few years I worked with him a lot on [spots where putts straighten out to the hole] … finding the fall lines to different pins," Spieth explained. "He's got pretty much every location, the fall line relative to a tree, and we're just going to assume that Augusta National has not moved some of these giant trees.
"I looked in his book, when I asked him this, and I'm like, 'Man, I don't even know if I can get all of this information down.' He works so hard this week. He's done a great job in the early years of reaching out to some local caddies, Carl Jackson being one, but also some of the local guys that are here all the time.
"So, the combination of the work he's put in with the experiences we've had means he's got, I think, better information than anybody else this week."
Combine that with Spieth's penchant for rounding into form when the gun goes off and you have to think he'll cart off another green jacket someday. Then the question becomes: Texas or Miyazaki beef for his champion's menu?
More Masters 2022 stories from Golf Digest