AUGUSTA, Ga. — He was never shy and, sadly, he never made it to retirement. Just a month after turning 54, two-time Masters champion Seve Ballesteros passed away in his home village of Pedrena on Spain's northern coast. Today would've been his 65th birthday.
"Seve was one of those players we were all lucky to see," says former European Ryder Cup player Manuel Pinero, with whom Ballesteros won the 1976 World Cup. "It wasn't just the tournaments he won. It was the way he won and the way he played. You couldn't take your eyes off him."
Perhaps nowhere in golf is Ballesteros' absence felt more keenly than at the Masters. At the top of his game, his extravagant gifts were made for Augusta National, and the artistic style of golf espoused by course designer, Dr. Alister MacKenzie. It is no coincidence that Ballesteros is the only man in history to have won the Masters, the Open at St. Andrews and at Royal Melbourne, where MacKenzie created the finest course in the southern hemisphere.
The first time Seve saw Augusta National he knew he would win here. And he did, in 1980 and 1983. Although it remains one of the game's great mysteries that he did so only twice. Perhaps more indicative of the close rapport between course and player is that between 1978 and 1993, Ballesteros was one of the top-12 finishers 11 times.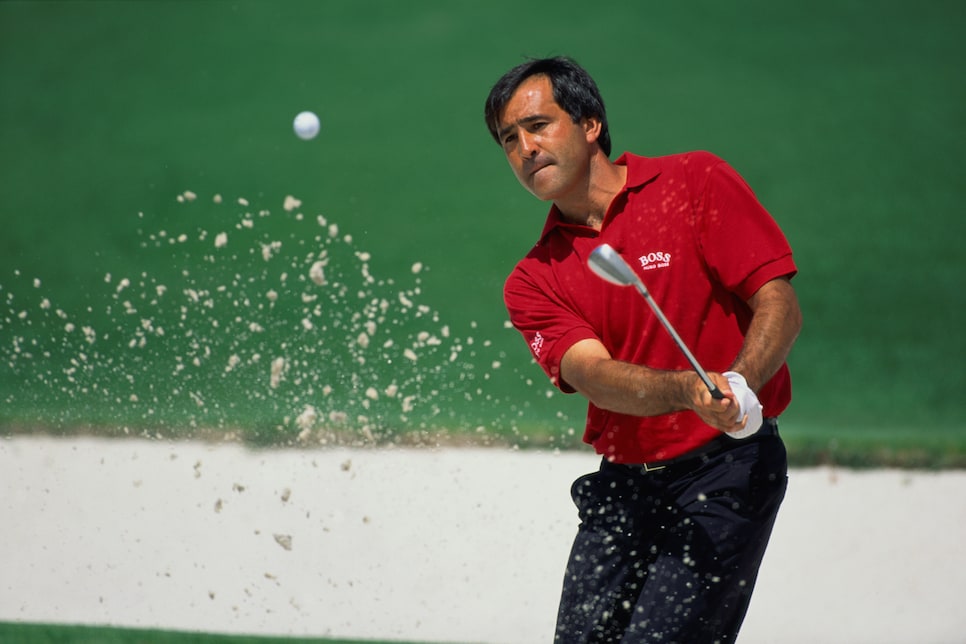 Severiano Ballesteros plays a bunker shot on the second hole in the 1992 Masters.
David Cannon
As is often the case when the subject is imbued with mercurial genius, there were times of stress as well as celebration. One hole before Larry Mize would chip in from right of the 11th green to break Greg Norman's heart and claim the 1987 Masters, Ballesteros three-putted to lose his chance at a third green jacket. Then there was the 4-iron he duffed into the pond short of the 15th green while leading the 1986 Masters on the final day. Had the Spaniard found the putting surface with that shot, his name—not that of Jack Nicklaus—would surely have adorned the trophy.
There were times when even Seve's legendary powers of recovery came up short. But not always. Englishman Billy Foster caddied for Ballesteros in five Masters (1991-95) and still recalls one particularly magical moment of genius.
"On the ninth hole something remarkable happened," says Foster, who is working this week for compatriot Matt Fitzpatrick. "Seve hit the fairway. We had 145 yards to the flag, uphill and into a slight breeze. Seve wanted to hit a wedge, but I talked him into a 9-iron. He hit a beautiful shot, right down the pin. But when it came down there was silence up at the green. Immediately, I had a bad feeling.
"Sure enough," Foster continued, "the ball had hit the downslope just over the front bunker and had shot all the way to the back edge of the green. Now, Seve had an 80-foot putt down two tiers on a green that resembled a marble staircase. He was not happy. 'You stupid son of my bitch' was just one of the things he called me before he settled over the putt. When he hit it, I thought he had left it on the middle tier. But just when it looked like it was about to stop, it toppled over the second ridge. The ball stopped four inches from the hole. It was genius at work."
Ballesteros wasn't finished with Foster though. Walking off the green, he put his arm round the shoulders of his young bagman.
"Don't worry Billy," he said. "It is not your fault. It is mine for listening to you in the first place."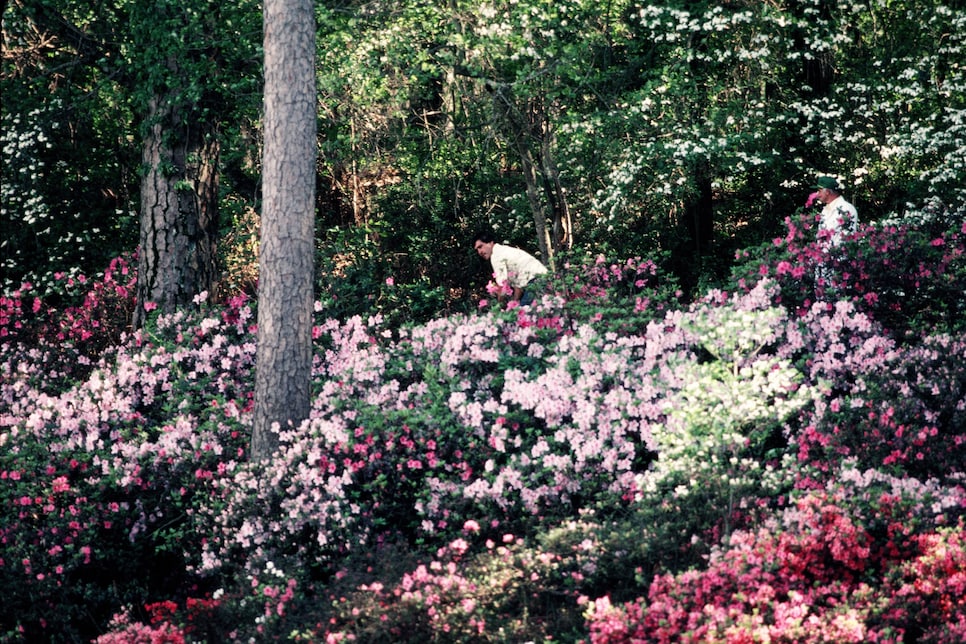 Seve Ballesteros prepares to hit out of the azaleas behind the 13th green during the 1984 Masters.
Augusta National
That illustration of touch and feel—maybe the most subtle and nuanced golf has ever seen—was something even Seve's fellow competitors stopped to watch on and around practice greens the world over.
"No one in the game today has 50 percent of Seve's short game," claims Geoff Ogilvy, 2006 U.S. Open champion. "No one. Not even close. Chipping and pitching, he just looked 'right.' A man from Mars could drop out of the sky, watch every player on tour chip a few and immediately point to Seve as 'the guy.' He was the best and he loved to show off. He knew guys were watching him and he would play to his audience, hitting all kinds of different shots with almost every club. For me, he is maybe the most talented player ever."
The man who saw more of Ballesteros in action was, of course, his long-time Ryder Cup partner, Jose Maria Olazabal. The pair combined for an 11-2-2 record in the biennial contests between Europe and the United States and they were perhaps numbers one and two on most people's list of short game magicians. Olazabal, though, nobly bends the knee to his friend and compatriot.
"Seve could hit shots that no one else could hit," Olazabal said. "I remember playing with him at El Saler in the Spanish Open. He missed the green left at a short hole. The ball finished wide of a greenside bunker in heavy rough and he had a tree branch overhanging between him and the flag, which was only 10 feet or so on the green. I found his ball and thought it was an impossible shot. I told my caddie the best he could do was maybe 12 feet past the hole.
"Of course, he goes over there, takes a couple of practice swings and hits the perfect shot," continues Olazabal. "The ball lipped out. He hit it so softly. And that was the difference between him and me. He had an ability that I never had."
Ballesteros wasn't just about the short game either.
"There was another time at Woburn," Olazabal continues. "I was on the range beside him. The weather had been very dry, so the ground was very dusty. Clouds would fly up after every shot. Except for Seve's that is. I stopped to watch him hit 1-irons that barely made a noise, never mind sent up a puff of dust. The quality of strike was so high. He was incredible."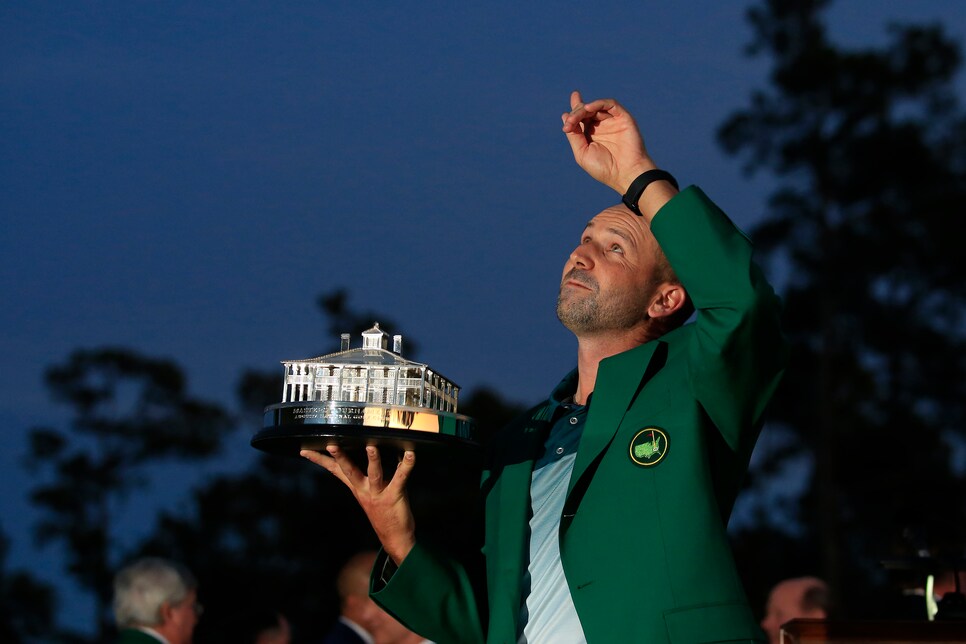 Sergio Garcia points to the sky after winning the Masters on Seve Ballesteros' birthday in 2017.
Augusta National
Admiration for Ballesteros' prowess around Augusta's greens is not confined to his fellow Europeans. Ray Floyd, the 1976 Masters champion, once bore witness to a shot he found difficult to describe.
Ballesteros had missed the green at Augusta National's par-3 fourth hole. The ball laid tight on a hardpan surface, the front bunker between it and the pin, which was located only a few feet from the sand. Anything less than a 15-foot putt for par looked all but impossible. It wasn't though. Courtesy of a shot that landed so softly it barely made a sound, the 50-time winner on the European Tour saved his par. By making a 7-footer.
Later, Floyd was asked to "talk us through the pitch Seve played at the fourth."
"I can," Floyd said eventually. "But it's going to take me a while. He hit it 100 feet straight up in the air. I would have been pitching to the back of the green hoping for a 20-footer."
Yes, Seve really was that good.
MORE MASTERS 2022 STORIES FROM GOLF DIGEST