Phil Being Phil
Masters 2021: This Phil Mickelson bunker shot was wizardry of the highest order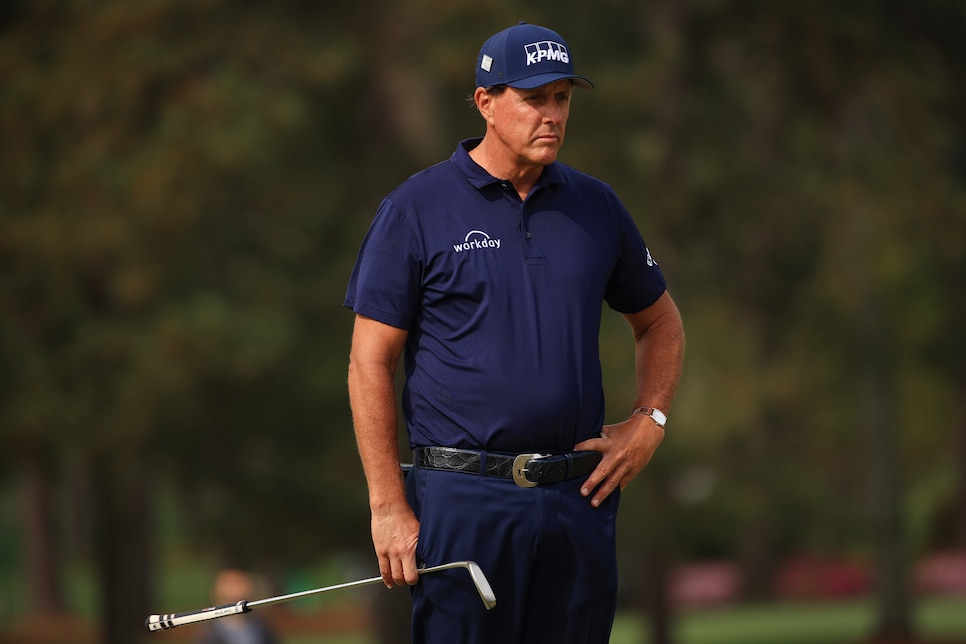 Barring an act of God, Phil Mickelson is not going to win the 2021 Masters. But that hasn't stopped him from grinding out every shot, as evidenced by his remarkable up-and-down par save on the final hole of his third round.
Mickelson began Saturday 10 shots off Justin Rose's lead, but quickly closed that gap with birdies at the first and third holes, then another at the eighth, which came after his only bogey of the day at the par-4 seventh. He played the final 10 holes in one under without a bogey, though he needed some serious Lefty magic to do so.
At 18, the three-time Masters winner found the fairway bunker off the tee, then found the front greenside bunker with his approach shot. From there, he threw it up high, landed it right of the back right pin location, and then yanked the damn chain, his ball spinning back to kick-in range:
That, folks, is wizardry of the highest order. Vintage Lefty. Yes, we've reached the point where we are celebrating Mickelson pars, but you're lying to yourself if this shot didn't put a smile on your face. Plus, this was to secure a three-under 69, his first sub-70 round of the week, which got him back to level par for the tournament. Again, he has no chance of winning, but with the way the wind is supposed to pick up in the afternoon, crazier things have certainly happened.