Monday Superlatives
Just once, golf gods, give us DeChambeau vs. Spieth in the final pairing at Augusta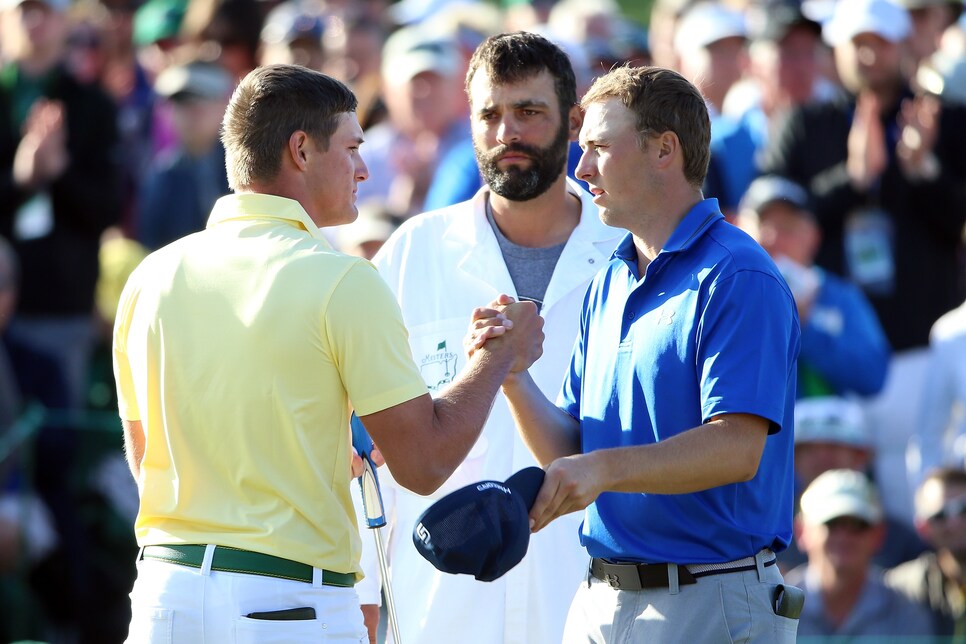 Jordan Spieth shakes hands with amateur Bryson DeChambeau during the second round of the 2016 Masters Tournament.
Andrew Redington
Like everyone else in the golf world, I was thrilled to watch Jordan Spieth break through at last and win his first tournament in almost four years at the Valero. It's the perfect lead-in to the Masters, and even though it's very hard to win two weeks in a row, Spieth and Augusta are such a great fit that he'll at least be among the betting favorites. With Tiger Woods out, he's also one of the two most intriguing golfers on the planet in 2021. It's not like we really need to be more hyped about Masters week, but it doesn't have hurt that Spieth is at the forefront of the conversation.
The other most intriguing golfer? A very different hombre: Bryson DeChambeau. Where Spieth is beloved, he's divisive. Where Spieth in some ways represents tradition, DeChambeau is the closest thing golf has to a radical revolutionary. You could go on and on with the contrasting cliches: Precision vs. power, elegance vs. brute strength, humility vs. brashness, etc. Some of it's bogus, some of it's true, but all of it plays.
Which is why I'm begging the golf gods, as I do from time to time, to give us a Sunday duel for the green jacket between these two content-generating gods. Golf is famous for depriving us of such mano-a-mano duels. How long did Jack Nicklaus and Arnold Palmer reign over the game, with only a major or two where they really fought it out down the stretch, and even then in different pairings and with other players in the mix? How often did we root for Tiger vs. Phil on a major Sunday, and never get it?
I get it—with 150 people in every tournament doing their own thing, the sport isn't conducive to the really enticing head-to-heads. But sometimes we get a really good pairing, like Rory-Reed at the 2018 Masters, or Stenson-Mickelson at the 2016 Open. A Spieth-DeChambeau gunfight in Augusta is not out of the question, and there's such a thing as influencing the shape of destiny, then let me be among the first to put the mojo into the ether as Masters week begins: Deities of golf, if you're listening, well...you know what we want.
The Pretty Good Start of the Week: Yermin Mercedes
Yermin Mercedes made the first big league start of his career on opening day for the White Sox, and by the time it was all over, he'd collected five hits in five at-bats. That's...good. Historically good:
To kick off his second start, Saturday against the Angels, Mercedes wasted no time in drilling an offspeed pitch into the left-field seats:
Two at-bats later, with a chance to make some more history—and to break a 2-2 tie—Mercedes collected his eighth straight hit:
That's 8-for-8, which hasn't been done by anyone, rookie or vet, since the "modern era" began in 1900. It's the best we've seen in 120 years. Get ready to hear a lot more about Yermin Mercedes.
The Righteous Block of the Week: Jalen Suggs, Zags
Everyone will be talking about this buzzer-beater, forever, and rightfully so. But let's take a quick moment to recognize this insane sequence, which started with one of the coolest blocks you'll see and ended with a beautiful pass of the one-handed bounce genre for an emphatic slam:
It's amazing to think that Suggs did this, with two minutes left in regulation, and there was something even better to come.
The Sports Nightmare of the Week: COVID in Canada
This is the kind of thing we thought would happen all the time last year—more than half of the Vancouver Canucks lineup has been stricken with COVID, and bunch of them are in "rough shape." The bad news extends to coaches and family members, and already this goes down as the worst outbreak in North American professional sports since the whole thing began. Worse, some of them are infected with a nasty Brazilian strain known as the P.1 variant, and the ones who have it the worst can barely get out of bed.
These, of course, are the pitfalls of playing a team sport during a pandemic. Simple logic tells you that when players are in such close proximity on such a regular basis, one person having the virus is as good as 20. It hasn't actually played that way in most cases, but here we see the worst-case scenario, with an entire team affected, updates coming from players' wives at home, and bad fans being bad fans:
Hopefully everyone will recover, but it's a nightmare that serves to highlight the absence of nightmares in professional sports so far. How did we not have more Canucks situations? Good management, but also some very good luck. The sooner we all get this vaccine, the better.
The Toughest Nut in Women's Sports: Ash Barty
It's hard not to love Ash Barty, the Aussie scrapper and current no. 1 women's player in the world. She's a consummate athlete—professional, smart, and tough beyond reckoning. It's all the more impressive because she's far from the most talented player in the women's game. That honor belongs to Naomi Osaka, but there are a few women who have greater gifts than Barty, which is why when the slams come around, it's very difficult for her to make it through the later rounds. Still, she captured the French Open in 2019—prevailing in a series of hard matches against Sofia Kenin, Madison Keys, and Amanda Anisimova before a dominant performance in the championship match—to ensure that she won't be a Dinara Safina/Karolina Pliskova type who reaches world no. 1 and never breaks through on the biggest stage.
This past weekend, she won her second straight Miami Open in typical fashion, surviving a handful of tough three-setters and saving her best game for the final. And because she's not a classical power player, peppering her opponents with drop shots and that trademark flat backhand slice, she produces terrific points with regularity:
When her career is over, we won't remember Barty as a legend of the sport, but that just makes it more important to appreciate her gifts now; how her tenacious, offbeat style, coupled with what might be the best brain in women's tennis, allows her to excel in ways that you'd never expect.